If Phil Spector didn't exist, someone would have had to invent him. Spector scored his first chart-topper as writer, artist and arranger in 1958 with "To Know Him is to Love Him" performed his by group, the Teddy Bears. But a 1960 apprenticeship with famed songwriters Jerry Leiber and Mike Stoller convinced the ambitious young man that his future was behind the scenes as a producer. (His 1960 stint with Leiber and Stoller also yielded "Spanish Harlem," which Spector co-wrote with Leiber.) With Lester Sill, he founded Philles (Phil + Les) Records in 1961 and began a streak of hits that set the charts – and the music business – ablaze. Spector cannily called on the top-tier writing talent in New York's Brill Building scene even while recording in Los Angeles; by 1964, Sill was out of the picture and Tom Wolfe was profiling Spector as "the first tycoon of teen." The rich Philles Records catalogue conclusively proves that the period between the initial burst of rock-and-roll and the British Invasion wasn't a moribund one for music; quite the contrary.  Legacy has launched the first major salvo in its Philles reissue campaign with four new Spector-produced collections. Mike has already filled you in on Wall of Sound: The Very Best of Phil Spector 1961-1966, but how do Da Doo Ron Ron: The Very Best of The Crystals, Sound of Love: The Very Best of Darlene Love and Be My Baby: The Very Best of The Ronettes stack up?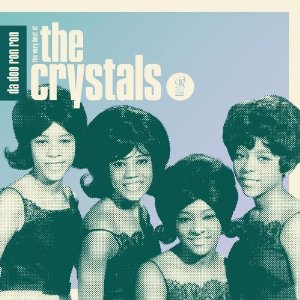 Da Doo Ron Ron (Phil Spector Records/Legacy 88697 61288-2) is the perfect starting point for those curious about just how individual blocks were built into a mighty Wall of Sound. (Among these blocks?  Echo, orchestration, many instruments playing in unison, a vocal in the foreground.)  Roughly half of the collection's tracks were recorded at New York's Mira Sound Studios, before Spector had perfected his style in the studios of California, primarily Gold Star. In this nascent state, the influence of Leiber and Stoller is much more evident, particularly their groundbreaking production of The Drifters' "There Goes My Baby," widely recognized as the first R&B song to apply classical textures via its string arrangement. The contribution of the unsung Arnold Goland should be recognized; while the Wall of Sound found its fullest expression with Jack Nitzsche's widescreen orchestrations, Nitzsche owed a debt to Goland's work heard here on "There's No Other Like My Baby," "Oh Yeah, Maybe Baby," and the two most unnerving songs included here, "He Hit Me (It Felt Like a Kiss)" and "Please Hurt Me."  It's hard to discuss this set without mention of "He Hit Me," a song that was controversial then and equally distressing now as a picture of an abuse victim. It came from the pen of Carole King and Gerry Goffin, as did the eyebrow-raising "Please Hurt Me." A trilogy seems to have been formed also including "No One Ever Tells You," written by Goffin, King and Spector. Barbara Alston's understated leads and Spector's dramatic productions have allowed these songs to powerfully endure even today.
The Very Best of the Crystals kicks into high gear with the Gene Pitney-penned "He's a Rebel," not coincidentally the first Jack Nitzsche arrangement heard here and the first Gold Star-recorded track of the collection. Most ironically, though, the song wasn't actually by The Crystals! Group members including Alston and La La Brooks were shocked to find Darlene Love singing lead on a track credited to the group. Love makes her presence felt on "Rebel" and on Barry Mann and Cynthia Weil's "He's Sure the Boy I Love." Spector correctly reasoned that her sass and insouciance were right for these songs and their ever-bigger productions. Good as they are, even more exciting is the sophisticated "Then He Kissed Me," written by Spector with Ellie Greenwich and Jeff Barry. Just listen to those strings, the castanets and Latin-accented percussion, and those bleating horns, all adding up to one stirring, dense whole.
There are plenty of other lesser-known tracks that make this an essential purchase, too. The U.K.-only release "I Wonder" was another grandiose track, making it all the more unbelievable that the song was initially held back. Surf-inspired guitar highlights the rocking, up-tempo "All Grown Up," with a theme similar to the one explored by Spector disciple Brian Wilson in The Beach Boys' "When I Grow Up (To Be a Man)." The collection's sole unreleased track, "Woman in Love (with You)," is a Spector/Mann/Weil song with a stunning lead from La La Brooks, the same singer who made the nonsense lyrics of "Da Doo Ron Ron" sound so sensible as an expression of youthful love. This song is quintessential Spector, and I'm left hungry for more unreleased Philles cuts.  Hit the jump to continue with new anthologies from The Ronettes and Darlene Love!
There are no unreleased tracks on Be My Baby: The Very Best of the Ronettes (Phil Spector Records/Legacy 88697 61286-2), but what's there is choice, indeed. Its first track is "Why Don't They Let Us Fall in Love" performed by Veronica (Bennett, soon to be rechristened Ronnie Spector) and recorded in March 1963. The style is there but the magic isn't yet. The same songwriters, producer, engineer & arranger reached their apotheosis with the second cut, though: the immortal "Be My Baby." Recorded that July, the song has become such a part of the American fabric (both thanks to its countless pastiches and its immortal placement in Dirty Dancing!) that it's difficult to hear it as if for the first time.  Want to give it a try? Close your eyes. Listen to Ronnie's pleading vocal, Hal Blaine's remarkable and effortless drums, the swelling of the classical strings. How could someone refuse Ronnie's wish? This is the template from which a thousand imitators were launched. The "whoa-oh-oh" has become a musical trademark, while the Jeff Barry/Ellie Greenwich/Phil Spector song plays like poetry. Ronnie's voice is raw but knowing, innocent but seductive. No wonder Brian Wilson became fascinated with the song, still his favorite of all time.
The ballads "So Young" and "When I Saw You" are both doo-wop throwbacks showcasing Phil Spector's versatility and love of the musical form which brought him his earliest successes, yet these songs take a backseat to the majesty of hits like "Walking in the Rain." The rumble that begins the song just signifies something tremendous, and there's no letdown after it. As on The Crystals collection, Be My Baby shines with its less-familiar songs. The powerful "Is This What I Get for Loving You?" never registered on the charts but the late period (1965) collaboration between Goffin, King and Spector still startles, as does "I Wish I Never Saw the Sunshine," in which Ronnie plumbs the depth of desperation. Two Harry Nilsson co-writes that didn't appear until after Philles' heyday, "Paradise" and "Here I Sit," surprise mostly because they don't sound anything like the writer's later efforts. "Everything Under the Sun," a Bob Crewe/Gary Knight song, is best-known in a version by The Walker Brothers, Spector acolytes who even enlisted Jack Nitzsche for some arrangements! But "Everything Under the Sun" comes full circle in The Ronettes' 1966 recording.
Most noteworthy is the CD debut of "I Can Hear Music." This 1966 recording was produced in New York by its co-writer, Jeff Barry, without aid of Gold Star's superior sonics or the Wrecking Crew's virtuosic musicians. Because it has been unavailable for so many years (and only placed at No. 100 on the pop chart), the song is probably better remembered today in The Beach Boys' 1969 version, produced not by Brian, but by Carl Wilson. Needless to say, it's a long-overdue return for the original.
The third release in the series, Sound of Love: The Very Best of Darlene Love (Phil Spector Records/Legacy 88697 61290-2), is unique in that it features non-Spector sides along with Love's Philles work. There are three tracks by The Blossoms, one from their pre-Philles days at Capitol (1958's "No Other Love") and two from Warner Bros. sessions of 1965 ("That's When the Tears Start" and "Good Good Lovin'," actually written by frequent Spector collaborators Mann and Weil). These tracks are well worth hearing, but it's disappointing that they've been reprised even after appearing on Ace's So Much Love: A Darlene Love Anthology (Ace CDCHD 1169, 2008), an exceptional collection notable for containing no Spector-produced cuts at all. (While the exclusion of Philles material was due to licensing restrictions, it actually allowed many underrated and unknown songs to appear.) Many other Blossoms cuts remain unreleased on CD, and Sound of Love would have been a nice place to revisit them. There's also some overlap on this disc; "He's a Rebel" and "He's Sure the Boy I Love" appear on both Sound of Love and Da Doo Ron Ron, and six tracks are reprised on Wall of Sound.
It's always astonishing to hear so much of the Love/Spector repertoire in one place, though the more comprehensive So Much Love is an essential companion purchase to Sound of Love. Spector's influence over his artists was a great one; after all, he is the one who christened Darlene Wright "Love." She had – and still has - a remarkable instrument, capable of great soul but also pure pop. As she comments in Jim Bessman's liner notes for Sound of Love, "[The Blossoms had] already worked with artists like Bobby Darin and Jan and Dean and we sounded white." But she hastened to add, "I don't think Phil was making me sound white but making me sound great." Love even took Bobby Sheen's place as the lead singer on many tracks by Bob B. Soxx and the Blue Jeans, the group named after him, and had the right sound for a couple of the formidable Crystals' most significant records. Whether out front or gracing countless records as a background vocalist, Darlene Love's voice is a recognizable one that's hard to ignore.
"Lord If You're a Woman," a 1975 "reunion" track between Love and Spector, is the most recent song on any of these compilations. Nino Tempo's arrangement of the Mann/Weil song echoes "Then He Kissed Me" and sounds like vintage Spector, but the time had seemingly passed for the Wall of Sound. Good as "Lord" is, with a stunning vocal from Love, it's too bad that producer Rob Santos didn't elect to include "I Loved Him Like I Love My Very Life," another track from that period but one that hasn't previously appeared on CD. (Love was apparently signed to Kenny Gamble and Leon Huff's Philadelphia International label when the team sold her contract to none other than Spector for the sessions that produced "Lord" and "I Loved Him." Ah, what might have been!)
Santos' respect for this material is evident on all three discs. He has assembled a top team for these reissues. The uniform design for all titles is clean and attention-grabbing. The liner notes offer exemplary essays by justly-renowned writers: Sheryl Farber on The Ronettes, Lenny Kaye on The Ronettes and Jim Bessman on Darlene Love. Full discographical information – including arrangers, recording dates and studio information – is included to complement the essays, though there are no track-by-track comments. And for those wondering whether to upgrade from the previous CDs released on each artist by ABKCO (which share similar, though not identical, track listings), the answer is a resounding "Yes!" Vic Anesini's sound is a marked improvement over that of the previous ABKCO discs. He's remastered these tracks in their intended sound (mostly mono, of course!) with improved fidelity and clarity. If there's any gripe to be made about these three albums, it's simply that 17 or 18 tracks isn't generous enough, especially when the songs are so short!
The final track on Be My Baby is a song entitled "You Came, You Saw, You Conquered." For a short period of time, mainly between 1961 and 1966, Phil Spector and his incredibly talented stable of singers, musicians, songwriters and arrangers did just that. After continuing his Philles hit streak with The Beatles, John Lennon and George Harrison – plus some underrated work with The Ramones and Leonard Cohen, to name two – Spector's career largely stalled and his life took off in a sad, unexpected direction. But for a brief few years, the tycoon of teen produced music that was so much more than just "little symphonies for the kiddies," as he once described these songs. These mini-symphonies still have power, joy and drama. It's those songs that we justly celebrate thanks to this stellar reissue campaign.