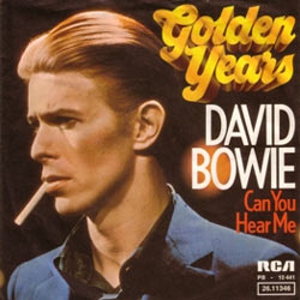 Well, there hasn't been any news of David Bowie releasing his lost album Toy, even after it was unceremoniously leaked two weeks ago. But some old Bowie material will indeed be coming to light in a new way on June 6, when the musician and iconoclast releases Golden Years as both an EP and iPhone application.
Golden Years, the EP, will feature Bowie's original 1975 track and four remixes by Anthony Valadez, Eric J. Lawrence, Chris Douridas and Jeremy Sole of KCRW. It will be released in an array of formats: CD, 12″ vinyl and digital download.
But the bigger news is arguably the launch of the iPhone application of the same name. Golden Years, the app, has been created by Harry Maslin, the Bowie collaborator and co-producer of both the original 1976 Station to Station and its lavish 2010 box set. The app will allow fans access to the original multi-tracks and allow them to share their own remixes with other members of the app community online. The app will draw on eight stems derived from the original 16 tracks: the lead vocal, 12-string guitar, bass, drums, guitar, harmonium, percussion (including blocks, congas and claps) and backing vocals.
Bowie has released multi-tracks in the past; a digital EP from 2009 on the occasion of Space Oddity's 40th anniversary contained 12 cuts: three single edits, a 1979 re-recording and eight tracks employed for the song's recording (bass and drums, strings, acoustic guitar, mellotron, backing vocal with flute and cello, stylophone and guitar, lead vocal and main backing vocal).
All four remixes can be streamed here, and Golden Years hits stores (physical and digital) on June 6.
David Bowie, Golden Years (EMI, 2011)
CD & Digital Download
1. Golden Years (Single Version) (2002 Digital Remaster)
2. Golden Years (Anthony Valadez KCRW Remix)
3. Golden Years (Eric J. Lawrence KCRW Remix)
4. Golden Years (Chris Douridas KCRW Remix)
5. Golden Years (Jeremy Sole KCRW Remix)
12″
Side 1
1. Golden Years (Single Version) (2002 Digital Remaster)
2. Golden Years (Anthony Valadez KCRW Remix)
3. Golden Years (Eric J. Lawrence KCRW Remix)
Side 2
4. Golden Years (Chris Douridas KCRW Remix)
5. Golden Years (Jeremy Sole KCRW Remix)