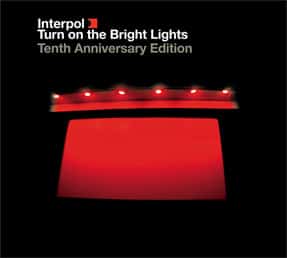 Interpol's seminal full-length debut LP, Turn On the Bright Lights, is getting the deluxe treatment for its 10th anniversary this year.
The New York post-punk band earned raves for Bright Lights when it was released ten summers ago. NME named it one of the top 10 albums of the year. John Peel championed the band and invited them to two of his famed sessions. Pitchfork Media, which was beginning its ascent to the top of the love-'em-or-hate-'em tastemaker pile at the time, named it the best album of 2002. All told, Bright Lights - and tracks like "PDA," "NYC" and "Obstacle 1" - paved the way for Interpol's burgeoning career toward the indie-rock forefront, which further blossomed with the release of sophomore disc Antics in 2004.
For its 10th anniversary, Interpol are releasing Bright Lights in a variety of formats, including 2CD+1DVD, 2LP+1DVD and digital deluxe editions. All formats feature a bonus disc of rare and unreleased material, including tracks from the band's original EP releases and other bonus content. Video extras on the DVD include promo videos and footage from two early shows, including the first show with the band's drummer, Sam Fogarino, at New York City's Mercury Lounge. Physical copies include hardbound book packaging with all-new deluxe booklets (48 pages with the CD-sized set and 28 with the LP-sized version) featuring many rare photos. Pre-ordering from the band's official site will add a free gift to your purchase: a replica of an Interpol button, the first piece of merchandise the band ever sold.
Turn On the Bright Lights is back on November 19. Hit the jump for the full breakdown.
Turn On the Bright Lights: 10th Anniversary Edition (2CD+DVD / 2LP+DVD - Matador, 2012)
Disc 1: Original LP (released as Matador OLE 545, 2002)
Untitled
Obstacle 1
NYC
PDA
Say Hello to the Angels
Hands Away
Obstacle 2
Stella Was a Diver and She Was Always Down
Roland
The New
Leif Erikson
Disc 2: Bonus material
Interlude
Specialist
PDA (Version #1)
Roland (Version #1)
Get the Girls (Song 5)
Precipitate
Song Seven
A Time to Be So Small (Early Version)
Untitled (Third Demo) *
Stella (Third Demo) *
NYC (Third Demo) *
Leif Erikson (Third Demo) *
Gavilan (Cubed)
Obstacle 2 (John Peel Session - 4/18/2001) *
Hands Away (John Peel Session - 4/18/2001) *
The New (John Peel Session - 4/18/2001) *
NYC (John Peel Session - 4/18/2001) *
Disc 3: DVD
PDA (promo video)
NYC (promo video)
Obstacle 1 (promo video)
Mercury Lounge, New York City concert footage - May 2000
The Troubador, Los Angeles concert footage - 9/18 or 9/19/2002
Disc 2, Track 1 was a Japanese bonus track (Matador PCD-23280, 2002)
Disc 2, Track 2 from Interpol EP (Matador OLE 546, 2002)
Disc 2, Tracks 3-6 from Fuk'd I.D. #3 EP (Chemikal Underground CHEM047, 2000)
Disc 2, Tracks 7-8 from Precipitate EP (self-released, 2001)
Disc 2, Track 11 from "Say Hello to the Angels" CD single (Matador OLE 582-2, 2003)
Disc 2, Track 13 from Japanese pressing of Interpol (Soft Limit/Hostess VVR747029J, 2010)
Disc 2, Track 14 from Japanese reissue (Matador TOCP-66206, 2004)
Disc 2, Track 15 from "Obstacle 1" CD single (Matador OLE 570-2, 2002)
All other tracks previously unreleased. * indicates download-only track with vinyl reissue