[youtube=http://www.youtube.com/watch?v=yDi3an8WgN4]
There's probably no worse reminder of your own mortality than the idea of remaking a movie. "How long has it been since they made the original?" you wonder in silent horror. "Was it that long ago? Have people forgotten that quickly? Am I that old?"
There's no accurate litmus test to determine when the best elapsed time between originals and remakes is. George Clooney's Ocean's 11 came out in 2001, 41 years after the original Rat Pack vehicle. When Peter Jackson remade King Kong in 2005, 72 years had passed since the original stomped into theatres. (Jackson's Kong was of course the second major remake, after a modernized version in 1976.) Even the terrible remake of Alfred Hitchcock's Pyscho in 1998 was 38 years behind the original.
But earlier this year, a head-scratching remake of The Karate Kid - a really good coming-of-age film that's really reflective of the mid-1980s, when it was made - was put into theatres. And despite the relatively tame 26-year gap, it was a smash hit, outpacing the original in raw grosses. But while kids may have loved it, older moviegoers may have wanted more. Where was the actual karate? (The remake utilizes kung-fu techniques.) Where were the eccentricities and conflict in the mentor character? (Jackie Chan may be a funny enough actor, but didn't have as rich a backstory as Pat Morita's Mr. Miyagi.) And where was the captivating soundtrack?
While James Horner wrote a serviceable score and teen sensation Justin Bieber (with help from Jaden Smith, star of the remake and son of rapper-turned-actor Will Smith) recorded a theme for the film, it doesn't make the kind of album you'd hear from '80s youth-oriented films. The new Karate Kid will continue to pick up fans - especially when it's released on DVD next week - but for now, let's wax off of the old and wax on with a look back at the music of the original Karate Kid series.
Both Karate Kid movies started in the same place: youngster moves to a new, unfamiliar territory, gets roughed up by unwelcoming jerks at his new school and learns self-defense and self-confidence from an eccentric but devoted teacher several decades his senior. While this plot thread took turns for the exotic in the new version, seeing the hero move from Detroit to Beijing, the original kept it simple, and Daniel LaRusso (Ralph Macchio) struggled to fit in after leaving Newark, New Jersey for Reseda, California. There he studied under Mr. Miyagi, an unassuming maintenance man played by Pat Morita.
Altogether, the original film works because it blends timeless tropes of coming-of-age films (the underconfident hero coming into his own, the mentor with some deep secrets) with the signposts of 1980s films - notably the uber-douchey villains of the Cobra Kai dojo. All of that was set to a popular soundtrack, although some of the tracks never received a release on the film's final soundtrack album. (One of the casualties was a then-little-known band called Bananarama, whose song "Cruel Summer" has since become a staple of '80s culture.)
While the soundtrack is your typical mixed bag, featuring cuts from Paul Davis (he of "I Go Crazy" and "'65 Love Affair" fame), post-punk band Gang of Four and a bizarre crossover between Jan & Dean and the dance-popsters of The Flirts (who had a big dance hit off the Valley Girl soundtrack, "Jukebox"), there were at least two tracks that made some sort of lasting impact. The first was Survivor's "Moment of Truth," yet another '80s soundtrack single for the Chicago-based band. (It did not fare as well as the chart-topping "Eye of the Tiger," from Rocky III, or even "Burning Heart" from Rocky IV. It's managed to become a fan favorite, though. Something about that Italian Stallion, I suppose.)
But the other big tune, perhaps the one with the most cult appeal, is "You're the Best," a peppy tune used during the montage showing Daniel's rise toward the top of the competitors in the climactic tournament. It was sung with appropriate gusto by Joe Esposito, a constant fixture of '80s soundtracks (Flashdance, Staying Alive, Coming to America); his recording helped set the template for energetic rock tunes in '80s films. (It wouldn't sound out of place on a Rocky soundtrack, and Esposito has claimed that the song was in fact penned for Rocky III. The music of both franchises was oddly interconnected, as you'll see.)
The soundtrack was released on Casablanca Records, in what may have been one of the last releases for the once-venerable disco label. All research shows that it actually never got much of a domestic release (despite a catalogue number existing for it), but was released in Europe (some copies bear a different title, The Moment of Truth).
Various Artists, The Karate Kid: Original Motion Picture Soundtrack (Casablanca NBLP 7282 (U.S.)/CANH 10 (U.K.), 1984)
The Moment of Truth- Survivor
(Bop Bop) On the Beach - The Flirts and Jan & Dean
No Shelter - Broken Edge
Young Hearts - Commuter
(It Takes) Two to Tango - Paul Davis
Tough Love - Shandi
Rhythm Man - St. Regis
Feel the Night - Baxter Robertson
Desire - Gang of Four
You're the Best - Joe "Bean" Esposito
Despite the lack of domestic release, "Moment of Truth" was released as a single (Casablance 880 053-7).
The Karate Kid was a critical and commercial smash, so a sequel was inevitable. For The Karate Kid Part II, Daniel and Miyagi traveled back to Okinawa for some family business, and Daniel learns more about his mentor and himself. Though it didn't receive the acclaim of the original, it made more at the box office.
Though there are a couple of truly odd or rare tracks from a clutch of well-known folks (Carly Simon, Styx frontman Dennis DeYoung and the rising stars of New Edition), there was a big hit off this record: "Glory of Love," the first solo single by erstwhile Chicago frontman Peter Cetera. The power ballad, co-written by David Foster, was a No. 1 hit in the States, nominated for an Oscar and a Grammy. Bizarrely, it was penned for Rocky IV but did not make the cut. (Note further that Bill Conti penned the music to all four Karate Kid films, and his commitments on Part II led to Vince DiCola scoring Rocky IV - the only one Conti was absent from.)
Just as The Karate Kid soundtrack was one of the last from the dying Casablanca, Part II was the last release on United Artists Records, which had only briefly been revived for UA film soundtracks after being sold to EMI in 1979.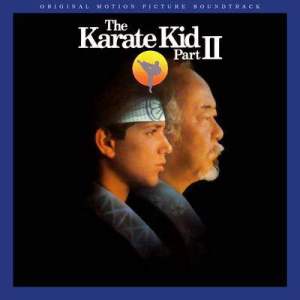 Various Artists, The Karate Kid Part II: Original Motion Picture Soundtrack (United Artists 40414-2, 1986)
Glory of Love (Theme from "The Karate Kid Part II") - Peter Cetera
Rock 'N' Roll Over You - The Moody Blues
Fish for Life - Mancrab
Rock Around the Clock - Paul Rodgers
Let Me at 'Em - Southside Johnny
This is the Time - Dennis DeYoung
Earth Angel - New Edition
Love Theme from "The Karate Kid Part II" - Bill Conti
Two Looking at One - Carly Simon
The Storm - Bill Conti
Not only was "Glory of Love" released as a single (Warner Bros. 7-28662), but what may have been the craziest song of the soundtrack also became a single. "Fish for Life," a strange groove track by Mancrab, was released as United Artists 4W9 05928. It all sounds nonsensical, especially when you consider that Mancrab is the only song attributed to the group - comprised of Ian Stanley and Roland Orzabal from Tears for Fears. Mind blown!
The Karate Kid Part III was a failure for two distinct reasons: one, it was essentially a rehash of the first film, and two, actor Ralph Macchio was finally beginning to show his age. It's hard to believe that as the short, squeaky-voiced high schooler Daniel, Macchio was in fact 23 years old. That means that he was two years away from 30 in Part III - yet the film takes place only a year after the original. Yikes!
The soundtrack offers little beyond a few songs by Glenn Medeiros, the teen-pop star who flirted with success in the form of a No. 1 hit with Bobby Brown, "She Ain't Worth It."
Various Artists, The Karate Kid Part III: Original Motion Picture Soundtrack (MCA Records 6308, 1989)
Listen to Your Heart - Little River Band
Under Any Moon - Glenn Medieros
This Could Take All Night - Boys Club
I Can't Help Myself (When It Comes to You) - Glenn Medeiros
The First Impression - Jude Cole
Summer in the City - The Pointer Sisters
Out for the Count - Winger
48 Hours - Pretty Boy Floyd
In a Trance - Money Talks
Love Theme from "The Karate Kid" - Bill Conti
We've gone quite far without discussing the scores to The Karate Kid and its sequels, but they were well-respected in the soundtrack community. Bill Conti had already scored with the Rocky series, and while the themes of this franchise haven't become as iconic as "Gonna Fly Now," the combination of action/adventure music and ethnic statements (bolstered by noted pan flautist Gheorghe Zamfir) were in enough demand that the scores became widely bootlegged in the 1980s and 1990s. Finally, in 2007, Varese Sarabande released the scores to all three of the original films plus the almost-forgotten The Next Karate Kid, a failed 1994 reboot that, if nothing else, introduced audiences to future Oscar winner Hilary Swank, who played a new student opposite Miyagi. The box set, limited to 2,500 copies, quickly sold out.
Bill Conti, The Karate Kid I - II - III - IV: Original Motion Picture Scores (Varese Sarabande VCL 0307 1059-2, 2007)
Disc 1: The Karate Kid
Main Title
Fite Nite
Bumpy Ride
Dan Ducks Out
Bonsai Tree
Decorate the Gym
Miyagi Rattles Bones
Miyagi Intercedes
On to Miyagi's
The Pact
Feel the Night (Demo) - Baxter Robinson
Troubled Lovers
Japanese Sander
Paint the Fence
Daniel Sees the Bird
Fish & Train
Training Hard
The Kiss
Japanese Hand Clap
No Mercy
Daniel's Moment of Truth
Disc 2: The Karate Kid Part II
Main Title
No Mercy
Six Months Later
Breathing/Daniel Nails It
Okinawa
Honor Very Serious
Time Flies
Enter Sato
Miyagi's Home
No Choice
The Funeral
Their Song
Rekindled Love
Miyagi
Miyagi's Attack
Daniel and Kumiko
Daniel Leaves
Old Friends
Moon Spots
Daniel's Triumph
Disc 3: The Karate Kid Part III
Main Title

Terry Silver

The Last Tree

Terry's Next Move

The Hidden Tree

Terry Sneaks In

Mike States His Case

Getting the Tree

Jessica's Slip

Daniel Signs Up

Miyagi's Prayer

Daniel Submits

Miyagi's Shut Out

Terry Owns Daniel

Jessica's Kiss

Daniel's Resolution

Miyagi Kicks Butt

Kata Training

Bonsai Prayer

The Final Blow
Disc 4: The Next Karate Kid
The Next Karate Kid
Regiment of Heroes
Julie Storms Out
Cops Chase Julie
Trainyard Emotions
3M1
The Pizza Guy
Julie and Miyagi
Julie's Fight
Monk Headquarters
Dining with Monks
Julie-san Satori
Training Montage
Zen Archery
Welcome Home, Julie
Rooftop Fight
Angel Flies
The Monks Arrive
Miyagi Tears
Bowling for Monks
The Alphas Drop In
The Alphas Clobber Eric
Julie Fights
Miyagi's Big Fight