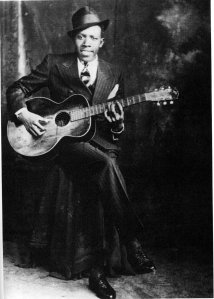 May 8 would have been the 100th birthday of Robert Johnson, arguably the most influential figure in blues music. Of course, Johnson did not live nearly that long – he died at 27 in 1938, leaving a legacy of stirring, influential recordings on 78 RPM records and a bizarrely ill-documented lifeline (only two pictures of him are known to exist, and there's a legend that he gained his guitar prowess thanks to a deal with the devil himself) – but his legacy remains strong. The 1961 compilation King of the Delta Blues Singers was a massive influence on Eric Clapton, Robert Plant and countless others, and his signature songs ("Hellhound on My Trail," "Crossroads," "Sweet Home Chicago") remain pop standards to this day.
1990's The Complete Recordings, released by Columbia, was a watershed in the early history of CD box sets, winning a Grammy, going platinum and being selected for preservation by the Library of Congress. Columbia/Legacy now follows that tradition and ups the ante with The Complete Original Masters: Centennial Edition, a massive CD/vinyl box set available online April 26.
This limited, numbered set – 1,000 copies will be pressed – includes reproductions of the 12 original 12″ singles that Johnson released for the Vocalion label in between 1937 and 1939 (the discs play at 45 RPM). Also included are four compact discs: The Robert Johnson Centennial Collection – a two-disc collection of all 42 of Johnson's known master takes (including alternates) – and two compilations, Rare Victor Blues – collating other blues sides from the Sony vaults – and Also Playing…, which features other rare tracks laid down during the same session dates that Johnson had in San Antonio and Dallas. Finally, a 1992 documentary, The Life and Music of Robert Johnson: Can't You Hear the Wind Howl, will be included on DVD.
It is known that the Johnson CD set will be available separately. What is not known is whether or not the tracks will be mastered at different speeds, as recent evidence has indicated that the original singles were mastered slightly faster than intended.
Have a look at this impressive track list after the jump.
Robert Johnson, The Complete Original Masters: Centennial Edition (Columbia/Legacy, 2011)
LP 1: Vocalion 03416, 1937
Kind Hearted Woman Blues
Terraplane Blues
LP 2: Vocalion 03445, 1937
32-20 Blues
Last Fair Deal Gone Down
LP 3: Vocalion 03475, 1937
I Believe I'll Dust My Broom
Dead Shrimp Blues
LP 4: Vocalion 03519, 1937
Ramblin' on My Mind
Cross Road Blues
LP 5: Vocalion 03563, 1937
Come On in My Kitchen
They're Red Hot
LP 6: Vocalion 03601, 1937
Sweet Home Chicago
Walkin' Blues
LP 7: Vocalion 03623, 1937
From Four Until Late
Hellhound on My Trail
LP 8: Vocalion 03723, 1937
Stones in My Passway
I'm a Steady Rollin' Man
LP 9: Vocalion 03665, 1937
Malted Milk
Milkcow's Calf Blues
LP 10: Vocalion 04002, 1938
Stop Breakin' Down Blues
Honeymoon Blues
LP 11: Vocalion 04108, 1938
Little Queen of Spades
Me and the Devil Blues
LP 12: Vocalion 04630, 1939
Preachin' Blues (Up Jumped the Devil)
Love in Vain
Discs 1-2: The Robert Johnson Centennial Collection (Columbia/Legacy, 2011)
Kindhearted Woman Blues
Kindhearted Woman Blues (Alternate)
I Believe I'll Dust My Broom
Sweet Home Chicago
Ramblin' on My Mind
Ramblin' on My Mind (Alternate)
When You Got a Good Friend
When You Got a Good Friend (Alternate)
Come On in My Kitchen
Come On in My Kitchen (Alternate)
Terraplane Blues
Phonograph Blues
Phonograph Blues (Alternate)
32-20 Blues
They're Red Hot
Dead Shrimp Blues
Cross Road Blues
Cross Road Blues (Alternate)
Walking Blues
Last Fair Deal Gone Down
Preachin' Blues (Up Jumped the Devil)
If I Had Possession Over Judgment Day
Stones in My Passway
I'm a Steady Rollin' Man
From Four Until Late
Hellhound on My Trail
Little Queen of Spades
Little Queen of Spades (Alternate)
Malted Milk
Drunken Hearted Man
Drunken Hearted Man (Alternate)
Me and the Devil Blues
Me and the Devil Blues (Alternate)
Stop Breakin' Down Blues
Stop Breakin' Down Blues (Alternate)
Traveling Riverside Blues
Traveling Riverside Blues (Alternate)
Honeymoon Blues
Love in Vain
Love in Vain (Alternate)
Milkcow's Calf Blues
Milkcow's Calf Blues (Alternate)
Disc 1, Tracks 1, 3-5, 9, 11, 14-17 and 19-22 and Disc 2, Tracks 1-5, 7, 10, 12, 16-17 and 19 released on Vocalion singles, 1937-1939 (see above)
Disc 1, Track 7 and 22 and Disc 2, Track 14 first released on King of the Delta Blues Singers (Columbia CL 1654, 1961)
Disc 1, Tracks 2 and 12 and Disc 2, Track 8 first released on King of the Delta Blues Singers, Vol. II (Columbia 30034, 1970)
Disc 1, Tracks 6, 8, 10, 13 and 18 and Disc 2, Tracks 6, 9, 11, 13, 18 and 20 first released on The Complete Recordings (Columbia CK 46222, 1990)
Disc 2, Track 15 first released on King of the Delta Blues Singers reissue (Columbia/Legacy CK 65746, 1998)
Disc 3: Rare Victor Blues
South Memphis Blues – Frank Stokes (1929)
Bunker Hill Blues – Frank Stokes (1929)
Dry Land Blues – Furry Lewis (1928)
Cannonball Blues – Furry Lewis(1928)
She's Got Jordan River in Her Hips – R.T. Hanen (1931)
Happy Days Blues – R.T.Hanen (1931)
Expressman Blues – Sleepy John Estes (1930)
Sweet Mama – Sleepy John Estes (1930)
Fence Breakin' Blues – Shreveport Home Wreckers (1930)
Home Wreckin' Blues – Shreveport Home Wreckers (1930)
Canned Heat Blues – Tommy Johnson (1928)
Big Fat Mama Blues – Tommy Johnson (1928)
Leavin' Town – Ishman Bracey (1928)
The Four Day Blues – Ishman Bracey (1928)
I Never Told a Lie – Memphis Minnie-Kansas Joe (1930)
Don't Want No Woman – Memphis Minnie-Kansas Joe (1930)
Real Estate Mama – Samuel "Fat" Westmoreland (unissued)
Dreamin' Blues – Samuel "Fat" Westmoreland (unissued)
Cash Money Blues – Kaiser Clifton (1930)
Fort Worth and Denver Blues – Kaiser Clifton (1930)
Walking Blues – Charlie Kyle (1928)
No Baby Blues – Charlie Kyle (1928)
Lonesome Day Blues – Ruby Glaze & Blind Willie McTell (1932)
Searching the Desert for the Blues – Ruby Glaze & Blind Willie McTell (1932)
Disc 4: Also Playing…
The Engineer's Child – The Chuck Wagon Gang (Vocalion 04105)
Que Piensas tu que me Amore – Andres Berlanga y Francisco Montalvo
Ay! Que Bonitos Ojitos – Andres Berlanga y Francisco Montalvo
Que Sera? – Hermanas Brazza y Daniel Palomo
Muchos Besos – Hermanas Brazza y Daniel Palomo
Tell Me Pretty Mama – Crystal Springs Ramblers (Vocalion 03856)
Down in Arkansas – Crystal Springs Ramblers (Vocalion 03856)
Breeze – Zeke Williams & His Rambling Cowboys (Vocalion 03755)
The Eyes of Texas – The Light Crust Doughboys (Vocalion 03640)
Stay Out of the South – The Light Crust Doughboys (unissued)
Tracks 1-3 recorded in San Antonio, TX – 11/26/1936
Tracks 4-5 recorded in San Antonio, TX – 11/27/1936
Tracks 6-8 recorded in Dallas, TX – 6/19/1937
Tracks 9-10 recorded in Dallas, TX – 6/20/1937