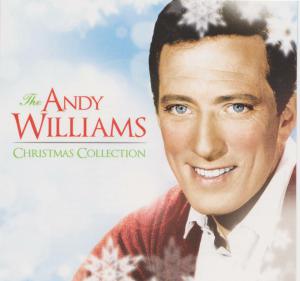 Early in November, Andy Williams took the stage at his Moon River Theatre in Branson, Missouri and announced to the crowd that he is fighting bladder cancer.  "I do have cancer of the bladder," Williams, 83, told the shocked crowd. "But that is no longer a death sentence. People with cancer are getting through this thing. They're kicking it, and they're winning more and more every year. And I'm going to be one of them."  He received a standing ovation upon announcing his intention to return to the concert stage next year to celebrate his staggering 75 years in show business.  Here at Second Disc HQ, our thoughts are with Mr. Williams and his family throughout his battle, especially as his music resonates through another Christmas season.  Indeed, the show goes on for Andy Williams, who is producing his annual Christmas show in Branson even when his health precludes his performing in it; the Moon River Theatre is instead hosting familiar acts like The Lennon Sisters and Roy Clark in Williams' absence.  And of course, The Cookie Bear will make an appearance!
The Cookie Bear is just one of the familiar faces from Williams' long-running television program (1959-1971, with 1968 off) on which the frequently sweater-clad crooner made holiday celebrations an important part of the proceedings.  His Christmas recordings are anthologized with regularity, and 2011 is no exception.  This year, Target is offering an exclusive compilation through Sony Commercial Music Group and Compass Productions.  The 15-track Andy Williams Christmas Collection offers nothing rare for collectors, but for those who don't have any of Williams' holiday recordings in their music libraries, it's hard not to recommend an album of vintage Williams at Christmas.  (Thanks to reader Rich for confirming that this compilation is reprised from 2010, when it appeared with a different cover.)
Hit the jump for more, including the complete track listing with discographical annotation, and a link to our guide to the music of Andy Williams at Christmas!
Christmas Collection is basically an expanded version of Williams' first Christmas album for Columbia, 1963's The Andy Williams Christmas Album, arranged by the great Robert Mersey.  Every track from that seminal LP is present with the exception of "Sweet Little Jesus Boy."  That means that the perennial "It's The Most Wonderful Time of the Year" (actually written for the singer!) leads off this album as well as that original one.  A number of treats stemming from Williams' relationship with songwriter, author and nightclub personality Kay Thompson also appear, including her jazzy reworking of "Jingle Bells" and a medley of "The Holiday Season" and "Happy Holiday."  A fresh, rewritten take on "Twelve Days of Christmas" entitled "A Song and a Christmas Tree" is a highlight, along with a gentle rendition of Mel Torme and Robert Wells' "The Christmas Song." 
The remaining four tracks are derived from Williams' Columbia Records follow-up, 1965's Merry Christmas.  Williams' "Winter Wonderland" is as breezy as his "Do You Hear What I Hear?" is reverent.  But best of all is his version of Rodgers and Hammerstein's "My Favorite Things," which became associated with the holidays not long after its Broadway debut in 1959's original production of The Sound of Music.  His vocals in warm contrast to an arrangement that's moody and even ominous, Williams' treatment is unique in the pantheon.
Alas, there's nothing from Andy's third and final Columbia Christmas recording, 1975's Christmas Present.  This understated collection of primarily religious material is often overlooked (though four selections made the cut for Legacy's 1994 Personal Christmas Collection.)  Its compact disc release quickly went out-of-print, and a couple of tracks would have made Compass' new collection a cut above the rest.
You can find The Andy Williams Christmas Collection at Target.  In the meantime, we hope you explore our comprehensive Back Tracks feature on the complete holiday-themed recordings from one of our favorite artists.  Here's to a speedy recovery and many more years of Christmas shows from a true voice of Christmas, Mr. Andy Williams.
Andy Williams, The Andy Williams Christmas Collection (Sony Music/Compass Productions  56952, 2011)
It's The Most Wonderful Time of the Year
Happy Holiday/The Holiday Season
Kay Thompson's Jingle Bells
Winter Wonderland
The Christmas Song
White Christmas
Have Yourself a Merry Little Christmas
My Favorite Things
Do You Hear What I Hear?
A Song and a Christmas Tree (The Twelve Days of Christmas)
The Little Drummer Boy
O Holy Night
The First Noel
Away in a Manger
Silent Night, Holy Night
Tracks 1-3, 5-6, 10-15 from The Andy Williams Christmas Album, Columbia CS 8887, 1963
Tracks 4, 7-9 from Merry Christmas, Columbia CS 9220, 1965