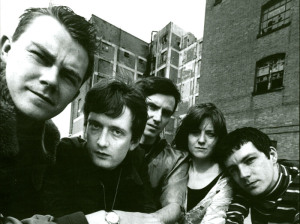 Yesterday's announcement of the lineup for the three-day Coachella Valley Music & Arts Festival in April was met with typical fanfare associated with major festival announcements. And why not? A veritable who's who of rising stars and legends across a wide swath of genres will be performing, including Radiohead, The Black Keys, Dr. Dre and Snoop Dogg, Bon Iver, Madness, Squeeze, The Shins, ex-Oasis frontman Noel Gallagher, the newly-reunited At the Drive-In, James, Florence and The Machine, Girl Talk and several dozen other excellent acts.
Another major name on the bill: Pulp, beloved Britpop outfit, who recently reunited last year to perform a clutch of festival dates in Europe. Their Coachella set is their first major performance of the year, and a great sign to all who were awaiting their moves for the new year. But not only are Jarvis Cocker and company hitting the road, they're revisiting their early catalogue next month with reissues of their first three albums on the Fire Records label.
Before Cocker and band were gathered into the burgeoning Britpop scene in the mid-'90s, alongside guitar-heavy bands like Oasis, Blur and Radiohead, they had spent a tempestuous decade signed to Fire, discouraged by the lack of solidarity with their label and absence of commercial success. (The band's personal nadir may have been the dark and dreary Freaks, recorded in one week in 1987, after which the band nearly split.) Eventually, the single "My Legendary Girlfriend" gained some press attention in 1991, and the eventual move up to the majors with the release of His 'n' Hers (1994) on Island Records was their major commercial breakthrough.
Fire's forthcoming expansions of It (1984), Freaks and Separations (1991) include a host of non-LP singles and B-sides (in the case of Freaks, the bonus material takes up an entire extra disc). In addition, It and Separations include previously unreleased material.
Each reissue will be available in the U.K. on February 13. Hit the jump to check out the track lists!
It: Expanded Edition (Fire Records 233E, 2012)
My Lighthouse
Wishful Thinking
Joking Aside
Boats and Trains
Blue Girls
Love Love
In Many Ways
My Lighthouse (Single Version)
Please Don't Worry (John Peel Session - 11/7/1981)
Blue Girls (Alternative Mix)
Sink or Swim
Tracks 1-7 released as Red Fire Records REDLP 29, 1983
Track 8 released as Red Fire Records single A-side 32, 1983
Track 9 released on The Peel Sessions (Island 9841397, 2006)
Tracks 10-11 previously unreleased
Freaks: Expanded Edition (Fire Records 05E, 2012)
Disc 1: Original LP (released as Fire Records LP 5, 1987)
Fairground
I Want You
Being Followed Home
Master of the Universe
Life Must Be So Wonderful
There's No Emotion
Anorexic Beauty
The Never Ending Story
Don't You Know
They Suffocate at Night
 Disc 2: Non-LP singles and B-sides
Little Girl (with Blue Eyes)
Simultaneous
Blue Glow
The Will to Power
Dogs Are Everywhere
The Mark of the Devil
97 Lovers
Aborigine
Goodnight
Tunnel
Manon
Disc 2, Tracks 1-4 released as Fire Records single BLAZE 5T, 1985
Disc 2, Tracks 5-9 released as Fire Records single BLAZE 10T, 1986
Disc 2, Track 10 was the B-side to "They Suffocate at Night" - Fire Records BLAZE 17T, 1986
Disc 2, Track 10 was the B-side to "Master of the Universe" - Fire Records BLAZE 21T, 1985
Separations: Expanded Edition (Fire Records 26E, 2012)
Love is Blind
Don't You Want Me Anymore?
She's Dead
Separations
Down by the River
Countdown
My Legendary Girlfriend
Death II
This House is Condemned
Death Goes to the Disco
Is This House?
Countdown (Extended Version)
Death Comes to Town
Tracks 1-9 released as Fire Records LP 11026, 1992
Tracks 10 and 12 from Fire Records 12" BLAZE 51T, 1991
Track 11 was the B-side to "My Legendary Girlfriend" - Fire Records BLAZE 20T, 1990
Track 13 previously unreleased