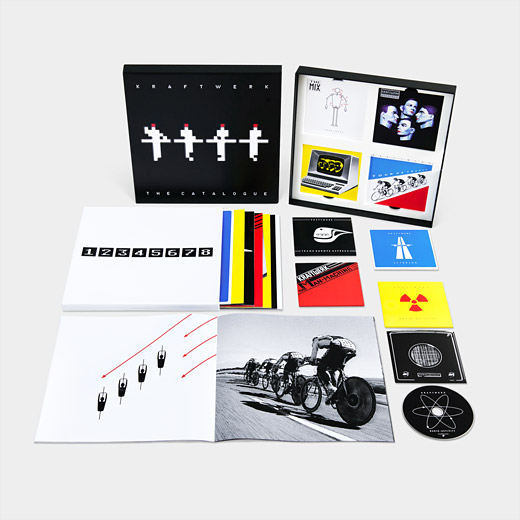 If you're one of the lucky few attending Kraftwerk's sold-out week of concerts at New York's Museum of Modern Art beginning this Tuesday, keep an eye out for a reissue of the band's much-coveted The Catalogue box set to be sold at the gigs.
The influential German electronic band's exhibit, Retrospective 1 2 3 4 5 6 7 8, will feature, over eight nights, the group performing one album in full each night (from 1974's Autobahn to 2003's Tour de France Soundtracks), augmented with additional performances and multimedia including 3-D projections.
Of course, ardent and patient fans have known that this is not too dissimilar to the remastering and reissuing of the band's catalogue in 2009's The Catalogue box set. Initially scheduled for release in 2004 under the title 1 2 3 4 5 6 7 8, the box of remasters was not released until five years later. (Individual remasters of all albums were released in the U.S., barring Computer World (1981), Electric Café (1986) and The Mix (1991), tied up by licensing restrictions.)
While the MoMA-exclusive box - which is also on sale through the museum's online store - features the same musical material as the original release of The Catalogue, it will feature new, limited-edition artwork. Only 2,000 numbered copies will be produced.
Kraftwerk, Der Katalog / The Catalogue (Kling Klang/EMI (DE) / Kling Klang/Astralwerks (U.S.) KLANGBOX002, 2009)
Disc 1: Autobahn (originally released as Philips 6305 231-D, 1974)
Disc 2: Radio-Aktivität (originally released as Kling Klang 1C 062-82 087, 1975)
Disc 3: Trans Europa Express (originally released as Kling Klang 1C 064-82 306, 1977)
Disc 4: Die Mensch-Maschine (originally released as Kling Klang 1C 058-32 843, 1978)
Disc 5: Computerwelt (originally released as Kling Klang 1C 064-46 311, 1981)
Disc 6: Techno Pop (originally released as Electric Café - Kling Klang 1C 064-24 0654 1, 1986)
Disc 7: The Mix (originally released as Kling Klang 1C 164-7 96650 1, 1991)
Disc 8: Tour de France (originally released as Tour de France Soundtracks  - Kling Klang 591 708 1, 2003)