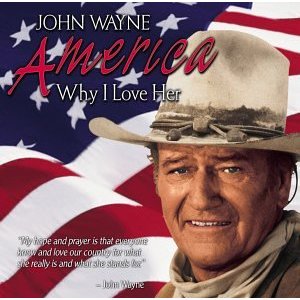 Welcome to another installment of Reissue Theory, where we focus on notable albums and the reissues they could someday see. With a bold development in international relations beginning today, we look at an American actor and patriot who put his beliefs into an unusual record.
Let's be honest with ourselves: I'm a music writer, first and foremost. I'm not 100 percent sure what pithy commentary I can (or should) offer on the massive news of last night – that al-Qaeda leader Osama bin Laden, the mastermind behind the American terror attacks on September 11, 2001, was killed in an operation in Pakistan.
But like many of you, I'm grappling with a lot of emotions on the matter. Is the death of bin Laden going to end terrorism forever? Is it going to relax a decade of tighter airport security? Is it going to inspire a generation of snarky Internet users to drop their snide facades and focus on reflecting and healing? No, no and no, unsurprisingly. But it's a historic moment, for sure, and one that needs to inspire not only some reflection on the road many of us traveled to arrive at this point in time, but a look ahead as to where we're moving as a global society.
Of course, since I'm a music geek first and foremost, moments like these make me think of one of the most intriguingly patriotic records ever put to vinyl or CD – a release by a man who some would say had no business as a recording artist, but briefly became one anyway, to provide a nation with some much-needed audio comfort food. Today's story is that of the sole LP by Marion Robert Morrison, better known to the rest of the world as John Wayne.
Some like to paint John Wayne as the kind of worn-out conservative hero that America never needed. During his lifetime, he was an ardent supporter of Richard Nixon's 1960 and 1968 presidential campaigns, as well as a member of the conservative, anti-communist John Birch Society and a vehement approver of the Vietnam War. He also had a stunning amount of controversial things to say in a 1971 interview with Playboy – namely about the war effort, blacks and Native Americans. But in every facet of his career, he carried with him a dignified, unyielding pride for his America, the country that not only supplied him with freedom and equal rights but international acclaim as well. For this author, his most telling quote was one after Nixon lost in 1960 to John F. Kennedy: "I didn't vote for him," Wayne said, "but he's my president, and I hope he does a good job." Would that all modern partisans accept losses with the same kind of grace today.
In retrospect, some writers and confidantes of Wayne attest that his patriotism came from a very real sense of guilt, not just blind jingoism. Wayne spent most of World War II as being exempt from service – first 3-A classification (a family deferment – at the time, the 34-year-old actor had four children with first wife Josephine Alicia Saenz), then later reclassified as 2-A ("support of national health, safety, or interest") at the behest of his employer, Republic Pictures. By many accounts, including those of wives and biographers, the actor never fully recovered from the pain of not serving his country, and his persona was forever influenced as a result.
Wayne's last great act in the name of American patriotism was recording America, Why I Love Her, a record of spoken-word poetry over staid, inspirational orchestral backing. America, Why I Love Her did have a modicum of success for the Duke, earning a Grammy nomination and selling some 100,000 copies in under two weeks. There's also an interesting connection to another beloved man's-man actor of the same era: nine of the ten poems were co-written by John Mitchum, who was starting to come into his own as a character actor (he played cop Frank DiGiorgio in the first three Dirty Harry films and had parts in Clint Eastwood's High Plains Drifter and The Outlaw Josey Wales) but is perhaps just as known for being the younger brother of legendary actor Robert Mitchum.
It's not an easy listen, though, for several reasons. For some, the brand of simple right-or-wrong patriotism may be too much to bear. But for others, it's hard hearing John Wayne sound the way he did on the album. The Duke was not a healthy man by the time the album was released in 1973 – he was three years away from his final film appearance, and had already beaten a savage bout of cancer that left him without a lung. (The record itself took three years to make.) But listen past the vocal processing used to beef up Wayne's voice, and you'll hear someone who was honestly moved by the words he read. And, like all good art, they were words that lasted beyond the lifetime of the artisan. John Wayne died in 1979 of stomach cancer, after which RCA re-pressed the album once more. Then, as a nation grieved after the events of September 11, Wayne's estate (with the participation of John Mitchum's daughter, Cindy Mitchum Azbill) oversaw its first release on compact disc.
Whether you consider it pap or patriotism, there's no doubt that John Wayne's recorded declarations have comforted a nation for nearly 40 years. Perhaps, on a day with as many (if not more) questions than answers, they can provide comfort again.
[youtube=http://www.youtube.com/watch?v=sekHkR5BKOY]
John Wayne, America, Why I Love Her (RCA LSP-4828, 1973 – reissued RCA (cat. # unknown), 1979 and MPI Home Video 8105, 2001)
Why I Love Her
The Hyphen
Mis Raices Estan Aqui (My Roots Are Buried Here)
The People *
An American Boy Grows Up
Face the Flag
The Good Things *
The Pledge of Allegiance
Why Are You Marching, Son?
Taps
* also released as RCA single 0947, 1973