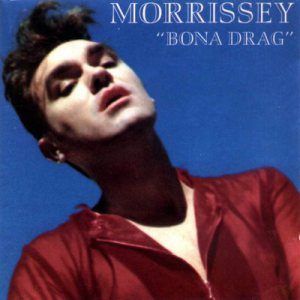 From beloved, semi-official Morrissey Web site True to You comes the news that Morrissey's singles compilation Bona Drag (1990) is getting a deluxe reissue for its 20th anniversary with six unreleased vault tracks.
Released between Moz's solo debut in 1988 and Kill Uncle in 1991, Bona Drag included some of the ex-Smiths frontman's best early work, including "Suedehead," "Everyday is Like Sunday," "The Last of the Famous International Playboys" and "Disappointed." Six bonus tracks from the the Viva Hate sessions and beyond will be added to the EMI-reissued, Morrissey-approved package, as well as new cover art and rare photos (the LP sleeve, a still from the video for "November Spawned a Monster," re-colored Morrissey's shirt from black to red, as seen above, and will now go back to black for this reissue).
The set is due out in the U.K. on September 27 on Major Minor Records, the same vintage label from the '60s that had The Dubliners and Johnny Nash which Mozzer looks to be restarting for this set. Come, Armageddon, come after the jump.
Morrissey, Bona Drag (originally released as HMV CLP 3788, 1990 - reissued EMI/Major Minor, 2010)
Piccadilly Palare - 3:28
Interesting Drug - 3:27
November Spawned a Monster - 5:38
Will Never Marry (Edit) - 2:22
Such a Little Thing Makes Such a Big Difference - 2:51
The Last of the Famous International Playboys - 3:40
Ouija Board, Ouija Board - 4:25
Hairdresser on Fire - 3:49
Everyday is Like Sunday - 3:34
He Knows I'd Love to See Him - 3:08
Yes, I Am Blind - 3:44
Lucky Lisp - 2:51
Suedehead - 3:54
Disappointed - 3:05
Happy Lovers at Last United *
Lifeguard on Duty *
Please Help the Cause Against Loneliness (Demo) *
Oh Phoney *
The Bed Took Fire *
Let the Right One Slip In (Alternate Long Mix) *
Track 1 was a new track released as a single to promote this compilation
Tracks 2 and 5 from HMV 7" single POP 1621, 1989
Tracks 3 and 10 from HMV 7" single POP 1623, 1990
Track 4 from HMV 12" single 12POP 1619, 1988
Tracks 6 and 12 from HMV 7" single POP 1620, 1989
Tracks 7 and 11 from HMV 7" single POP 1622, 1989
Tracks 8 and 13 from HMV 12" single 12POP 1618, 1988 (Track 13 also released on Viva Hate - HMV, 1988; Track 13 released on U.S. pressings of that album)
Tracks 9 and 14 from HMV 7" single POP 1619, 1988 (Track 9 also released on Viva Hate)
* indicates previously unreleased track
Track 15 is an outtake from the "Everyday is Like Sunday" sessions
Tracks 16-17 are outtakes from the Viva Hate sessions. Track 17 was written by Morrissey for Sandie Shaw and appeared on her Hello Angel LP (Rough Trade, 1988)
Tracks 18-19 are outtakes from the Bona Drag sessions. Track 19 is an early version of "At Amber," the B-side to "Piccadilly Palare."
Original version of Track 20 was the B-side to U.S.-only single "Tomorrow" (Sire/Reprise, 1992)