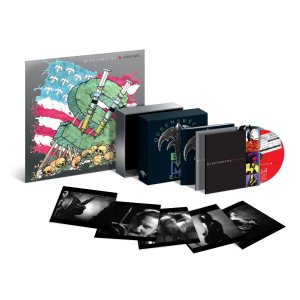 EMI has announced a deluxe edition of Queensrÿche's Empire for the album's 20th anniversary. The LP, the band's most successful in the U.S. thanks to Top 10 hit "Silent Lucidity," will feature three B-sides (previously included on a remastered edition in 2003) and a bonus disc of unreleased material recorded live at London's Hammersmith Odeon in 1990.
Like many of EMI's recent reissues, the set will be packed in a lidded box with some extra collectible cards and posters inside.
This set is to be released September 14. Read the full press release here and hit the jump for the full track list.
Queensrÿche, Empire: 20th Anniversary Edition (EMI/Capitol, 2010)
Disc 1: Original LP and bonus tracks (originally released as Capitol 7 95069 1, 1990 - remaster with bonus tracks released as Capitol 7243 5 81070 2 9, 2003)
Best I Can - 5:34
The Thin Line - 5:42
Jet City Woman - 5:22
Della Brown - 7:04
Another Rainy Night (Without You) - 4:29
Empire - 5:24
Resistance - 4:50
Silent Lucidity - 5:48
Hand on Heart - 5:33
One and Only - 5:54
Anybody Listening? - 7:41
Last Time in Paris - 3:52 (B-side to "Another Rainy Night (Without You)" CD single - EMI 046112, 1991)
Scarborough Fair - 3:51 (B-side to "Empire" - EMI USA MT 90, 1991)
Dirty Lil Secret - 4:07
Disc 2: Live at the Hammersmith Odeon - 11/15/1990 *
Resistance
Walk in the Shadows
Best I Can
The Thin Line
Jet City Woman
Empire
Roads to Madness
Take Hold of the Flame
Silent Lucidity
Hand on Heart
* previously unreleased