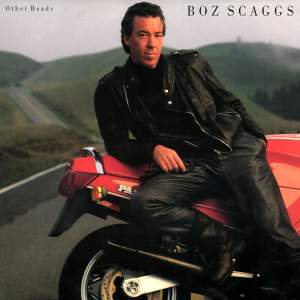 Friday Music has added some more titles to their ongoing series of Boz Scaggs reissues. The label will expand two Columbia LPs from the singer/songwriter/guitarist with remastered sound and packaging.
First, there's Moments, Scaggs' debut for Colubmia which featured production by Glyn Johns and a minor hit with "We Were Always Sweethearts." (Listen for a young Rita Coolidge on backing vocals on the track "Near You"!) This set includes two mono single mixes and a pair of rare EP tracks.
Other Roads saw Scaggs making quite the comeback after eight years away from the industry. Armed with an all-star cast of sidemen (a good chunk of Toto, James Ingram, Siedah Garrett, Timothy B. Schmit, and producers Stewart Levine and Patrick Leonard, each man coming off a respective hot streak with Simply Red and Madonna), Other Roads was an adult-contemporary smash. This reissue includes two non-LP B-sides and a rare remix.
Check out the track lists after the jump and click here to pre-order the sets, due for release on August 31.
Boz Scaggs, Moments: The Deluxe Edition (Friday Music, 2010)
We Were Always Sweethearts
Downright Women
Painted Bells
Alone, Alone
Near You
I Will Forever Sing (The Blues)
Moments
Hollywood Blues
We Been Away
Can I Make It Last (Instrumental)
We Were Always Sweethearts (45 RPM Mono Mix)
Near You (45 RPM Mono Mix)
I Feel So Good (Recorded Live-Playback E.P. Series)
Hollywood Blues (Recorded Live-Playback E.P. Series)
Tracks 1-10 from Columbia LP C 30454, 1971
Track 11 from Columbia promo single 3-45353, 1971
Track 12 from Columbia promo single 3-45408, 1971
Tracks 13-14 from Columbia EP AS7 1001  ZSM 155104, 1971
Boz Scaggs, Other Roads: The Deluxe Edition (Friday Music, 2010)
What's Number One?
Claudia
Heart of Mine
Right Out of My Head
I Don't Hear You
Mental Shakedown
Crimes of Passion
Funny
Cool Running
The Night of Van Gogh
You'll Never Know
Soul to Soul
Cool Running (Shep Pettibone Remix)
Tracks 1-10 from Columbia LP C 40463, 1988
Track 11 from Columbia single 37-07780, 1988
Track 12 from CBS 12" single 651559 2 (U.K.), 1988
Track 13 from Columbia single 37-07981, 1988