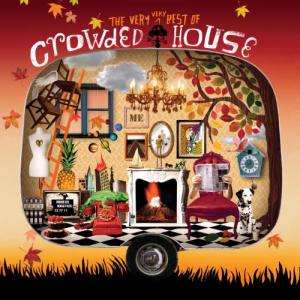 EMI has announced an October 26 release date for the cheekily-titled The Very Very Best of Crowded House, the latest compilation from the Australian pop masters.
The 19-track compilation (14 of which appeared on the last EMI comp, Recurring Dream: The Very Best of Crowded House (1996)) features tracks from all of the band's albums save this year's Intriguer. Additionally, there will be an expanded digital-only version with a rare live cut, a cover of "Throw Your Arms Around Me" by fellow Aussie rockers Hunters & Collectors which was released as a B-side.
Read the press release here and check the track lists for both versions after the jump.
Crowded House, The Very Very Best of Crowded House (EMI/Capitol, 2010)
Something So Strong
Weather with You
It's Only Natural
Chocolate Cake
Fall at Your Feet
Distant Sun
Better Be Home Soon
Four Seasons in One Day
Don't Dream It's Over
Mean To Me
Locked Out
Don't Stop Now
Pineapple Head
Instinct
Fingers of Love
Private Universe
Not the Girl You Think You Are
Nails in My Feet
Pour Le Monde
Tracks 1 and 9-10 from Crowded House (EMI/Capitol, 1986)
Tracks 2-5 and 8 from Woodface (EMI/Capitol, 1991)
Track 7 from Temple of Low Men (EMI/Capitol, 1988)
Tracks 6, 11, 13, 15-16 and 18 from Together Alone (EMI/Capitol, 1993)
Tracks 14 and 17 from Recurring Dream: The Very Best of Crowded House (EMI/Capitol, 1996)
Tracks 12 and 19 from Time on Earth (ATO, 2007)
Crowded House, The Very Very Best of Crowded House (Digital Deluxe Version) (EMI/Capitol, 2010)
Now We're Getting Somewhere
World Where You Live
Weather with You
Something So Strong
When You Come
Fingers of Love
Four Seasons in One Day
Distant Sun
Don't Stop Now
Sister Madly
Chocolate Cake
Locked Out
Never Be the Same
Hole in the River
Not the Girl You Think You Are
Better Be Home Soon
Mean to Me
It's Only Natural
Fall at Your Feet
Recurring Dream
Private Universe
Pineapple Head
She Called Up
I Feel Possessed
Instinct
Everything is Good for You
Into Temptation
Nails in My Feet
Don't Dream It's Over
Pour Le Monde
Whispers and Moans
Throw Your Arms Around Me (Live @ The Roxy, Los Angeles - 2/26/1987)
Tracks 1-2, 4, 14, 17 and 29 from Crowded House (EMI/Capitol, 1986)
Tracks 5, 10, 13, 16, 24 and 27 from Temple of Low Men (EMI/Capitol, 1988)
Tracks 3, 7, 11, 18-19 and 31 from Woodface (EMI/Capitol, 1991)
Tracks 6, 8, 12, 21-22 and 28 from Together Alone (EMI/Capitol, 1993)
Tracks 15 and 25-26 from Recurring Dream: The Very Best of Crowded House (EMI/Capitol, 1996)
Track 20 was a B-side to "Four Seasons in One Day" (EMI/Capitol, 1992). Later released on Afterglow (EMI/Capitol, 1999)
Tracks 9, 23 and 30 from Time on Earth (ATO, 2007)
Track 32 was the B-side to "Distant Sun" (EMI/Capitol, 1993)