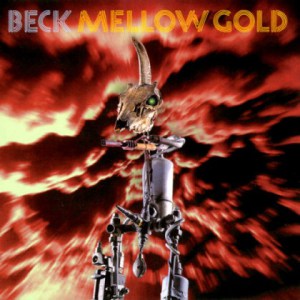 It's not common that The Second Disc gets political, but this past weekend inadvertently made for a hilarious segue into catalogue discussion: conservative firebrand Sarah Palin took to Twitter on Monday defending television host Glenn Beck's really weird "Restoring Honor" rally held last weekend. In particular, she criticized the mainstream media "sheeple" (a terrible portmanteau if ever there was one) for downplaying the significance of the rally. Her tweet, in full:
Silly media reports"maybe thousands"@Beck's "irrelevant" event;insinuating MSM sheeple mustn't believe their own eyes&ears re: event's truth
Here's the trick, though: instead of linking to Glenn Beck's Twitter page above, she linked to alternative rocker Beck's Twitter feed. Beck didn't have a rally last weekend - he was probably working on his hilarious series of "Record Club" entries in which he and famous friends cover such albums as INXS' Kick and (currently) Yanni's Live at the Acropolis - but the accidental shout-out made us want to rally around him.
The multifaceted artist - one of the most notable names from the mid-'80s New York anti-folk scene (even though his mainstream success wouldn't come until the mid-'90s) -has been no stranger to reissues before. Geffen, Beck's longtime label reissued indie release One Foot in the Grave (1994) with a bonus disc last year (an interesting stipulation on Beck's early contract was the ability to record independent works out of contract without penalty, allowing a considerably wider berth of artistic freedom), and the year before that saw a deluxe edition of 1996's Odelay. But one disc of his that hasn't yet been touched is Mellow Gold, Beck's first LP for Geffen, which spawned a surprise Top 10 hit in the satiric Gen-X classic "Loser."
We hope that Beck didn't get too confused by Palin's somewhat misinformed musings, and hope this Reissue Theory look at Mellow Gold is something for the fine folks at Universal to consider putting out there someday. Check it out after the jump.
Beck, Mellow Gold

(DGC/Interscope, 1994)
Disc 1: Original album (originally released as Bong Load Custom LP BL12 and DGC/Geffen CD DGCD-24634, 1994)
Loser – 3:55
Pay No Mind (Snoozer) – 3:15
Fuckin With My Head (Mountain Dew Rock) – 3:41
Whiskeyclone, Hotel City 1997 – 3:28
Soul Suckin Jerk – 3:57
Truckdrivin Neighbors Downstairs (Yellow Sweat) – 2:55
Sweet Sunshine – 4:14
Beercan – 4:00
Steal My Body Home – 5:34
Nitemare Hippy Girl – 2:55
Mutherfuker – 2:04
Blackhole – 5:17
Analog Odyssey – 2:16 *
* hidden track on original album
Disc 2: Rarities and B-sides
Corvette Bummer – 4:57
Alcohol – 3:51
Soul Suckin Jerk (Reject) – 6:10
Fume – 4:29
MTV Makes Me Want to Smoke Crack (Lounge Version) – 3:29
Pay No Mind (Extended) – 4:01
Got No Mind – 4:22
Asskiss Powergrudge (Payback '94) – 3:06
Totally Confused (Re-Recorded) – 3:28
Spanking Room – 5:20
Loser (Psuedo-Muzak Version) – 3:26
Steve Threw Up – 3:35
Untitled (Cupcake) – 0:46
Tracks 1-4 from "Loser" CD single - DGCDM-21930, 1994
Track 5 from "Loser" U.K. CD single - Geffen GFSDT-67, 1994
Track 6 from certain vinyl pressings - Bong Load Custom BL12, 1994
Tracks 7-11 from "Beercan" CD single - DGC DGCDM-22000, 1994
Tracks 12-13 from non-LP single - Bong Load Custom#mce_temp_url# BL11, 1994