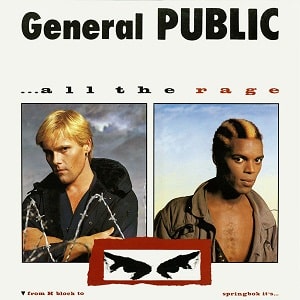 Welcome to another installment of Reissue Theory, where we reflect on well-known albums of the past and the reissues they could someday see. Today, a department store ad unleashes an earworm from the New Wave days.
The music industry will never be desperate enough to reissue albums based on certain tunes appearing in commercials, but if they did it would save a lot of headaches for this author.
If you watch enough television in the U.S., you've probably noticed those innocuous ads for Target, the big retailer that everyone likes (as opposed to Wal-Mart, the retailer everyone seems to hate). They usually show "regular folks" coping with eccentricities of day-to-day life - paying bills, feeding kids and so on - punctuated by a product sold at Target that will solve their problems and a brief song cue under the tagline ("Life's a moving target" - ha ha, get it?).
Most of those tunes are early '80s pop songs, for whatever reason - maybe Target's ad agency just can't get enough of New Wave hits - and while a few of them are familiar to the soccer moms and weekend warriors that make up Target's core audience, some are not. For every ad that uses "Let's Go" by The Cars or "Hit Me with Your Best Shot" by Pat Benatar, there's one that uses "Age of Consent" by New Order or "Tenderness" by General Public.
That last one was a particular pain for this author, as it became one of those songs you know you've heard, but can't for the life of you pin down where it came from. Even if you haven't seen the ad, you might have recognized its six-note hook from the soundtrack to the film Weird Science in 1985. And if you still haven't recalled the tune, hit the jump and take a look back, Reissue Theory-style.
General Public might not be household names or even one of the key acts of the 1980s. But the band that they formed from has quite a slice of early-decade nostalgia: GP was formed by Dave Wakeling and Ranking Roger, the two lead vocalists of The Beat (known as The English Beat in the States), the second-wave ska band perhaps best known for the hit "Mirror in the Bathroom." (General Public were not the only successful Beat spin-off; guitarist Andy Cox and bassist David Steele formed Fine Young Cannibals in the late '80s and has a few U.S. hits.)
Depending on who you ask, General Public were something of a supergroup; although Wakeling and Roger appear on all the major promotional materials, they were backed by a tight group that included two members of Dexys Midnight Runners (Stoker, their drummer, and keyboardist Mickey Billingham) and Horace Panter, bassist for The Specials. Another key member of the original production, at least in the beginning, was Mick Jones of The Clash. Jones quit midway through the making of debut album All the Rage and was replaced by guitarist Kevin White, but not before laying down a guitar part on "Tenderness" and a few other singles.
Though GP did two other records with various configurations of backing members - 1986's Hand to Mouth and 1995's Rub It Better, none could match the success of their debut, which hit No. 26 on the Billboard charts and spun off hits with "Tenderness" (No. 27 U.S., No. 11 Canada) and "Hot You're Cool" (No. 16 on the U.S. Dance chart). (Technically, their highest-charting hit in the States was a No. 1 Dance cover of The Staple Singers' "I'll Take You There" in 1993, but that one's not in a Target ad.)
This minor victory for '80s pop/ska/rock riffs has enough material to get reissued by an indie label if the need ever arises, and it'd look something like this.
General Public, ...All the Rage (Virgin V-2324 (U.K.)/I.R.S. SP-70046 (U.S.), 1984)
Hot You're Cool
Tenderness
Anxious
Never You Done That
Burning Bright
As a Matter of Fact
Are You Leading Me On?
Day-to-Day
Where's the Line?
General Public
Dishwasher (Extended Version) (12" B-side to "General Public," Virgin VS-659 12, 1984)
General Public (Extended Version) (12" A-side - Virgin VS-659 12, 1984)
Tenderness (Jellybean Remix) (12" A-side - Virgin VS-673 12, 1984)
Limited Balance (Long Version) (12" B-side to "Tenderness" - Virgin VS-673 12, 1984)
Hot You're Cool (Arthur Baker Dance Mix) (U.S. 12" A-side - I.R.S. SP-70415, 1985)
Day-to-Day (Live) (U.S. 12" B-side to "Hot You're Cool" - I.R.S. SP-70415, 1985)
Hot You're Cool (Dub) (U.S. 12" B-side to "Hot You're Cool" - I.R.S. SP-70415, 1985)