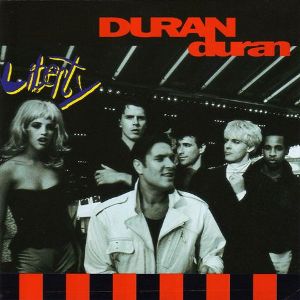 If you read The Second Disc regularly, or carry on any kind of regular conversation with me (and I do apologize if the latter is the case), you probably know enough about the ongoing saga of EMI's reissuing of the Duran Duran catalogue.
On the same day as The Beatles remasters were announced, EMI also sent a release out detailing another one of their British all-boy pop bands, Duran Duran, would get their second (and arguably best) album, Rio, expanded to a two-disc set. This set would not only include all the B-sides and remixes in one place, but a handful of unreleased demos and - for the first time on CD, the full, proper U.K. mix of the album and the American remix of the first side of the album by producer David Kershenbaum. To Duranies, it was already like Christmas - and even more so when a deluxe CD/DVD package of the group's famed 1982 stand at the Hammersmith Odeon was announced alongside the deluxe edition. A June 30 release date was set (a personal sense of gladness, just over a week before this author's birthday), and excitement ran rampant.
There were minor hiccups, of course: the sets were pushed back to mid-September, then late September, then mid-October if you were in the States and couldn't access import copies in a record shop. But the sets were great, and when EMI announced that 2010 would see more deluxe reissues of the band's catalogue (including the buried classic So Red the Rose by Duran side-project Arcadia), it was a cause for excitement.
By the halfway point of 2010, things weren't so great. Reissues of So Red the Rose and the band's 1981 self-titled debut and 1983's Seven and the Ragged Tiger were first delayed several times from March to (ultimately) May, and intended summer reissues of Notorious (1986) and Big Thing (1988) were shoved back to late September. (They're not due in America for another week.) Worse yet, they were plagued with some mastering problems - Duran Duran was riddled with supposed tape issues, as was a track on So Red the Rose whose master was licensed from Rhino. (EMI, in their infinite wisdom, explained away the problems, announced they would not issue corrected discs and that was that.)
Now that Notorious and Big Thing have been/will be in your record store, three albums remain for EMI to reissue: Liberty, the band's 1990 album and the first with Warren Cuccurullo as permanent guitarist; the band's 1993 self-titled album (known in some circles as The Wedding Album), which featured two Top 10 hits and marked an unexpected comeback for the band and Thank You, a left-field covers album from 1995 that led to a second slide in popularity. (Duran's last record for EMI, 1997's Medazzaland, is not eligible for reissue by their former label, as the band got the master tapes back as a consolation prize for being dropped by their 17-year home.) Unsurprisingly, given the breadth of Duran Duran's catalogue, there is an amount of material that could justify a reissue. But will it work? Join us for a debate (and weigh in yourself) after the jump.
Liberty (Capitol, 1990)
The pros: It's hard discussing the pros of reissuing Liberty, an album that was so confusingly limp (let our friends at Popdose explain it perfectly). With only a few really good tracks, a couple of interesting ones and a shocking amount of filler (shocking compared to the filler-free one-two punch of the first two LPs), Liberty would need some serious resuscitation to get it to be a reissue worth buying. This is made difficult by the sheer lack of B-side material; a handful of remixes of lead single "Violence of Summer" and two non-LP B-sides (more filler - and the shock comes from knowing that most Duran B-sides are incredibly strong) does not a bonus disc make. Furthermore, all of those mixes and tunes can be found on The Singles 1986-1995 box set.
That said, there's at least one mix that never made it to CD - a less-drastic extension of "Violence of Summer" that turned up on a French promotional cassette - that would be a worthy bonus cut. And fans are known to enjoy trading a bootleg of demos from this era. Perhaps, as a Hail-Mary-pass for a potential reissue, a new mix of the album, eliminating the worst of producer Chris Kimsey's constant overdubbing, could be commissioned.
The cons: As much as fans are probably craving archival material, these sets rarely dabble in unreleased material. Duran Duran and Rio had some demos and BBC sessions while Big Thing unearthed a pair of intended single remixes, but getting material from vinyl to CD (see the bonus disc for Notorious) that seems to be the purpose of these sets. If demos weren't going to be included for the late-'80s material (and there are plenty in circulation on the bootleg market), why would they be included for a clunker like Liberty?
And not to further tarnish the record's name, but not only is the audio material a bit thin, but the visuals are a stretch, too. Duran Duran didn't tour for this record, and promotional appearances were slim. (Even a third music video for "First Impression," after the clips for "Violence of Summer" and the excellent "Serious," was cancelled in the middle of shooting.) The DVD has become a prerequisite for these Duran reissues; what could be lurking in the vaults that would justify the existence of such a thing?
Solution? Either slim down the volume to two CDs of semi-decent material or try to pad it out and accept the losses.
Duran Duran (The Wedding Album) (Capitol, 1993)
The pros: Though this author has always felt that The Wedding Album had great tracks without ever adding up to a great album, a reissue would certainly be welcome. For one thing, not only is there enough rich material to port over from the Singles box, but there's plenty of it that didn't make the cut. Three non-LP tracks - "Falling Angel," "Time for Temptation" and "Stop Dead" - were conspicuously absent from the box, as was a new remix of then-rarely heard early cut "To the Shore" (sadly left off the deluxe edition of the self-titled record) and the full version of the No Ordinary Tour live EP. Video content is rampant, too - not only did the members of Duran Duran make a good amount of videos and promotional appearances at the time, but one of the holiest of grails for Duranies could be included: the band's 1993 performance on MTV Unplugged (the whole tour, in fact, stressed acoustic and orchestral arrangements).
The cons: Admittedly, not a whole lot: there are enough hits to draw in more casual fans willing to pay for a deluxe set, and plenty of goodies to get older fans to open their wallets again.
Solution? The Wedding Album would work as a two-CD set with DVD, without fail.
The pros: While this set is another of the (sadly) many misfires Duran Duran released in the 1990s, Thank You at least has the blessing/curse of being interesting. For a New Wave band so consciously influenced by CHIC and Roxy Music, it's certainly a surprise to see the band cover artists a generation removed (The Doors, Bob Dylan, Led Zeppelin, Sly and The Family Stone) or drawing from the rap genre as heavily (their cover of Grandmaster Flash and The Furious Five's "White Lines" was released as a single). There's enough as much here to pique your interest as there is to make you cringe, and as far as latter-day Duran Duran goes, that's a compliment.
There are a few rarities in hiding should Thank You get a deluxe revisitation: in addition to many B-sides (Neil Young's "The Needle and the Damage Done," the import-only cover of David Bowie's "Diamond Dogs") or alternate takes (this record went through mix after mix - the band couldn't decide between versions of "I Want to Take You Higher" and thus included both on the final LP), there are a couple of great known outtakes, including the band's take on T. Rex's "Jeepster" (which, like a few other tunes on the record, featured the brief return of original drummer Roger Taylor) and a rawer remix of "White Lines."
The cons: Again we have the issue of padding out what many see as a total dud. And touring was much lighter this time around, limited to radio station festivals and other junk, making live footage a stretch. There is one DVD extra that would be a sight, however: the album's original electronic press kit, in which Lou Reed unironically sang the praises of the band's cover of his "Perfect Day."
Solution: A two-disc set with DVD could work, assuming there was enough to pad out the DVD.
Even if reissuing the last three Duran Duran albums in the EMI catalogue fluctuates between mildly and rather interesting, it would at least be a fitting reward for this fantastic dance-rock group of the '80s to get the red carpet treatment that all popular, well-received bands deserve. If they do, though, they should probably avoid burning fans as gracelessly by brickwalling these original albums.
What do you think, dear reader? Should these last Duran albums (and, to a point, EMI) deserve another chance or is it best to let things lay quiet for awhile?