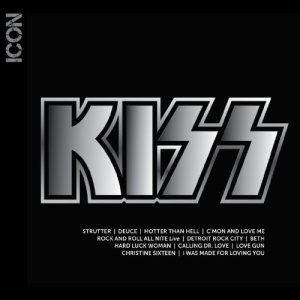 From the very beginning, the compilation record was at once a blind cash grab and an attempt at convenience. After a handful of years buying vinyl singles, what would be the point of buying a selection of those hits? Ah yes, the extra tracks were sometimes dealmakers. And if you'd never bought said hits, it was hard to beat a tightly packed compilation disc.
Times have, of course, changed. Compilations should be rendered nearly obsolete by digital downloading; retailers like iTunes and Amazon make it easier than ever to pick and choose your own hits playlists rather than paying $13 for a professionally-pressed playlist. So, as should be the case in these troubled times, labels have to get craftier. Thus, we have sets like Legacy's Playlist and UMe's recent Icon series. (There's a new batch of Icon sets tomorrow, including comps by No Doubt, Barry White, WAR and others.)
It's hard to look at Icon, and not compare it to Playlist, a budget series well-liked at The Second Disc (and elsewhere). The trick is that Icon generally doesn't have the catalogue/fan-oriented spin that Playlist enjoys, instead opting for what's usually the most obvious routes, track-wise. Ultimately, in fact, there are a few big issues with the Icon line that I'd like to dissect after the jump.
The Usual Suspects
Generally speaking, the Icon series picks the most obvious artists from the UMG roster to anthologize. The Motown artists (The Jackson 5, Marvin Gaye, Rick James, The Supremes) all have dozens of their own compilations, as do Barry White, James Brown, KISS and others. Surely there must be some other artists to compile? What fan is going to want to pick and choose between a J5 Icon set and The Ultimate Collection, or JB's set next to The 50th Anniversary Collection? Budget sets are one thing, but if there's a wider-reaching set to be had, the people more likely to buy CDs in the first place will buy those instead. (There are some comps for lesser-compiled acts, such as Hoobastank and Erykah, but they're lacking in other areas; more on that in a bit.)
Eyesight to the Blind
I'll come right out and say it: the graphic design for Playlist is kind of ridiculous. Maybe that's the point, I don't know. But some of the Icon sets are positively boring in their design. Sets for KISS, Rush and Nirvana are little more than band names. Compared to the iconic art of Nevermind or Destroyer, there's something a bit off about that. People do buy sets for covers, sometimes; why not make them look better than just okay?
Misdirection
We've seen previously-released hits sets given different covers and thrown back onto the market, but some Icons are ridiculous. Tuesday's upcoming No Doubt compilation is The Singles 1992-2003 with a new cover. On the other side of the coin, Janet Jackson's Icon: Number Ones is nothing like the double-disc Number Ones released barely a year ago. Again, the perceived lack of effort fans may feel is stunning.
The Collectibility Game
The masterstroke of the Playlist series is that, despite looking like budget comps for a quick fix, the sets have become a haven for harder to find tracks like single edits, mixes and the like. Icon has so many chances to go that route, and almost never does. Bryan Adams' set could have that long version of "Summer of '69" inadvertently unearthed in a Rock Band game. No Doubt's Icon could have a CD-quality version of their cover of Adam and The Ants' "Stand and Deliver," the only song the band's released since 2003. (The cover of the set in fact uses the artwork used to promote the new track.) All of these opportunities are again missed.
Now, it's not entirely that way. WAR's upcoming Icon set is basically a slightly-expanded version of their 1976 greatest hits LP, which included a then-new track, "Summer." That song was edited for single release, and said edit has turned up on most compilations since then. Getting the album version back in print is a small but significant victory - but it's only one step. The compilers at Universal need to dig a little deeper, because it's not just the casual folks who are looking at these sets. With that bit of extra work, the Icon series may yet live up to its name.