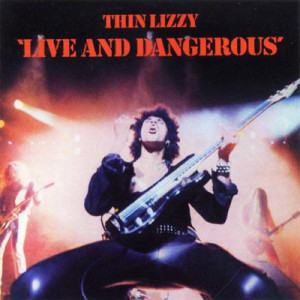 Here's some good news to follow the long-gestating, recent expansion of Thin Lizzy's Vagabonds of the Western World: three - count 'em, three! - of the band's albums are getting the deluxe treatment from Universal in the U.K., according to Classic Rock.
Double-disc editions of the 1976 albums Jailbreak and Johnny the Fox will be released, as well as a two-CD/one-DVD edition of Live and Dangerous (1978). Remastering is being overseen by Thin Lizzy guitarist Scott Gorham (who's about to take the band on tour next year, in spite of the fact that iconic vocalist/bassist Phil Lynott has been deceased since 1986) as well as Joe Elliott. (Yes, the Def Leppard frontman.) Expect each of them in shops on January 24.
Full track lists are after the jump.
Thin Lizzy, Jailbreak: Deluxe Edition (Decca/UMe (U.K.), 2011)
Disc 1: Original LP (released as Vertigo 9102 008 (U.K.)/Mercury SRM-1-1081 (U.S.), 1976)
Jailbreak
Angel from the Coast
Running Back
Romeo and the Lonely Girl
Warriors
The Boys Are Back in Town
Fight or Fall
Cowboy Song
Emerald
Disc 2: Bonus material
Jailbreak (Remix)
The Boys Are Back in Town (Remix)
Jailbreak (John Peel BBC Session - rec. 2/12/1976)
Emerald (John Peel BBC Session - rec. 2/12/1976)
Cowboy Song (John Peel BBC Session - rec. 2/12/1976)
The Warrior (John Peel BBC Session - rec. 2/12/1976)
Fight or Fall (Extended Rough Mix)
Blues Boy
Derby Blues (Early Version of "Cowboy Song")
All tracks on Disc 2 previously unreleased except Tracks 4-6, which appeared on The Peel Sessions (Strange Fruit, 1994)
Thin Lizzy, Johnny the Fox: Deluxe Edition (Decca/UMe (U.K.), 2011)
Disc 1: Original LP (originally released as Vertigo 9102 012 (U.K.)/Mercury SRM-1-1119 (U.S.), 1976)
Johnny
Rocky
Borderline
Don't Believe a Word
Fools Gold
Johnny the Fox Meets Jimmy the Weed
Old Flame
Massacre
Sweet Marie
Boogie-Woogie Dance
Disc 2: Bonus material
Don't Believe a Word (Remix)
Borderline (Remix)
Johnny the Fox Meets Jimmy the Weed (Remix)
Don't Believe a Word (John Peel BBC Session - rec. 9/23/1976)
Johnny the Fox Meets Jimmy the Weed (John Peel BBC Session - rec. 9/23/1976)
Fools Gold (John Peel BBC Session - rec. 9/23/1976)
Johnny (John Peel BBC Session - rec. 9/23/1976)
Fools Gold (Instrumental Run Through)
Johnny the Fox Meets Jimmy the Weed (Extended Instrumental Run Through)
Rocky (Instrumental Run Through)
Massacre (Instrumental)
Scott's Tune
Don't Believe a Word (Studio Outake with Different Lyrics)
All tracks on Disc 2 unreleased except Track 4, which appeared on The Peel Sessions (Strange Fruit, 1994)
Thin Lizzy, Live and Dangerous: Deluxe Edition (Decca/UMe (U.K.), 2011)
Disc 1: Original LP, Part I (originally released as Vertigo 6641 807 (U.K.)/Warner Bros. 2BS-3213 (U.S.), 1978)
Jailbreak
Emerald
Southbound
Rosalie/Cowgirls Song
Dancing in the Moonlight (It's Caught Me in a Spotlight)
Massacre
Still in Love with You
Johnny the Fox Meets Jimmy the Weed
Disc 2: Original LP, Part II and bonus tracks
Cowboy Song
The Boys Are Back in Town
Don't Believe a Word
Warriors
Are You Ready
Suicide
Sha La La
Baby Drives Me Crazy
The Rocker
Opium Trail *
Bad Reputation *
Disc 2, Tracks 10-11 previously unreleased
Disc 3: DVD (released by Mercury in 2008)
Introduction/Rosalie
The Boys Are Back in Town
Emerald
Dancing in the Moonlight (It's Caught Me in a Spotlight)
Massacre
Call on Me
Don't Believe a Word
Are You Ready
Sha La La
Baby Drives Me Crazy
Finale/Me and The Boys