Welcome to Part 1 of a five-part series in which we'll take an in-depth look at the recently-released Apple Records reissue campaign, comprised of 16 Apple albums recorded between 1968 and 1974 plus the first-ever label anthology. We'll begin with the albums of Badfinger.
It's almost impossible to write about Badfinger without mentioning their mentors, employers, producers and influences, The Beatles. Signed in 1968 by the Apple label at the instigation of The Beatles' confidante and "roadie," Mal Evans, Badfinger (then known as The Iveys) became a radio staple thanks to hits like "Come and Get It," gifted to them by Paul McCartney, and "Day After Day," produced by George Harrison. Between 1969 and 1973, Badfinger recorded four landmark LPs for Apple, all of which received the remastered treatment this year. (The group's actual first album, 1969's Maybe Tomorrow, was released under The Iveys' name by Apple in Japan, West Germany and Italy; U.K. and U.S. releases never materialized until the CD era as the now out-of-print CDSAPCOR 8. These four albums are the crown jewels of The Apple Box Set.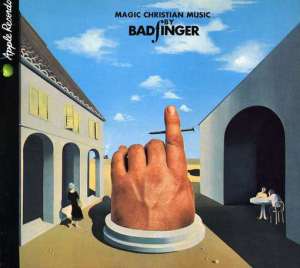 Magic Christian Music (SAPCOR 12) marked the debut of Badfinger even though all of its tracks were recorded while the band – Pete Ham, Tom Evans, Mike Gibbins, Ron Griffiths - still considered themselves The Iveys. The title alluded to the film The Magic Christian, a wild, surreal romp starring Peter Sellers and Ringo Starr based on Terry Southern's novel of the same name; it's also a movie that, even today, needs to be seen to be believed. Trust me that you'll never hear "Come and Get It" the same way again! Paul McCartney contributed production to three songs for the film: the haunting anthem "Carry On Till Tomorrow," the infectious, harder-edged "Rock of All Ages," and of course, "Come and Get It," which he also penned. When contractual issues precluded Apple from releasing the film's soundtrack (released in the U.S. on Commonwealth United Records, cat. no. CU 6004 and in the U.K. on Pye as NSPL 28133), the label maneuvered to release Badfinger's contributions on this similarly-titled set. (The Badfinger tracks also did appear on that official soundtrack release, which has not seen a CD issue.) The LP was rounded out by seven Iveys tracks remixed from the Maybe Tomorrow LP as well as four originals making their recorded debuts: three Pete Ham songs ("Crimson Ship," "Midnight Sun" and "Walk Out in the Rain") and one group co-write ("Give it a Try"). Iveys bassist Ron Griffiths, despite playing on the album and writing "Dear Angie," didn't remain in the band long enough to see the album's release as a member.
The colorful, offbeat artwork for Magic Christian Music reflected the spirit and tone of the music contained within its sleeve. The album's collection of quirky and varied pop songs still endures today, with more than a little Beatles influence readily detectable. The failings of this debut LP, however, would follow the band through its tenure at Apple. Three producers contributed (McCartney, Mal Evans and Tony Visconti, who helmed the original Maybe Tomorrow sessions) and Badfinger was never able to find one producer a la George Martin who would steer them to stylistic consistency. The band's variety of musical influences, too, sometimes makes Magic Christian Music sound like the work of different bands. The Maybe Tomorrow tracks, for instance, have a much "lighter" feel. And while all of the tracks can fairly be labeled as Beatles-esque pop, they range from baroque to psychedelic to rock to folk. Still, Magic Christian Music is a delightful LP and makes for just as fun a listen in its sparkling new CD incarnation, remastered (like all of these discs) by Guy Massey, Steve Rooke and Sam Okell under Allan Rouse's supervision at Abbey Road Studios.
Two bonus tracks, "Storm in a Teacup" and "Arthur," made their debut on the 1991 CD issue (CD SAPCOR 12). While both were dropped for the current reissue, they can be heard in alternate mixes on the box set's bonus discs. (All material referred to as "on the bonus discs" is also downloadable from the usual sources.) In their place are five new bonus tracks: an alternate version of B-side "And Her Daddy's a Millionaire," a remix of unreleased single "Mrs. Jones" (this song first heard as a bonus track on the Maybe Tomorrow CD), mono mixes of Maybe Tomorrow's "See-Saw, Granpa" and "Sali Bloo," and finally, an extended, unedited version of the Maybe Tomorrow album closer, "I've Been Waiting."
Every track on the original Maybe Tomorrow album is now represented on the Magic Christian Music reissue in one form or another, but that LP itself is still conspicuously absent from this campaign; it would have been a welcome inclusion and truly made this round of reissues the last word on Badfinger's tenure at Apple. (For the record, CDSAPCOR 8's bonus track "No Escaping Your Love" is available on the box set bonus disc in an alternate mono mix, while "Looking for My Baby" is missing from this round of reissues. More on that bonus disc in Part 5!)
We move onto No Dice after the jump!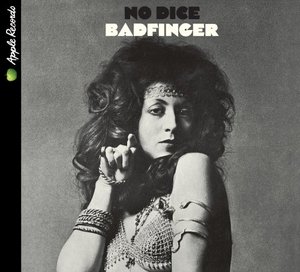 Badfinger followed up Magic Christian Music with 1970's No Dice (SAPCOR 16). This LP marked the debut of guitarist Joey Molland, who had joined the group in November 1969 and whose presence encouraged the band to take a more rock-oriented, less overtly pop direction. Initially at the controls was the band's longtime champion Mal Evans, but when Apple head Allen Klein intervened, Evans found himself replaced by Beatles engineer Geoff Emerick. Evans would arguably have the last laugh, however, when his recording of Pete Ham's "No Matter What" was selected as a single and went Top Ten. It remains a power pop anthem to this day. Among Emerick's productions was a Ham/Evans song called "Without You," actually patched together from one song by Ham and one by Evans. When American singer Harry Nilsson covered the song, it quickly became a new standard. The original Mal Evans-produced demo for "Without You" is among the many bonuses on this expanded edition of Badfinger's best-selling album.
In Andy Davis' liner notes, Geoff Emerick admits holding Badfinger to a higher standard, seeing as how he was accustomed to working with The Beatles. His approach clearly worked, though, as the songs on No Dice are a consistently strong lot. While Joey Molland's contribution, "Love Me Do," certainly has a cheeky title that raised a few eyebrows, it's a fun rocker, all the same. Pete Ham and Tom Evans, even notwithstanding "Without You," continued their mastery of songcraft. Ham's "Blodwyn" is a nice throwback to The Iveys' sound, while Evans and Molland's "I Don't Mind" was likewise enhanced by Emerick's sensitive production.
Like all of the titles in this Apple Records series, the booklets for the Badfinger releases are packed wth eight pages of photographs and informative liner notes which are generally more in-depth and detailed than the essays written for last year's Beatles reissues. All titles are packaged in digipaks with a unifying design recalling The Beatles, John Lennon and Paul McCartney reissue series. However, whereas those digipaks were thick and glossy, these are surprisingly thin on less heavy-stock cardboard.
All five bonus tracks are previously unreleased and new to this edition: Mal Evans-produced demos of "Without You" and "No Matter What," alternative versions of "Believe Me" and outtake "Photograph (Friends are Hard to Find)" (represented in a different take on the previous CD reissue, CD SAPCOR 16) and an extended version of "I Can't Take It." Of CD SAPCOR 16's other bonus tracks, outtake "Get Down" is represented on the box set's bonus discs in another version, while "Mean, Mean Jemima" and "Loving You" (both from from post-No Dice sessions) reappear there as well. "I'll Be the One" from that same period has been moved to a more appropriate home on the new Straight Up reissue.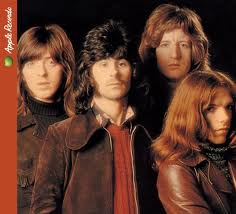 December 1971's Straight Up (SAPCOR 19) may be the apex of Badfinger's career, though it wasn't without its share of drama, either.  After recording No Dice, the band and producer Geoff Emerick embarked on sessions for a follow-up between January and March 1971. Half of the twelve tracks recorded at these sessions would find their way to Straight Up; three more appeared on the 1992 No Dice CD as described above ("I'll Be the One," "Mean, Mean Jemima" and "Loving You") and three more make their debut on this new disc as bonus tracks: "Baby Please," "No Good at All" and "Sing for the Song." For the record, the other bonus tracks on this edition are the aforementioned "I'll Be the One," the U.S. single mix of "Baby Blue" and an early Emerick production of "Name of the Game."
Following the scuttling of the Emerick album, George Harrison took an interest in Badfinger. The group performed at Harrison's legendary Concert for Bangla Desh in August 1971, but three months earlier, he had joined the group at Abbey Road to salvage the new album. Harrison was excited by two Pete Ham compositions. The first, the powerful "Name of the Game," was among the songs produced by Emerick for the aborted set. He arranged two remixes, one from Al Kooper and one with Phil Spector; it's quite a tease that the liner notes mention these versions without including them! Pleased with neither remix, Harrison had the band re-record the song. And as good as "Name of the Game" was (and is!), "Day After Day" was even better. (Harrison cancelled plans for a "Name" single release.) Pete Ham and Harrison doubled on the song's trademark slide guitar solo and another immortal track (arguably Badfinger's finest) was created. Harrison produced two Joey Molland songs, "I'd Die Babe" and "Suitcase," before departing to concentrate on the Bangla Desh concert. (George also nixed "I'll Be the One"  on the grounds that it was "too Beatley," according to the liner notes!)
Apple brought in a wizard, a true star to replace the Beatle: Todd Rundgren. Andy Davis succinctly describes the relationship between Badfinger and Rundgren with "No new friendships were formed between Badfinger and producer at the final Straight Up sessions," and while that's true, the tension may have helped create the polished finished product. Rundgren ended up with credit for the album's eight non-Harrison productions, and among them was "Baby Blue," a Pete Ham song that remains another brick in the foundation of the entire power pop genre. Straight Up might just be Badfinger's masterpiece, and its consistency is remarkable considering the three diverse, and strong-willed, producers involved.
CD SAPCOR 19, the 1993 Straight Up reissue, had six bonus tracks. "Money" and "Flying" had orchestrations by George Martin which were dropped in Rundgren's final productions; "Suitcase" had alternate lyrics from the album version and "Perfection" some different instrumentation. All four of these tracks appear on the box set's bonus discs. The U.S. single mix of "Baby Blue" and Emerick's orchestrated early take of "Name of the Game" have both been carried over to the new edition, as mentioned above.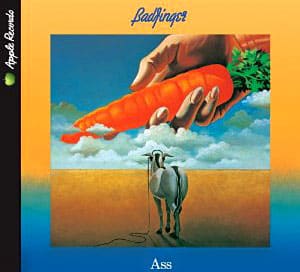 Ass (SAPCOR 27), released in the U.S. in November 1973, was Badfinger's Apple swan song as the group followed Jackie Lomax and James Taylor to Warner Bros. Records. It was released almost concurrently with the band's eponymous Warner debut. Chris Thomas was in charge of production, as he was on the Warner Bros. LP, although two Todd Rundgren-produced tracks made the final cut on Ass, as well. (Despite the acrimony during Straight Up, Rundgren did helm a few sessions for its follow-up.)
It's likely that buyers didn't know what to make of Ass. The band's self-titled Warner album harkened back to their earlier pop-oriented sound, while Ass marked their heaviest work yet for Apple. But "heavy" isn't to say without the trademark harmonies and melodies that set Badfinger apart from the other post-Beatles pack. The rock sound may be largely due to Molland, who contributed five of the album's 10 songs. The album leadoff, "Apple of My Eye," is a Pete Ham song directed squarely at the label that gave Ham and company their start. With lyrics like "You're the apple of my eye…but now the time has come to part," the song didn't try to hide its meaning. But it surely is one of the loveliest kiss-offs in rock! If Ham's song is planted firmly in the pop field, Molland's "Constitution" boasts a blistering guitar and chunky riff, while Tom Evans' "Blind Owl" has an insistent, funky groove.
Ass turned out to be Apple's final non-Beatles LP, and an apropos finale. Ham closed out the album with "Timeless," a fine bookend to "Apple of My Eye." Badfinger sang, "We are yesterday/We are today/We are tomorrow/We are timeless" with a Harrison-inspired mystical slant, and the song is a fitting conclusion to Badfinger's Apple tenure. Even the cover had the kind of amusing frivolity well known to Beatles and Apple fans, with an ass (wearing headphones!) looking straight ahead at a giant carrot dangled from the sky.
The previous reissue, CD SAPCOR27, had one bonus track, Molland's "Do You Mind." For the current reissue, the song is heard in an alternate mix at its writer's request. The unreleased Molland song "Regular" is also present, along with alternate versions of "Blind Owl" and "Timeless." An early mix of "Apple of My Eye" rounds out the five bonus tracks, and closes the book on Badfinger at Apple Records. Tragedy greeted the band around the corner, but the Apple Box Set and these four reissues give listeners a chance to appreciate the band for its own, strong musical merits, as a group that combined the best of pop and rock to create a sound distinctly its own. Badfinger inspired a countless number of power pop groups to follow the path it blazed, and there's no better way to remember the band than via these splendid, long-overdue reissues.
Coming up tomorrow: a look at the Apple reissues of Mary Hopkin and James Taylor!