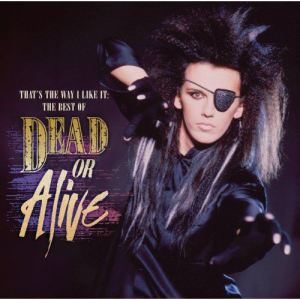 Here's a title that slipped through our radar a few weeks back: a new compilation by '80s dance-pop sensations Dead or Alive.
DoA, the brainchild of Liverpudlian singer Pete Burns, was founded in 1980 and gradually got successful off the back of some catchy, up-tempo tunes and Burns' video-ready, gender-bending outfits (frequently accessorized with an eyepatch). After a steady string of mid-charting U.K. singles, including a cover of KC and The Sunshine Band's "That's the Way (I Like It)," DoA exploded in 1985 with the irresistible "You Spin Me Round (Like a Record)," produced by a then-unknown trio of Mike Stock, Matt Aiken and Pete Waterman. (The trio would dominate the '80s British club scene thanks to more hits like Rick Astley's "Never Gonna Give You Up.") The song was a No. 1 hit in the U.K. and went to No. 11 in the U.S., and the band continues to perform and enjoy success from time to time ("You Spin Me Round" reached the U.K. Top 5 in 2006 off the strength of Burns' appearance on Celebrity Big Brother, while rapper Flo Rida took the chorus for his No. 1 hit "Right Round" in 2009).
This new, import compilation (a release date hasn't been set for the U.S.) features all the band's biggest hits from the '80s, all in their original single mixes. Many of these tracks are making their debut on CD, which is more than enough for the '80s pop collector in your life.
Order it from Amazon here and hit the jump to read the track list. (Special thanks to our good friend Vinny Vero for reminding us about the set!)
[youtube=http://www.youtube.com/watch?v=ZUatnbaNfEo]
Dead or Alive, That's the Way I Like It: The Best of Dead or Alive (Sony CMG 88697 79306-2, 2010)
You Spin Me Round (Like a Record) (3:16)
That's the Way (I Like It) (7" Version) (3:05)
Lover Come Back (to Me) (3:06)
In Too Deep (7" Remix) (3:50)
My Heart Goes Bang (Get Me to the Doctor) (7" Version) (3:02)
Brand New Lover (7'' Single Mix) (3:35)
Something in My House (7" Single Mix) (3:48 )
Hooked on Love (La Vie en Rose Mix) (3:38 )
I'll Save You All My Kisses (Remix) (3:27)
Turn Around and Count 2 Ten (7'' Single Mix) (4:48 )
Come Home with Me Baby (7" Mix) (3:50)
Misty Circles (7" Version) (3:47)
What I Want (Original 7" Version) (3:22)
I'd Do Anything (7" Version) (4:02)
Lover Come Back (to Me) (Extended Remix) (5:50)
My Heart Goes Bang (U.S. Wipeout Mix) (6:42)
Something in My House (Mortevicar Mix) (6:57)
You Spin Me Round (Like a Record) (Murder Mix) (8:00)
Original versions of Tracks 1, 3-5, 15-16 and 18 from Youthquake (Epic, 1985)
Original versions of Tracks 2 and 12-14 from Sophisticated Boom Boom (Epic, 1984)
Original versions of Tracks 6-9 and 17 from Mad, Bad and Dangerous to Know (Epic, 1987)
Original versions of Tracks 10-11 from Nude (Epic, 1989)