In Part 3 of our five-part Apple Records series, we look at a number of the non-rock recordings released under the Apple umbrella.
As the home of Apple Records, 3 Savile Row, London, saw many of rock's greatest musicians pass through its doors. But Ron Kass, the American expatriate headhunted from Liberty Records to be Apple's first head, knew the importance of building a diverse catalogue across many genres. In its short years as an active label, Apple certainly took Kass' belief to heart, and we're lucky that the current reissue campaign has seen fit to release some of the most acclaimed, least commercial albums released under the Apple banner.
Kass was a fan of The Modern Jazz Quartet, the venerable group founded in 1952 by Milt Jackson (vibraphone), John Lewis (piano), Percy Heath (bass) and Kenny Clarke (drums). Due largely to the unique instrumental combination with no horns, and the virtuosity of each individual member, the MJQ sounded like no other jazz group. In 1955, Connie Kay had replaced Clarke on drums, but Milt Jackson was the MJQ's star performer. Jackson was a bebop star discovered by Dizzy Gillespie, and went on to play with many of music's greatest figures. In between lauded tenures at Atlantic Records, the MJQ set up shop at Apple where they released two albums, Under the Jasmin Tree (SAPCOR 4, 1968) and Space (SAPCOR 10, 1969).
Under the Jasmin Tree was recorded in New York and then delivered to Apple. It consists of four long pieces, ranging from around five minutes' length to over fourteen.  The title track, "The Jasmin Tree," was written by John Lewis, the group's musical director, for a documentary film about the people of Morocco, and is suggestive of an exotic milieu. For Space, the MJQ was teamed with "supervisor" Peter Asher, who had already produced James Taylor's debut for Apple.
In Andy Davis' liner notes, Asher recalls a harmonious relationship with Lewis and the quartet, and his major contribution was recording the group closely like a rock record rather than a jazz one, i.e. without a "distant" bass or "woolly" drums. Whereas Lewis had composed Jasmin Tree himself, other composers' work joined his two compositions on Space, "Visitor from Venus" and "Visitor from Mars." The group revisited an American standard in Johnny Burke and Jimmy Van Heusen's "Here's That Rainy Day" from the musical Carnival in Flanders. The album's standout track is "Adagio from Concierto de Aranjuez" by Joaquin Rodrigo, on which the group married jazz with classical. This is a piece the MJQ would revisit throughout their lengthy career. One bonus track from the Space sessions has been appended here, and it couldn't be more appropriate: the group's unusual, organic jazz take on The Beatles' "Yesterday." It makes a fitting closer to these two boundary-breaking Apple albums. Hit the jump to catch up with John Tavener, George Harrison and the Radha Krsna Temple!
Sir John Tavener's Apple albums were even more far removed from the mainstream. Now one of the United Kingdom's most beloved composers, Tavener largely came to prominence as a result of The Whale. Written between 1965 and 1966 and recorded by Apple for release in 1970 as SAPCOR 15, The Whale is a cantata for chorus and orchestra, retelling the Old Testament story of Jonah and the titular mammal. The album opens with the voice of Alvar Lidell, a BBC radio newscaster whose voice was recognizable to almost all who listened in 1970. Lidell reads an encyclopedia entry about the sea mammal, and from there, ominous and atmospheric orchestration takes over. Like many of Apple's best rock records, The Whale should be played loudly! Booming chorales come and go, and the piece is recognized today as shattering many of the conventions of "modern classical" music. There is an improvised section, non-traditional instruments such as football rattle and a whip, and even electronic sound.
Like The Whale, Tavener's Apple follow-up, 1971's Celtic Requiem (SAPCOR 20), had religious themes; Tavener would later write more purely devotional music. As the title would indicate, death was on the brain when Tavener created this ambitious composition. It juxtaposes parts of a traditional Requiem Mass with Irish children's rhymes which dealt with death in a plain-spoken manner. It again utilized widely varied instrumentation (dinner gongs, Aeolian bagpipes, electric and bass guitars), along with haunting children's choruses, full orchestra and a high soprano. Tavener himself played the organ on the unsettling "Requiescat en Pace." Tavener's champions at Apple were John Lennon and Ringo Starr; Ringo even got into the act by shouting through a loud hailer on the track "Melodrama and Pantomime."
Unlike all previous editions of The Whale and Celtic Requiem, these editions have been indexed by Tavener himself for ease of listening and to reflect the scores themselves. The Whale's two parts have been split into eight tracks, and Celtic Requiem is now three tracks rather than one. As Requiem only took up one side of an LP, the second side featured two shorter works by the composer, "Nomine Jesu" and "Coplas." In the liner note essay, Tavener, who was knighted in 2000, explains, "I wanted to produce music that was the sound of God. That's what I have always tried to do."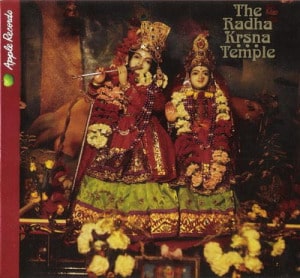 Belief in God was also the raison d'etre for Apple's release in 1971 of Radha Krsna Temple (SAPCOR 18), also included in this reissue series. Srila Prabhupada founded the Hare Krishna Movement in the United States in 1966, then brought it to England in 1968 (his first name means "Learned," while his second means "At whose feet all other masters sit") where George Harrison quickly became a disciple. Prior to a Beatles session at Abbey Road, George played pedal harmonium and guitar on a recording of the "Hare Krsna Mantra;" he then brought in devotees to sing on the track. The mantra (repeated chanting) was released in August 1969, and a few months later members of the Temple recorded "Govinda," also for Apple. Both tracks were released as singles as the Krishna movement grew; at one point, it billed itself as "Britain's fastest growing religion." Members of the Radha Krsna Temple even appeared on Top of the Pops promoting these singles! Despite being a Sanskrit (ancient Indian language) hymn to Krishna, "Govinda" (with an orchestral arrangement by John Barham) actually has a commercial sound and it isn't hard to see its appeal.
The full album followed in May 1971. All songs were traditional, arranged by the Temple's Mukunda Das Adhikary, and the LP included both singles. It paved the way for Harrison's continuing interest in Indian music and he included the Krishna chant in songs such as his own "My Sweet Lord" and "It Don't Come Easy," produced for Ringo Starr.
The new remastered edition reprints Derek Taylor's 1993 liner notes from CD SAPCOR 18, and also contains new notes by Andy Davis. Sanskrit lyrics and English translations are also included.  That previous CD's one bonus track, "Prayer to the Spiritual Masters" (the B-side of "Hare Krsna Mantra"), reappears here along with "Namaste Saraswati Devi," a previously-unreleased recording from the sessions. Hare Krsna Temple has a spellbinding quality, and remains a fascinating artifact of a special place and time for Harrison and Apple Records.
Tomorrow: An offering of soul men and women as fab as they come!