In the penultimate installment of our weeklong series on the new Apple Records remasters, we listen to the label's three most soulful singers: Jackie Lomax, Doris Troy and Billy Preston, and along the way, encounter George Harrison, Paul McCartney, Ringo Starr and a number of their most famous friends!
In yesterday's installment, we looked at the less commercial side of Apple Records. Today, we turn the spotlight on four records that positively smoke, by three soulful troubadours.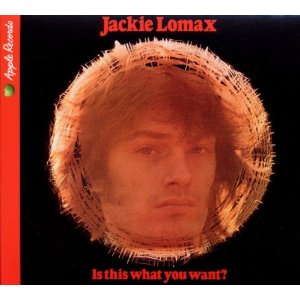 The funky "Speak to Me" opens Jackie Lomax's Is This What You Want? (SAPCOR 6), and introduced the big-voiced, muscular-voiced blue-eyed soul singer (with emphasis on the soul!) to the Apple roster in 1969. In the liner notes to the 2010 remaster, Lomax talks of the Motown influence on this song, but that's evident listening. It's just as obvious what drew The Beatles to Lomax, as they shared similar musical roots. With many artists, there would be a danger titling an album with such a question, but it's easy to predict that most listeners now and then would answer a resounding "yes!"
Lomax tips the hat back to his patrons on "Is This What You Want?", where the verses recall "I Am the Walrus," with gospel backing vocals and string orchestration by John Barham. I thought perhaps it was just me that heard "Walrus" in this song until reading the liner notes where Lomax acknowledges it but defends the song's pure R&B chorus. Lennon had actually encouraged Lomax to go solo, familiar with his work as the lead singer in The Lomax Alliance, a group managed by Brian Epstein. Although John is absent from the album, which was recorded during sessions for The Beatles and produced largely by George, both Ringo and Paul appear as guests. They joined pals Nicky Hopkins, Eric Clapton and Klaus Voormann in supporting Lomax.
As talented a songwriter as a singer, the entire album is comprised of Lomax originals save one, a song gifted by George Harrison, "Sour Milk Sea." Written by Harrison in India, it fit Lomax's big voice like a glove. Clapton plays on this track as well as on "You've Got Me Thinking," enhanced by female backing vocals and brassy, bleating horns. Is This What You Want? is unique in the Apple discography in that it also contains contributions by the famed Wrecking Crew's Hal Blaine, Joe Osborn and Larry Knechtel recorded during Lomax's time at the Los Angeles Sound Recorders studio quite a way from Abbey Road!
Besides the Motown-esque title song, "Sunset" stands out for an unusual piano jazz interlude, while "Fall Inside Your Eyes" shows Lomax's equal facility for a ballad as well as a barnstormer. And though Harrison's instrumental presence is felt throughout, the low-key delivery on "Baby You're a Lover" recalls his vocal influence, too, and is an album highlight.
Of the 2010 reissue's generous six bonus tracks, "New Day" is the Mal Evans-produced U.K. mono single mix. "How the Web Was Woven" b/w "Thumbin' a Ride" was his last Apple single (Apple 23) from 1970; Harrison produced Side A (a Clive Westlake/David Most song), while McCartney took the production reins for Side B's Jerry Leiber/Mike Stoller cover. The remaining three tracks are all previously unreleased originals. "You've Got to Be Strong" and "Can You Hear Me" were both co-written with Doris Troy (she covered "You've Got to Be Strong" on her Apple LP), and "You Make It with Me" is another Lomax original.
"Won't You Come Back," from 1991's CD SAPCOR 6, is orphaned, while that disc's "Going Back to Liverpool" and the stereo mix of "New Day" recur on the box set's bonus discs along with first-time-on-CD mono mixes of "Sour Milk Sea," "The Eagle Laughs at You" and "Little Yellow Pills." Hit the jump for the scoop on Doris Troy and Billy Preston's work for Apple!
Perhaps best-known for 1963's Top Ten hit "Just One Look," the late Doris Troy (1937-2004) had, by 1970, established herself as a grande dame of background singing (you can hear her on "You're So Vain," "You Can't Always Get What You Want" and Dark Side of the Moon, to name just a few) but George Harrison felt it was time to get this background lady back in the forefront.
Doris Troy (SAPCOR 13) is a rollicking party album, and this particular party included Harrison, labelmate Billy Preston, Eric Clapton, Stephen Stills, Peter Frampton and Klaus Voormann! All of those estimable talents, however, took a back seat to the lady with the smoky voice which could be gritty one minute, velvety the next.
It was clear that Troy had evolved musically since the days of "Just One Look." Harrison's powerful electric guitar licks on "Give Me Back My Dynamite" couldn't be further removed from that soul classic. Yet Troy didn't turn her back on those halcyon days of just a few years earlier; she revisited "Hurry," which she first recorded at Atlantic, for Doris Troy. If "Dynamite" is rocking soul, Stephen Stills' "Special Care" was reworked from Buffalo Springfield's folk-psych into pure R&B heaven. On Doris Troy, the singer treats all songs with equal respect, regardless of origin; the Dorothy Fields/Jimmy McHugh standard "Exactly Like You" is taken to the same gospel church as her cover of Joe South's "Games People Play." (Spiritual "Jacob's Ladder" even closes the album on a rousing high note.) On "Gonna Get My Baby Back," Troy jams with two Beatles (Harrison and Starkey) and Stills for a track that would make a great sing-along, if only one could possibly keep up with Doris' insistent vocals!
The original CD release (CD SAPCOR 13) boasted five bonus tracks; all five have been retained, and are supplemented with one additional cut, an alternate version of "All That I've Got." Troy sings "You Give Me Joy Joy" (another Troy/Harrison/Starkey/Stills co-write!) on the album, but joy – singly or doubly – is assuredly what this album will bring to any classic soul fan.
In a similar bag are the two Apple long-players by keyboard legend Billy Preston (1946-2006). There have been many, many Fifth Beatles, from Murray the K to George Martin. But only one shared a label credit with the Beatles, post-Hamburg. That man, of course, was keyboard wizard Preston, who deserved his credit for "Get Back" and could have legitimately staked credit to Fifth Beatle-dom. Preston actually first met the band in Hamburg at the Star-Club, circa 1962, where he was opening for Little Richard.  He became fast friends with the Fabs, and when George Harrison caught up with him in 1969 London, "the Quiet Beatle" became intent on signing him to Apple Records. Preston informed Harrison that he was already signed to Capitol Records, but the very next day, he found himself extricated from that deal and ready to become an Apple recording artist. That's the way things worked once a Beatle got involved, and That's The Way God Planned It (SAPCOR 9) was his first Apple release. It contained tracks from his final Capitol sessions alongside freshly-recorded ones.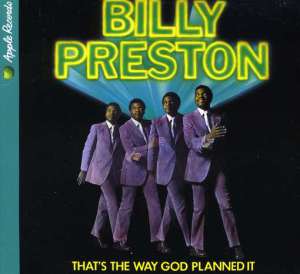 Of the Capitol tracks produced by Wayne Schuler, three made the LP's final cut: "I Want to Thank You," "Keep it to Yourself" and Hey Brother." Still other Capitol songs were re-recorded in London. Harrison brought the Apple "house band" along, with Eric Clapton contributing guitar and Doris Troy chipped in on backing vocals, along with fellow supreme session star Madeline Bell. Keith Richards and Ginger Baker also dropped by to add their magic to Preston's Apple debut. With Preston's organ one of the most recognizable sounds in rock and pop, his album has the fervor of a revival meeting and is still a potent reminder of a time when musically, anything felt possible.
The anthemic title track (with Harrison on guitar, Clapton on lead guitar, Richards on bass and Baker on drums) today can't help but recall "Let It Be" in its opening notes, but it quickly establishes its own identity. (Among the reissue's bonus tracks is a raw, unfinished take from Olympic Studios, though Preston's vocals are no less impassioned.)  Preston offers a fine take on Bob Dylan's "She Belongs to Me;" given Dylan's influence on The Beatles and close relationship with Harrison, it's almost surprising that more Dylan covers didn't proliferate at Apple. Doris Troy co-wrote the exciting "This is It" (which would also have made a splendid album title!) with Preston, and both of his Apple LPs feel like natural companion pieces to her album.
CD SAPCOR 9's three bonus tracks have been retained (the Schuler-produced "Through All Times," the Ray Charles-produced B-side to Apple 21, "As I Get Older," and the alternate take of the title song), but one new track has been added. This is "Something's Got to Change," co-produced by Harrison, and a potent slice of soul/funk.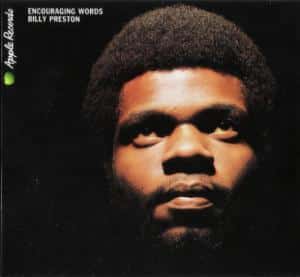 For Preston's follow-up LP, Encouraging Words (SAPCOR 14), Harrison took a far more active production role and the result is a more unified album. The release stands as a true collaboration between Preston and the Beatle. George was so taken with Preston that in addition to co-writing the album's "Sing One for the Lord," he offered him "All Things Must Pass" and "My Sweet Lord" before his own recordings made their debut.
"My Sweet Lord" can't help but get your body moving, marrying funk to the church; George knew that while Preston's God was Christ and his was Krishna, the similarities were far greater than the differences. With Harrison's version so well-known today, it's refreshing to hear this very different take on the song now. Preston's "All Things Must Pass" contrasts wistful verses with soulful choruses containing ad-libs and shouts, and wonderful harmonies, along with a solid arrangement of cinematic strings. In the end, I prefer Harrison's more humbler rendition, but Preston's stands alongside it proudly. Having played on its Beatles recording, Preston also offers a playful version of Lennon and McCartney's "I've Got a Feeling."
Like many Apple artists, Preston had diverse influences. The sound of the sweet "Little Girl" harkens back to an earlier time with smooth vocal harmonies, while on "I Don't Want to Pretend," you can even hear a bit of Allen Toussaint in the vocal delivery! Eric Clapton plays on three tracks with his customary power, including the title track on which he shares guitar duties with Delaney Bramlett.
Some songs again originated during the artist's Capitol tenure, although all were re-recorded. Preston had a habit of revisiting songs with new interpretations over the years, re-recording some of his Apple output later for A&M.
"As Long As I Got My Baby," the intended B-side to "My Sweet Lord" (cancelled as Apple 29) and "All That I've Got," co-written with Troy (Apple 21), both return from CD SAPCOR 14 as bonus tracks along with one new addition, "How Long Has the Train Been Gone," recorded in early 1970.
Perhaps George Harrison should have been known not as the Quiet Beatle, but as the Soulful Beatle. His work with Troy, Preston and Lomax certainly proves that he could "do" R&B with the best of them.
Tomorrow: Wrapping things up with the Apple box set and Come and Get It compilation.