In the final part of our Apple Records series, we open the import-only Apple Box Set and spin the label's first-ever "greatest hits" set.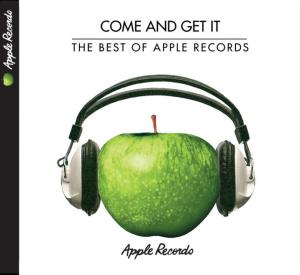 While the label only lasted a tumultuous seven years between 1968 and 1976, the legacy of Apple Records survives on today's radio airwaves: "Those Were the Days." "Day After Day." "Come and Get It."  Notwithstanding The Beatles' albums, both solo and as a group, that bore the famous label design, there was no shortage of great music emanating from the Savile Row offices.
While the early 1990s brought the first round of expanded Apple remasters for the CD age, EMI's current program offers two unique items for the very first time. The logical jumping-on point is the first ever compilation of Apple's best, expectedly titled Come and Get It: The Best of Apple Records (Apple/EMI 50999 646397 2 7).  While no Beatles tracks are included (one or two might have been welcome, but such tracks could easily have overshadowed the other artists), all four Fabs are represented in this enjoyable set.
What makes this compilation so special, however, isn't the presence of the three songs above, or the other familiar titles (including James Taylor's "Carolina in My Mind" and Billy Preston's "My Sweet Lord") but the rare songs, many making first-ever CD debuts. Between 1968 and 1973, the label released around 50 singles by non-Beatles artists, and this collection brings together 21 of the best. (Only a complete singles anthology would have been preferable, and perhaps one might still appear at a later date!) With an eclectic variety of artists represented, Come and Get It is a fun listen from start to finish.
Of the tracks unavailable elsewhere, there are many highlights. The Black Dyke Mills Band's "Thingumybob," the theme to a short-lived television series starring Stanley Holloway (My Fair Lady) is jarring on disc, coming after the lush baroque symphony of the Iveys' "Maybe Tomorrow." But Paul McCartney's delicious oom-pah-pah theme reaffirms his affinity for the classic British melody, and this is a fine companion to "Penny Lane" or "When I'm Sixty-Four." Perhaps the most controversial track on the set, and a most welcome addition, is Brute Force's "King of Fuh." You either get it, or you don't…and John Lennon certainly did. This naughty lyrical novelty ("All hail the Fuh King") saw release as Apple 8, although the run was strictly limited as EMI refused to manufacture a track of this nature! Of course, the King received absolutely no airplay, but the Fuh King lives on.
There are a few rare Apple renditions of familiar songs penned by the Fabs. The Hot Chocolate Band's reggae-fied take on "Give Peace a Chance" found a fan in John Lennon, despite the lyrical additions and changes made in its impromptu recording session. (The released recording, heard here, was actually a demo that found its way to the Apple offices!) Trash's version of "Golden Slumbers/Carry That Weight" was released only one week after Abbey Road, and hews closely to the Beatles original.
Phil Spector makes a couple of appearances here, most significantly with Ronnie Spector's terrific recording of George Harrison's "Try Some, Buy Some," orchestrated by John Barham and produced by Phil and George. (Too bad its B-side "Tandoori Chicken" didn't make the cut.) Spector also co-produced Bill Elliot and the Elastic Oz Band's "God Save Us," written by John Lennon and Yoko Ono in support of Oz, a magazine embroiled in an obscenity case in 1971. Elliot would go on to form half of Splinter, signed by George Harrison's Dark Horse label. Dark Horse's roster, of course, awaits rediscovery.
Ringo Starr vouched for Chris Hodge, whose "We're on Our Way" is a trashy bubblegum track about UFOs that appealed to T. Rex fan Starr. "Saturday Nite Special," by The Sundown Playboys, caught Apple's ear with this joyful Cajun track, while Lon and Derrek van Eaton, one of the last acts signed to Apple, are heard with their pleasant if unexceptional pop track, "Sweet Music."
The 12-page booklet is attractive, with copious track-by-track notes (as always, by Andy Davis) and sleeve illustrations. Oddly, the catalogue numbers are missing from the discographical information provided for each track. We look inside The Apple Box Set after the jump!
Housing the entire Apple collection is the not-so-creatively titled Apple Box Set (Apple/EMI 50999 918372 2 6). Let's get the good part out of the way: affordably priced if ordered directly from the U.K., the box contains each and every title in this reissue program. Most excitingly, its two exclusive discs contain all of the bonus tracks otherwise available for download only. Disc 1 contains 20 Badfinger tracks, and this disc stands on its own merits as a fine Badfinger Rarities set, and should receive a stand-alone release under such a title. Disc 2 offers seven songs by Mary Hopkin and another five by Jackie Lomax, and all are welcome additions to the tracks actually on the individual remastered CDs. Both bonus discs are housed in a plain white digipak sleeve stickered with the Apple logo. The presence of these two discs is enough to make the box an essential purchase for anyone already planning on buying the fifteen individual CDs contained therein.
So what's the down side? The Apple Box Set is just that, a cardboard box housing the fifteen titles (sixteen albums, as the John Tavener set is a two-fer) plus the bonus discs.  There's no additional booklet, and no content beyond the exclusive bonus discs. The box itself isn't even attractive or sturdy, like the similarly bare-bones box set of last year that housed the Beatles' remasters in a manner suitable for presentation. The cardboard box arrived from across the pond in a slightly battered shape, with frayed edges on the flaps, and is simply flimsy. The slim digipaks (unsealed, as is generally the custom with British releases) fit in tightly, but not so tightly that they could not be removed safely.  The Apple Box Set is a great disappointment for not being a box worthy of the music within its cardboard walls. At least the music's all here.
Whether you purchase any of the titles individually or in this collection, there's plenty to enjoy, all produced under the auspices of four young men from Liverpool who, perhaps idealistically, believed they could run a record company largely free of commercial constraints. The fruits of their labors deserve a wider audience, and with fine annotation and crystal-clear remastered sound, you couldn't do much better than explore this heady musical era via the 2010 catalogue of Apple Records.