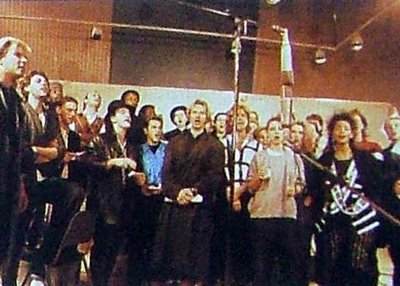 Welcome to another installment of Reissue Theory, where we reflect on well-known albums of the past and the reissues they could someday see. Twenty-six years after its release, this newest installment takes you back to Band Aid's "Do They Know It's Christmas?"
Exactly 26 years ago, for better or worse, the British supergroup Band Aid released "Do They Know It's Christmas?" a single that kicked off a flurry of activity to raise money, aid and awareness for African famine and relief. Monday, November 29, 1984 saw the release of the single that would ultimately top the British charts thrice in two decades and become the coveted Christmas number-one hit each of those years.
While not everyone is a fan of the yuletide song - Morrissey famously derided it upon release and Bob Geldof, who put together Band Aid and co-wrote the tune with Midge Ure, went on record today with his embarrassment - it should be remembered, if nothing else, as a somewhat earnest attempt at a good cause, and a collision of the British '80s pop cosmos. And in the interest of catalogue affairs, there are a few tracks associated with the project that have yet to see a release outside of vinyl.
Learn the story of Band Aid and its lone smash hit after the jump.
Bob Geldof was best known as the frontman for The Boomtown Rats when he saw a report on the BBC concerning famine in the African continent. So quickly taken was he by the images of the report that he promptly decided to take action through song. He wrote a handful of (admittedly simple) lyrics and gave them to Ultravox's Midge Ure to pen an (admittedly simple) melody. (Ure's demo - in a sign of how much technology dominated '80s pop - sounds stunningly similar to the finished product.) Geldof then went through his contacts in the pop world and convinced 47 of British pop's biggest stars (along with some Americans, Jody Watley and Kool and The Gang) to participate in recording the song. On November 24, the group convened in SARM Studios in Notting Hill to record and mix the song over a 24-hour period. The single was in stores that Monday, with Geldof having successfully challenged the British government to suspend the value-added tax on the single.
To this writer, the song is only worth it for the once-in-a-lifetime collaboration between the likes of Sting, Simon Le Bon, Bono, George Michael and others. (Phil Collins also gives a spirited performance on the drum kit, and John Taylor of Duran Duran can be heard slapping the bass on the 12" version, remixed by Trevor Horn but never officially widely released on CD.) The song itself is incredibly thin (one verse, one chorus, one bridge and one play-out vamp), and it did spawn a series of inferior tunes (including the tremendously ill-conceived USA for Africa project and "We Are the World"). Was it as "absolutely tuneless" and "self-righteous" as Morrissey thought
A digital EP of all the versions released over the past 26 years, however, would be a nice treat to catalogue fans and a quick way to make a few bucks for a good, ongoing cause. (Maybe throw in a video extra of the original making-of special on Band Aid Mk. I.)
[youtube=http://www.youtube.com/watch?v=w5cX_ncZLls]

Band Aid, Do They Know It's Christmas? (Polydor)
Do They Know It's Christmas?
Feed the World
Do They Know It's Christmas? (12" Version)
One Year On
Do They Know It's Christmas? - Band Aid II
Do They Know It's Christmas? (Instrumental) - Band Aid II
Do They Know It's Christmas? - Band Aid 20
Do They Know It's Christmas? (Live @ Wembley Arena, London - 7/13/1985)
Tracks 1-2 from 7" single - Phonogram FEED 1 (U.K.)/Columbia 38-04749 (U.S.), 1984
Track 3 from 12" single - Phonogram FEED 112 (U.K.)/Columbia 44-05157 (U.S.), 1984
Track 4 from 7" single - Phonogram FEED 1 (U.K.) reissue, 1985
Tracks 5-6 from 7" single - PWL/Polydor FEED 2 (U.K.), 1989
Tracks 7-8 from CD single - Mercury 9869413, 2004