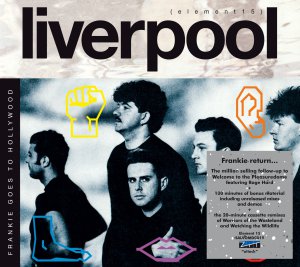 Earlier this year, ZTT's ongoing reissue campaign gave us a 25th anniversary edition of Welcome to the Pleasuredome, the hit LP from U.K. dance-pop act Frankie Goes to Hollywood. Next year, ZTT and Salvo Music are releasing a similarly expanded version of Liverpool, Frankie's follow-up and finale.
By the album's release in late 1986, England was suffering from serious Frankie overexposure. Their singles were everywhere - "Relax," "Two Tribes" and "The Power of Love" had all topped the U.K. charts, and "Welcome to the Pleasuredome" was haughtily promoted as their next No. 1 single. It missed the pole position by one spot, not a failure by most standards but the beginning of the end if ever there was one. Liverpool, recorded all over the world and experimenting with some harder rock and dance sounds, only hit No. 5 in Frankie's native country, with only lead single "Rage Hard" going Top 10. After a 1987 tour, lead singer Holly Johnson split for a solo career, and Frankie said little else.
This latest entry in ZTT's Element Edition series of reissues includes a nice amount of B-sides and outtakes, as well as the debut appearance on CD of the cassette single megamixes of "Warriors of the Wasteland" and "Watching the Wildlife." It's due out February 7 and the track list can be seen after the jump.
Frankie Goes to Hollywood, Liverpool: Element Edition (ZTT/Salvo SALVOMDCD19, 2011)
Disc 1: Original LP and "The Other Side of Liverpool"
Warriors of the Wasteland
Rage Hard
Kill the Pain
Maximum Joy
Watching the Wildlife
Lunar Bay
For Heaven's Sake
Is Anybody Out There?
"Pamela" *
Pocket Vibrator (Monitor Mix/SARM sessions/October 1986)
SuffRAGEtte City
Roadhouse Blues
(I Can't Get No) Satisfaction (Monitor Mix/SARM sessions/May 1986/voiceless) *
(don't lose what's left) Of Your Little Mind
Rage Hard (voiceless) *
Disc 2: The Liverpool Journey
Rage Hard (Montreux Mix) *
Warriors of the Wasteland (Montreux Mix) *
Warriors Cassetted **
Drum Loop (Monitor Mix/Wisseloord sessions/November 1985) *
Fuck Off (Monitor Mix/Wisseloord sessions/November 1985) *
Wildlife Cassetted **
Our Silver Turns to Gold (Monitor mix/Ibiza sessions/May 1985) *
Delirious (Monitor Mix/Ibiza sessions/October 1985) *
"Stan" *
For Heaven's Sake (Monitor Mix/Wisseloord sessions/March 1986) *
Disc 1, Tracks 1-8 from original LP - ZTT IQ-8, 1986
Disc 1, Tracks 9, 13 and 15 and Disc 2, Tracks 1-2, 4-5 and 7-10 previously unreleased
Disc 1, Track 10 from the "Warriors of the Wasteland" 12" single - ZTT 12 ZTAS-25, 1986
Disc 1, Track 11 was the B-side to "Rage Hard" 12" single - ZTT 12 ZTAS-22, 1986
Disc 1, Track 12 was the B-side to "Rage Hard" second 12" single - ZTT 12 ZTAX-22, 1986
Disc 1, Track 14 was the B-side to "Rage Hard" 7" single - ZTT ZTAS-22, 1986
Disc 2, Track 3 was the cassette single of "Warriors of the Wasteland" - ZTT CTIS-25, 1986
Disc 2, Track 6 was the cassette single of "Watching the Wildlife" - ZTT CTIS-26, 1987