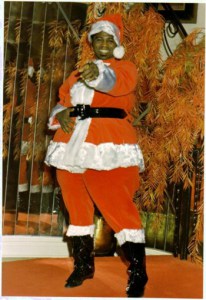 What artists do you associate with Christmas? The Beach Boys? Andy Williams? Perry Como? How about James Brown?
That last one isn't a name one might immediately associate with the holiday season, outside of December 25, 2006 being the day of his death. But Brown cut no less than three holiday albums during his career, and for the first time, Hip-o Select has compiled those LPs (and more, naturally) into a two-disc set, The Complete James Brown Christmas (Polydor/Hip-o Select B0014791-02). The best Yuletide albums, of course, involve an artist taking Christmas classics and making them their own. The Hardest Working Man in Show Business, however, took that idea and ran with it as only he could.
You see, the three albums contained herein - Christmas Songs (King KLP-1010, 1966), Soulful Christmas (King KS-1040, 1968) and Hey America (King KS-1124, 1970) - are Christmas albums. But they're also James Brown albums - funky, riff-y affairs that could be sampled for eons - and the dichotomy between both genres is the highlight of this set. Christmas Songs is exactly what it says: a lot of standards ("Merry Christmas Baby," "Please Come Home for Christmas" and two versions of "The Christmas Song") and a couple of great originals (the jaunty "Merry Christmas, I Love You" and the super-serious "Let's Make This Christmas Mean Something This Year"). Gradually, Brown shifts away from the classics and forges his own path for the holidays.
That path was no more evident than on the second album, Soulful Christmas. While there are great originals on this set - perhaps the best of the three, including "Let's Unite the Whole World at Christmas Time" and the instrumentals "You Know It" and "Believers Shall Enjoy (Non-Believers Shall Suffer)" - the standout tune has absolutely nothing to do with Christmas. "Say It Loud - I'm Black and I'm Proud" had already been released as a 45 in August of 1968 and topped the R&B charts, but its full album version debuted, in all places, on Soulful Christmas. Its inclusion on the set is somewhat jarring for those who were expecting straightforward Christmas cheer, but who are we to argue with greatness from JB?
The final album, Hey America, is the shortest and perhaps least focused of the three, but it still boasts some quality if off-the-wall tunes, including "Santa Claus is Definitely Here to Stay" and the slow-burning, spoken-word "My Rapp." Its presence on Disc 2 is augmented by some great single-only edits and versions. A single including "You Know It" and "Believers Shall Enjoy" included some great alternate organ solos (done by Brown himself but overdubbed on LP by staff producer Gene Redd), and instrumentals of "Hey America" and "Santa Claus is Definitely Here to Stay" will get your holiday party guests movin' and shakin'. To complement a nicely presented package, there's some pretty gift wrap, too, in the form of an authoritative essay by former JB tour manager Alan Leeds, who detailed Brown's growing affection for the season of giving over the years and the construction of these unique albums in the JB canon (which, it should be noted, were among his first studio albums made as albums, rather than compilations of singles and other tracks).
The spirit of the holiday season and the buoyancy of James Brown's funky Famous Flames mesh stunningly well together, and this new collection is the best way to experience it, all in one place. Play The Complete James Brown Christmas at your holiday party and you'll be grinning as widely as Brown himself does on the cover.