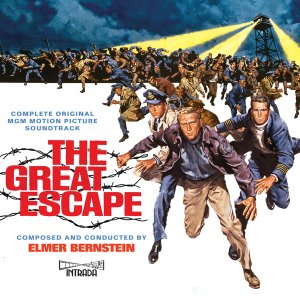 Intrada's first releases of the new year are two big name scores sure to please a few generations' worth of film music fans.
First up is the world premiere release of James Horner's score to 48 Hrs., the 1982 buddy cop comedy starring Nick Nolte and Eddie Murphy in one of his first major motion picture roles. This disc features Horner's complete score (one of his earliest successes of the '80s), plus three tracks by The Busboys (including end credits tune "The Boys Are Back in Town") and one source cue by another favorite composer, Ira Newborn. It's a limited set with a high unit count of 5,000.
The label's other big title is a heavy-duty reissue of Elmer Bernstein's score to the Steve McQueen classic The Great Escape (1963). This three(!) disc set includes two CDs of the original motion picture score (cleaned up from several previous reissues on the Rykodisc and Varese labels) and the original re-recorded score LP, also conducted by Bernstein. This set is happily part of Intrada's MAF line of unlimited releases - and it's a steal at $19.99.
Order each set here and here, and get the track listings after the jump.
James Horner, 48 Hrs.: Original Motion Picture Score (Intrada Special Collection Vol. 155, 2011 - original film released 1982)
Main Title
Jack Leaves Elaine's Apartment
The Walden Hotel
Aerobics
Subway Station
Subway Chase
Luther's Bus
The Alley
The Boys Are Back in Town - The Bus Boys
48 Hrs. - The Bus Boys
Love Songs Are for Crazies - The Bus Boys
New Shoes - The Bus Boys
Torchy's Boogie - Ira Newborn
All tracks previously unreleased except Track 9 (from Arista single 7RS-87 (Japan), 1982) and Track 12 (from American Workers - Arista AL8-8030, 1982)
Elmer Bernstein, The Great Escape: Original Motion Picture Score (Intrada MAF 7112, 2011 - original film released 1963)
Disc 1: Original Motion Picture Soundtrack
Main Title
At First Glance
Premature Plans
If At Once
Forked
Cooler
Mole
"X"/Tonight We Dig
The Scrounger/Blythe
Water Faucet
Interruptus
The Plan/The Sad Ives
Green Thumbs
Hilts and Ives
Cave In
Restless Men
Booze
"Yankee Doodle"
Discovery
Disc 2: Original Motion Picture Soundtrack (continued)
Various Troubles
Panic
Pin Trick
Hendley's Risk
Released Again/Escape Time
20 Feet Short
Foul Up
At the Station
On the Road
The Chase/First Casualty
Flight Plan
More Action/Hilts Captured
Road's End
Betrayal
Three Gone/Home Again
Finale/The Cast
Discs 1 and 2 previously released in alternately edited and sequenced presentation as Varese Sarabande VCL 0804 1029-2, 2004
Disc 3: Original Soundtrack LP (originally released as United Artists UAS-5107, 1963)
Main Title
Premature Plans
Cooler and Mole
Blythe
Discovery
Various Troubles
On the Road
Betrayal
Hendley's Risk
Road's End
More Action
The Chase
Finale