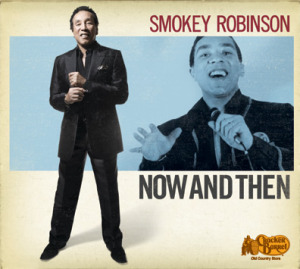 Great music often turns up in the darnedest places.
In addition to eating a hearty meal and browsing a selection of rustic tchotchkes at your local Cracker Barrel, you now can pick up a new CD by none other than Motown legend and the man Bob Dylan once called "America's greatest living poet," Smokey Robinson. Cracker Barrel has long carried a selection of exclusive music; new CDs have been offered from artists like Dolly Parton (who provided Cracker Barrel with an expanded edition of her 2008 Backwoods Barbie album) while the catalogues of George Jones and Kenny Rogers have also been mined for new compilations. Cracker Barrel has diversified its selection beyond just the country genre, and the Robinson told Spinner.com that it was a "milestone" to be the first African-American artist to release a new disc via the Southern-style eating institution and "old country store."
Now and Then (Cracker Barrel/Saguaro Road/Robso CD 26057-D) is a twelve-track compilation released in late 2010 on Robinson's own label. It includes six tracks from the artist's 2009 album Time Flies When You're Having Fun, and six previously unreleased, recently-recorded live cuts of prime Motown material. The Time Flies portion of the album includes a cover of the Jesse Harris-penned "Don't Know Why" (popularized by Norah Jones) and five Robinson originals. These tracks marked a largely successful return to the artist to the romantic "quiet storm" sound he pioneered in the 1970s.
Is the disc worth picking up? For the casual fans being targeted, it's a fine sampler. Chances are a dedicated Robinson fan might already own Time Flies; and in any event, the album is strong enough to warrant a purchase in full. But if the six live songs aren't particularly adventurous choices ("Going to a Go-Go," "I Second That Emotion," "Ooo Baby Baby," "The Tears of a Clown," "Being with You" and "The Tracks of My Tears"), they represent how Robinson currently performs them in concert, and make a nice souvenir of his current live program. While full credits are included for the live tracks, there's no indication of the specific recording dates or venues. (All live selections were recorded in 2010.) A brief note from Robinson is included in the digipak.
Smokey Robinson's Now and Then can be ordered for $11.99 from Cracker Barrel here.
Smokey Robinson, Now and Then (Cracker Barrel/Saguaro Road/Robso CD 20657-D)
Time Flies
Don't Know Why
Girlfriend
One Time
That Place
Love Bath
Going to a Go-Go (Live)
I Second That Emotion (Live)
Ooo Baby Baby (Live)
The Tears of a Clown (Live)
Being with You (Live)
The Tracks of My Tears (Live)
Tracks 1-6 from Time Flies When You're Having Fun (Robso CD 40020, 2009)
Tracks 7-12 previously unreleased