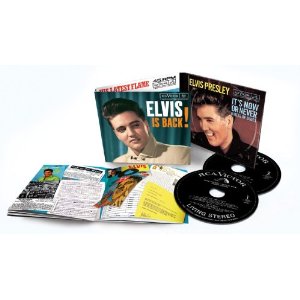 Elvis Presley's Elvis is Back!, it was previously reported, will be released as a Legacy Edition on March 1. We now have a track list to go with that title.
The two-disc set will combine Elvis is Back!, Presley's 1960 LP and the first the King recorded after returning from the Army, with Something for Everyone, an album from the following year. Each will be expanded with relevant non-LP single sides, some of which rank highly in Elvis' discography ("Are You Lonesome Tonight?," "It's Now or Never" and "(Marie's the Name) His Latest Flame."
Read the track list after the jump and order your copy here.
Elvis Presley, Elvis is Back: Legacy Edition (RCA/Legacy 88697 76233-2, 2011)
Disc 1: Elvis is Back! and bonus tracks
Make Me Know It
Fever
The Girl of My Best Friend
I Will Be Home Again
Dirty, Dirty Feeling
Thrill of Your Love
Soldier Boy
Such a Night
It Feels So Right
Girl Next Door Went A'Walking
Like a Baby
Reconsider Baby
Stuck on You
Fame and Fortune
It's Now or Never
A Mess of Blues
Are You Lonesome Tonight?
I Gotta Know
Surrender
Disc 1, Tracks 1-12 from RCA LP LPM/LSP-2231, 1960
Disc 1, Tracks 13-14 from RCA single 47-7740, 1960
Disc 1, Tracks 15-16 from RCA single 47-7777, 1960
Disc 1, Tracks 17-18 from RCA single 47-7810, 1960
Disc 1, Track 19 from RCA single 47-7850, 1961
Disc 2: Something for Everyone and bonus tracks
There's Always Me
Give Me the Right
It's a Sin
Sentimental Me
Starting Today
Gently
I'm Comin' Home
In Your Arms
Put the Blame on Me
Judy
I Want You with Me
I Slipped, I Stumbled, I Fell
I Feel So Bad
(Marie's the Name) His Latest Flame
Little Sister
Good Luck Charm
Anything That's Part of You
Disc 2, Tracks 1-12 from RCA LP LPM/LSP-2370, 1961
Disc 2, Track 13 from RCA single 47-7880, 1961
Disc 2, Tracks 14-15 from RCA single 47-7908, 1961
Disc 2, Tracks 16-17 from RCA single 47-7992, 1962