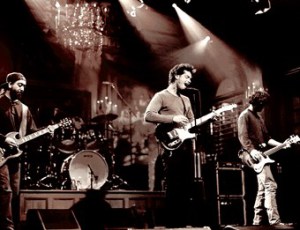 Recently-reunited grunge rockers Soundgarden did well with last year's Telephantasm compilation, which shipped platinum thanks to being included with every copy of the latest Guitar Hero game. Now, the band is going back to the vaults to release their first live album.
Live on I-5 consists of 17 performances taken from the band's final tour, in support of 1996's Down on the Upside. (True to its name, all the performances were taken from venues along the West Coast, near the band's native Seattle.) Happily, the track list (available, as always, after the jump) looks to devote equal attention to hits and lesser-known album cuts, not to mention covers of The Beatles and The Stooges.
The disc comes out on March 22 and can be ordered here.
Soundgarden, Live on I-5 (A&M, 2011)
Spoonman
Searching With My Good Eye Closed
Let Me Drown
Head Down
Outshined
Rusty Cage
Burden in My Hand
Helter Skelter
Boot Camp
Nothing to Say
Slaves and Bulldozers
Dusty
Fell on Black Days
Search and Destroy
Ty Cobb
Black Hole Sun
Jesus Christ Pose
Tracks 1-3, 5, 8-9 and 15 recorded live at Crosby Hall, Del Mar Fairgrounds, Del Mar, CA - 11/30/1996
Tracks 4, 10, 14 and 16 recorded live at Mercer Arena, Seattle, WA - 12/18/1996
Track 6 recorded live at Pacific National Exhibition Forum, Vancouver, BC, Canada - 12/7/1996
Track 7 recorded live at Salem Armory, Salem, OR - 12/8/1996
Tracks 11-13 and 17 recorded live at Henry J. Kaiser Convention Center, Oakland, CA - 12/5/1996