Welcome to another installment of Reissue Theory, here we reflect on well-known albums of the past and the reissues they could someday see. Today, we look at a beloved American icon and one of the least anthologized periods of his lengthy career.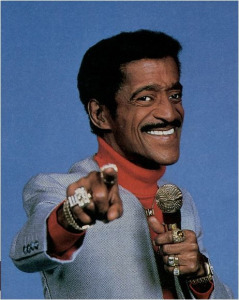 There may be no figure in American popular culture more maligned in death than Sammy Davis, Jr. The image of the diminutive entertainer, clad in open shirts and bell-bottoms, wearing beads and gold chains, and with an ever-present cigarette dangling from his mouth has superseded that of the incendiary talent, a triple-threat actor, singer and dancer who could hold his own opposite Frank Sinatra (and best him in the dancing department, natch). Davis was also a best-selling author, an impressionist par excellence, a civil rights crusader who marched with Dr. Martin Luther King, Jr., and not a bad drummer, either. Luckily for his fans as well as for those first introducing themselves to this once-in-a-lifetime talent, the best of Sammy Davis, Jr. was preserved for posterity on disc.
One era of Davis' recording history, however, is mostly nonexistent on CD, and that is the 1970s. Between 1970 and 1979, Davis recorded primarily for the Motown, MGM and 20th Century labels, with a handful of solo tracks also recorded for Warner Bros. and some live material released on RCA Victor and Warner Bros. (MGM also recorded a live LP in September 1971 from the Sands in Las Vegas which remains unreleased.) None of his 1970s LPs have been reissued, and while this period is full of contradictions – it yielded Davis' biggest ever hit, "The Candy Man," as well as renditions of television themes and the Alka-Seltzer jingle, perhaps the nadir of his singing career  – there is a wealth of wonderful material waiting to be rediscovered. Even deep in the throes of substance abuse and addiction, Davis was capable of turning out quality work, and it's a strange irony that of the CD collections compiling this period, most feature only its lesser achievements.
As Davis' recordings for Motown, MGM and 20th Century now reside in the Universal vaults, a compilation of his 1970s studio oeuvre is within the realm of possibility, and so today's Reissue Theory imagines a four-disc compilation, Sammy in the Seventies: The Studio Recordings. The core LPs include Something for Everyone (1970), Now (1972), Portrait of Sammy Davis, Jr. (1972), Sammy Davis Jr. and Count Basie (1973), That's Entertainment (1974), The Song and Dance Man (1976) and Sings the Great TV Tunes (1978), basically a repackage of The Song and Dance Man. (We have omitted 1974's Sammy: The Original Television Soundtrack and 1978's original cast recording of Anthony Newley and Leslie Bricusse's Stop the World, I Want to Get Off as they both fall out of the purview of this collection.  That said, both are fine candidates for reissue.)
Hit the jump as we explore Sammy's discography and see what a near-complete Sammy in the Seventies: The Studio Recordings would look like, with full discographical details!
Davis made his first 78s in 1949 for the Capitol label, and continued recording through 1988, when he made his final visit to the studio as a guest on Lena Horne's album The Men in My Life. Davis' complete Capitol output, recorded in 1949, was reissued on 1990's Capitol Collectors Series: Sammy Davis, Jr. (Capitol CD C2-94071) while 14 of its tracks were included on DRG's The Capitol Years (DRG CD 19111, 2008). Other than a single session that yielded four songs in 1953 for the independent DDR label, Davis didn't resume recording until signing with Decca in 1954. This was the same year he rocketed to superstardom, headlining at the Copacabana with the Will Mastin Trio and breaking the color barrier at the Last Frontier in the then-famously segregated Las Vegas. Davis had instant success at Decca; his first single, Richard Adler and Jerry Ross' "Hey There" from the musical The Pajama Game, hit No. 1 on the Cash Box chart, remaining there for eight weeks; Davis' first LP, released in April of the following year, also went to the top. Davis found his voice and recognizable style as a recording artist at Decca, and stayed with the label until departing for the greener pastures of Frank Sinatra's Reprise label in 1960. The Decca era has been anthologized on CD, most notably via the excellent 16-track The Decca Years (MCA CD MCAD-10101, 1990). But only some of his individual Decca LPs have been reissued on CD, and even then as pricy Japanese and British imports. These fifteen or so albums, too, are deserving of the complete boxed set treatment.
Collectors' Choice Music did Davis' memory a great justice by reissuing nearly his entire Reprise catalogue, recorded between 1961 and 1969; these albums featured remarkable collaborations with musicians such as Marty Paich, Sam Butera, Buddy Rich and Laurindo Almeida, and reaffirmed Davis' place as a top-tier pop and jazz vocalist. (Collectors' Choice frustratingly left his final Reprise album, Sammy Steps Out, unavailable, reportedly because a number of its tracks were present on other LPs reissued in the series. Some Barry Mann/Cynthia Weil and Jimmy Webb compositions thus remain orphaned.) Our Reissue Theory collection commences with Davis' impending departure from the Reprise label, which had begun to establish a new identity with groundbreaking artists such as Randy Newman, Neil Young and Jimi Hendrix.
Disc One begins with the tracks recorded in the waning days of 1969 for the Reprise label. As part of the agreement that saw the singer leave Reprise for Berry Gordy's Motown empire, Davis took his masters for these final two sessions to Motown, where the songs recorded were released on his first (and only) Motown LP, Something for Everyone.  Following established suit for the vocalists labeled "MOR" by the record labels, Davis found himself recording covers of pop/rock songs during this period, and Something for Everyone was no exception. There was a trio of songs popularized by Blood, Sweat and Tears ("Spinning Wheel," "And When I Die" and "You've Made Me So Very Happy," returning to Motown!), another Motor City hit in the form of "For Once in My Life," plus Jimmy Webb's "Wichita Lineman." Davis even took a shot at his pal Sinatra's "My Way." None of these songs, however, made for a particularly auspicious debut on the label, and seemed light years away from the classy, unique work he had done at Reprise just two or three years earlier.
Motown allegedly promised to create a new imprint, Ecology, for Davis' projects, and Marvin Gaye even volunteered to produce an album for the singer. Ah, what might have been (See The Complete Motown Singles Volume 11A for the fascinating story of this project; Gaye told Ben Fong-Torres in 1972 that he had spent $45,000 writing for Sammy, post-What's Going On, but the tapes never reached Davis! Do these demos still exist? It remains a mystery, at least to this writer, but it's a true missed opportunity that current writers weren't giving new songs to Davis, as Gaye had intended to do. Had Davis' material been newly-written rather than merely covers, he might have had a different trajectory during this time.) Instead, one accomplished if decidedly non-Motown-style single was issued ("In My Own Lifetime" b/w "I'll Begin Again") as Ecology E-1000 in 1971, produced by Jimmy Bowen and arranged by Ernie Freeman, both of whom performed those same capacities for Davis at Reprise. Two further sessions were logged before his departure from the label. One yielded four songs later purchased by MGM (three appeared on Now, the second LP on our Disc One), while the other produced six titles, none of which have ever been released and may not have even been completed. Motown also reportedly recorded a Davis concert at Carnegie Hall, but it's unclear whether those tapes still exist, so they haven't been included on our hypothetical release!
Now, built around the phenomenally successful Leslie Bricusse/Anthony Newley single "The Candy Man" (the song having been written for Willy Wonka and the Chocolate Factory), followed the "MOR" blueprint of Something for Everyone, although the songs were less familiar overall and allowed Davis greater room for interpretation. A highlight is actually Davis' version of the ubiquitous "MacArthur Park." Whereas many artists chose to cut Jimmy Webb's epic song down, Davis embraced it, cake in the rain and all, and his zeal for the song actually makes it work in non-ironic fashion. (He had previously recorded, and then discarded, a similarly-arranged version at Reprise which turned up on a British compilation CD in 2005.) The singer also enlisted Isaac Hayes himself for a new arrangement of his theme to Shaft, but this track has unfortunately caught on with the Golden Throats crowd, and epitomizes just what Davis shouldn't have been singing during this admittedly-tricky period for classic vocalists.
Late in his life, Davis wrote that Berry Gordy felt he didn't have "the Motown sound;" this seems evident, as the artist (for reasons lost to time) was never paired with a current Motown producer. Whatever the truth, Davis was quietly released from his contract in 1971, and took his masters with him to MGM. But the success of "The Candy Man," which came quickly, proved that the brash, versatile dynamo was still a viable chart act. Disc Two begins with the unreleased material recorded at Motown, continuing with the MGM album Portrait of Sammy Davis, Jr. which featured the follow-up to "The Candy Man," the similar-sounding "The People Tree." More significant was that LP's introduction of "Mr. Bojangles" to Davis' repertoire. The Jerry Jeff Walker song could have been written for Davis, and he obviously felt great empathy for the titular character. Davis' recording was an emotional tour de force with just the right amount of his typical showbiz pizzazz, adding a new dimension to Walker's song without crossing the line into camp. Disc Two also rounds up sides from two compilations as well from one of the oddest projects released on the label. In 1973, Davis overdubbed most of his vocal tracks from 1964's sublime collaboration with Count Basie, Our Shining Hour, to "seventies-ize" them, for lack of better description. These were not generally improvements on the original vocals, which are available on CD from Verve, but for the sake of completeness, these overdubbed performances are included. (Davis was nothing if not a perfectionist, re-recording his tracks on the Original Broadway Cast Recording of Golden Boy in 1965 after the album's initial release, and recording multiple versions of songs over the years.)
Disc Three largely consists of unreleased session material known to reside in the MGM vaults (now part of the Universal Music Group) including songs by writers as diverse as Davis' longtime friend Leslie Bricusse and soul man Joe Cocker. (An entire compilation could be assembled of Davis' exciting and stellar work with Bricusse and Newley; in addition to "The Candy Man," Davis popularized songs from their Stop the World, I Want to Get Off ("What Kind of Fool Am I?") and The Roar of the Greasepaint, The Smell of the Crowd ("Who Can I Turn To?"), while his album of Bricusse's score to Dr. Dolittle, arranged by Marty Paich, is one of the crown jewels of his Reprise years.) Paul Anka's attempt to create a "My Way" for Davis, "I'm Not Anyone," was released as a single and didn't quite click with listeners, but remains a solidly entertaining, passionate effort. Best of all were the Nelson Riddle-led sessions that formed the album That's Entertainment! in 1974. Here, Davis abandoned the ill-fitting modern covers and instead paid tribute to Hollywood's golden age of musicals. Clearly his love of this period energized and inspired him to lay down his best vocals in years, and this LP remains a true hidden gem in his catalogue. This seminal LP, a worthy heir to Davis' concept albums of the past, kicks off our Disc Four.
After MGM's sale to PolyGram, Davis shifted to its 20th Century label.  On 20th Century, Davis released The Song and Dance Man in 1976, and Sings the Great TV Themes in 1978, which largely duplicated its track listing with a couple of additions.  The strongest track to come out of the 20th Century period was "Keep Your Eye on the Sparrow," the Dave Grusin-penned theme to Baretta; Grusin also participated in the session as arranger and conductor.  (Davis also recorded Grusin's famous theme to Norman Lear's sitcom Maude, "And Then There's Maude," and paid tribute to Lear's All in the Family, on which he had made a now-legendary guest appearance, by recording its Charles Strouse/Lee Adams theme.)
After the brief association with 20th Century, Davis only recorded sporadically.  There were a few recordings made for Warner Bros., including two (!) versions of the Alka-Seltzer jingle, "Plop Plop Fizz Fizz."  (Really.)  Davis continued his association with Anthony Newley and Leslie Bricusse, starring in a 1978 revival of their Stop the World, I Want to Get Off and issuing a cast recording.  Davis made his final long-player in 1982, a country set for a budget label entitled Closest of Friends which has subsequently been licensed for countless cheap "Rat Pack" compilations.  Bizarrely, Davis returned to Motown for one last single in 1984, the Berry Gordy/Willie Hutch-penned "Hello, Detroit."  This track was a hit in Belgium, of all places, and has never appeared on CD.  We've decided to include it at the tail end of Disc Four as an appropriate finale (after all, it did chart in Belgium!) to the career of the one and only Sammy Davis, Jr.
Collectors, take note. There are seven additional tracks recorded in the 1970s, which would truly make this set complete. "Showtime for Everyone" was released on Warner Bros. single 8478 in 1977 and is available on the CD The Best of Sammy Davis, Jr. and the Mike Curb Congegration (Curb CD D2-77444, 1991). Two versions (Rock and Big Band) were recorded of the Alka-Seltzer jingle "Plop Plop Fizz Fizz" from the LP The Sound of Sammy (Warner Bros. LP OP-1501, 1978), and a single of Harold Arlen and Johnny Mercer's "That Old Black Magic" (Warner Bros. single 49047) is available on that same Curb CD. A studio recording dating from the late 1970s of "Life is a Woman" finds Davis performing the song as impressionist rather than singer, and would be best appended to a reissue of the Stop the World cast album; applause was artificially added to the track when it was released on Curb's CD Greatest Hits Live! (Curb CD D2-77687, 1995). The same session produced two unreleased songs of unknown origin, "When You Start Believing" and "It's Not Easy." As our track timings for the unreleased songs are estimates only, it's possible that our collection could include these, if they are indeed licensable from Warner Music Group.
Furthermore, a Bear Family-style box set could conceivably include the four discs' worth of material here plus the Sammy television soundtrack, the Stop the World cast recording, the one-off Lena Horne duet and the extant live recordings; however sprawling, such an effort would be a worthwhile one for the label and would encompass Davis' entire recorded output between 1970 and his death in 1990. Bear Family's Dean Martin box sets are extravagant tributes to Davis' friend and contemporary, and chronological sets for Davis would be more than worthy successors.  In the meantime, we present Sammy in the Seventies: The Studio Recordings.
Sammy in the Seventies: The Studio Recordings (UMe)
Disc One
Spinning Wheel
You'd Better Sit Down, Kids
For Once in My Life
My Way
Wichita Lineman
And When I Die
In the Ghetto
You've Made Me So Very Happy
Hi-Heel Sneakers
In My Own Lifetime
I'll Begin Again
In My Own Lifetime (Stereo Promo Version)
The Candy Man
This is My Life
I Am Over 25 (But You Can Trust Me)
Have a Little Talk with Myself
Willoughby Grove
Take My Hand
I'll Begin Again
I Want to Be Happy
MacArthur Park
Time to Ride
John Shaft (Theme from "Shaft")
Disc Two
Put Your Hand in the Hand
Feels Like I've Gotta Travel On
A Boy Named Sue
Around the World
Lorado and Talk
It Must Be Her
Blood, Sweat and Tears Medley: You've Made Me So Very Happy/Spinning Wheel/And When I Die/John the Baptist (Holy John)
Mr. Bojangles (Early Version)
The People Tree
In My Own Lifetime
Tomorrow
I Do Not Love You
It's a Musical World
When the Wind Was Green
You Can Have Her
Love is All Around (Theme from "The Mary Tyler Moore Show")
Sweet Gingerbread Man
Mr. Bojangles
A Legend in My Time (I'd Be)
My Shining Hour
Teach Me Tonight
Work Song
Why Try to Change Me Now
April in Paris
Disc Three
New York City Blues
You're Nobody Till Somebody Loves You
The Girl from Ipanema
Keepin' Out of Mischief Now
I Have Watched You
Let My People Go
All the Good Things in Life
Somethin' Comin' On
Soul Song
I'm Not Anyone
London is London
Fill the World with Love
You and I
If I Ruled the World
The Good Old Bad Old Days
Feelin' No Pain
Hello, Los Angeles
The Way That I Love You
Chattanooga Choo-Choo
King of Fools
Chi-ki Chi-ki Sammy
Get with It
Disc Four
That's Entertainment
Get Happy
All the Things You Are
I'll Build a Stairway to Paradise
Lover, Come Back to Me
Medley: They Can't Take That Away from Me/It Only Happens (When I Dance with You)/I Concentrate on You/I've Got You Under My Skin/I'll Guess I'll Have to Change My Plan/By Myself
Singin' in the Rain
A Shine on Your Shoes
I Don't Know Why (I Just Do)
Be My Love
Pass That Peace Pipe
That's Entertainment (Reprise)
Sweet and Lovely
Sing!
This is the House of the People
Keep Your Eye on the Sparrow (Theme from "Baretta")
Love is All Around (Theme from "The Mary Tyler Moore Show" – Second Version)
We'll Make It This Time (Theme from "Kojak")
Mary Hartman (Theme from "Mary Hartman, Mary Hartman")
You Can Count on Me (Theme from "Hawaii Five-O")
Chico and the Man (Theme from "Chico and the Man")
Song and Dance Man
I Heard a Song
Snap Your Fingers
Those Were the Days (Theme from "All in the Family")
Movin' On Up (Theme from "The Jeffersons")
I Can Do That
Hello, Detroit
Disc 1, Tracks 1-9 from Something for Everyone, Motown LP MS-710, 1970
Disc 1, Tracks 10-11 from Ecology single 1000, 1971
Disc 1, Track 12 from Ecology single 1000 (Promo), 1971
Disc 1, Tracks 13-23 from Now, MGM LP SE-4832, 1972
Disc 2, Track 1 from The Sounds of Sammy Davis, Jr,. K-Tel LP NA-463/NC-433, rec. 1971, rel. 1975
Disc 2, Tracks 2-7 rec. 1971, previously unreleased
Disc 2, Track 8 rec. September 1971, previously unreleased
Disc 2, Tracks 9-18 from Portrait of Sammy Davis, Jr., MGM LP SE-4852, 1972
Disc 2, Track 19 from It's a Musical World, MGM LP 2354-034, 1973
Disc 2, Tracks 20-24 and Disc 3, Tracks 1-4 from Sammy Davis, Jr. and Count Basie, MGM LP SE-4825, 1973
Disc 3, Track 5 rec. August 19, 1971, previously unreleased
Disc 3, Track 6 rec. October 23, 1971, previously unreleased
Disc 3, Track 7 rec. June 14, 1972, first released on Greatest Hits, Garland CD GRZ-018, 1988
Disc 3, Track 8 rec. July 14, 1972, previously unreleased
Disc 3, Track 9 rec. January 23, 1973, previously unreleased
Disc 3, Track 10 from MGM single 14513, 1973
Disc 3, Tracks 11-18 rec. June 21-23, 1973, previously unreleased
Disc 3, Track 19 from MGM single 14685, 1974
Disc 3, Track 20 rec. August 18, 1973, previously unreleased
Disc 3, Tracks 21-22 from Suntory White, MGM EP D1-1223 (promo only)
Disc 4, Tracks 1-12 from That's Entertainment, MGM LP M3G-4965, 1974
Disc 4, Track 13 outtake from That's Entertainment, MGM LP M3G-4965, 1974, previously unreleased
Disc 4, Track 14-15 from MGM single 14759, 1974
Disc 4, Tracks 16-24 from The Song and Dance Man, 20th Century LP 6370-245, 1976
Disc 4, Track 25-27 from Sings the Great TV Tunes, 20th Century LP 9279-577, 1978
Disc 4, Track 28 from Motown single 1738, 1984