"Bridge Over Troubled Water" began as Paul Simon's "humble little gospel hymn song." But upon its release, it quickly took on a life of its own. Simon's inspirational words and music, Art Garfunkel's spine-tingling vocal and Larry Knechtel's majestic piano all contributed to a work that resonated deeply, as a both an epitaph for the 1960s and a reassuring affirmation for a new decade's beginning.
Believe it or not, "Bridge Over Troubled Water" is 40 years old; what's hard to grasp isn't that the song has reached that landmark, but that this timeless, powerful composition hasn't, simply, been around as long as time itself. Like its spiritual cousin "Let It Be," it's transcended many of the boundaries of "mere" pop music. Thanks to our friends at MusicTAP for alerting us that Columbia and Legacy plan to mark the anniversary of Bridge Over Troubled Water, the chart-topping album that was Simon and Garfunkel's swan song, with the March 8 release of a CD/DVD Legacy Edition. Bridge took home a staggering six Grammy Awards, among them Song of the Year, Record of the Year and Album of the Year! Hit the jump now for more on this landmark recording, including what will make the cut for the Legacy Edition!
What many didn't know at the time was that the two men with the perfectly harmonious blend had already agreed to break up before Bridge ever hit stores on January 26, 1970.  But perhaps this acknowledgment led them to make their final statement their greatest work. The album had no need to save the best for last, and so it began with the pivotal hymn; as a single, "Bridge" spent six weeks at No. 1 on the Billboard pop chart. Bridge yielded two other Top Ten singles in the form of "Cecilia," the thunderous, alternately joyful and rueful paean to a lover and her whims which reached No. 4, and "The Boxer," Simon's haunting ballad with its memorable, wordless refrain, which reached No. 7. The fourth single released, 'El Condor Pasa,' cracked the Top 20 at No. 18, but scored much higher at No. 6 on the Adult Contemporary Chart.
The rest of the album was equally distinguished, and made for a bittersweet send-off to the duo. Themes of the partnership's disintegration were evident but never overwhelming. In "So Long, Frank Lloyd Wright," could Paul have been writing about his relationship with Artie: "So long, Frank Lloyd Wright/All of the nights we'd harmonize till dawn/I never laughed so long/So long/So long?" Similarly, is "Why Don't You Write Me" aimed at Garfunkel, who was pursuing his acting career in Hollywood while Simon composed most of the album's songs? Simon and Garfunkel pay tribute to their heroes, The Everly Brothers, with the aptly-titled "Bye Bye Love." Finally, the album concludes with "Song for the Asking," and its poignant summation: "Thinking it over, I've been sad/Thinking it over, I'd be more than glad/To change my ways for the asking/Ask me and I will play/All the love that I hold inside." "The Only Living Boy in New York" sounds like another achingly personal statement, while "Keep the Customer Satisfied" and "Baby Driver" are among the team's most fun recordings.
There was plenty choice material that could be included on a deluxe Bridge reissue. Foremost among this material are three songs recorded for the album but left on the cutting room floor. The most controversial is "Cuba Sí, Nixon No," performed by the duo during their 1969 tour but supposedly rejected by Garfunkel when it came time to select the album's final track listing. "Cuba Sí" was filmed at Miami University for Simon and Garfunkel's Songs of America television special, but its political subject matter reportedly left the initial sponsor, AT&T, with cold feet. It was cut from the program, which aired November 8, 1969. The second outtake is Simon's song "Groundhog," eventually recorded by Peter Yarrow in 1973 but still unreleased in its original version. Finally, "Feuilles-O" was a choral piece by Bach favored by Garfunkel and recorded in demo form. Although it didn't make it past this stage for Bridge, Garfunkel reworked it for his Angel Clare album in 1973 under the title "Feuilles-Oh/Do Space Men Pass Dead Souls on Their Way to the Moon?"
Legacy notably reissued Bridge Over Troubled Water in 2001 in a Vic Anesini remaster with two bonus tracks, "Feuilles-O" (which had previously been released on the Old Friends box set, Columbia C3K 64780, 1997) and "Bridge Over Troubled Water (Demo Take 6)." There would be great cause for celebration if "Cuba Sí, Nixon No" and "Groundhog" at last took their place among the bonus material on this Legacy Edition. Some collectors have also clamored for a take of the album's "Song for the Asking" with a clean introduction, as on the album, this beautiful, short song's opening notes are marred by the applause cross-fading from "Bye Bye Love." Mono mixes exist of all four singles, and those would be welcome additions, as well. The DVD contents are likewise unknown at present, although the then-controversial Songs for America is a great candidate for inclusion. The November 1969 special previewed songs from the upcoming album, including the title song, and also featured live and documentary footage; as a time capsule, it's second to none.
Days after this post first went up, details were revealed about this eagerly-awaited reissue, and as is frequently the case, we've got to take the bitter with the sweet. In the latter department, we're thrilled to report that the controversial and long-unseen 1969 television special Songs for America will make its official video debut on the included DVD, as we had speculated. It will take its place alongside a new documentary, The Harmony Game, about the making of the album. Paul Simon, Art Garfunkel and producer/engineer Roy Halee have all been newly interviewed for The Harmony Game. The disappointing part, then? The CD portion of this special 40th Anniversary Edition will consist solely of the 11-track album as originally released in 1970. Frustratingly, the demo recordings of "Feuilles-O" and "Bridge Over Troubled Water" included on the 2001 reissue have been dropped.  "Groundhog" and "Cuba Si, Nixon No" will, at least for the foreseeable future, remain unreleased. Both discs will be housed in a digipak, and no mention has been made of a fresh remastering.
A special edition for Bridge Over Troubled Water has long been rumored, and with it due imminently, we hope that this release could bode well for similar Legacy Editions for Paul Simon's solo output, now under the same umbrella as the Simon and Garfunkel catalogue. Bridge Over Troubled Water: 40th Anniversary Edition hits stores on March 8.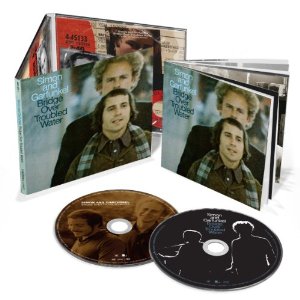 Simon and Garfunkel, Bridge Over Troubled Water: 40th Anniversary Edition (Columbia/Legacy 88697 82724-2, 2011)
Disc 1: Original LP (released as Columbia CS 9914, 1970)
Bridge Over Troubled Water
El Condor Pasa
Cecilia
Keep the Customer Satisfied
So Long, Frank Lloyd Wright
The Boxer
Baby Driver
The Only Living Boy in New York
Why Don't You Write Me
Bye Bye Love
Song for the Asking
Disc 2: DVD
Songs for America original concert, 1969
The Harmony Game documentary, 2011