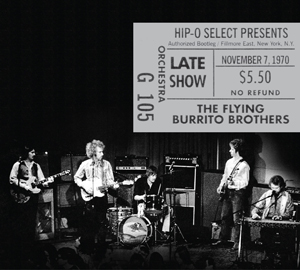 Hip-o Select has put up a new release for order at the top of the week: a live set by country-rock pioneers The Flying Burrito Brothers.
The FBB were the brainchild of Gram Parsons and Chris Hillman, upon leaving The Byrds. The duo were the initial nucleus of the multi-musician ensemble. At the time of the recording of Authorized Bootleg: Late Show, November 7, 1970 The Fillmore East, New York, NY, Parsons and original bassist Chris Ethridge had left and were replaced by Rick Roberts and Bernie Leadon (this was before Leadon became a founding member of The Eagles). Byrds drummer Michael Clarke and renowned session pedal-steel player "Sneaky" Pete Kleinow rounded out the ensemble.
The release of this authorized bootleg, overseen by Hillman (who contributes a note to the set and approved its mastering), makes for one of the earliest officially-released FBB shows on the market, predating even the band's first live LP, Last of the Red-Hot Burritos (1972).
This new set is limited to 7,000 copies and is yours to order at this link. Check out the track info after the jump.
The Flying Burrito Brothers, Authorized Bootleg: Late Show, November 7, 1970 The Fillmore East, New York, NY (A&M/Hip-o Select, 2011)
Lazy Days
One Hundred Years from Now
My Uncle
Cody, Cody
Christine's Tune (a/k/a Devil in Disguise)
I Am a Pilgrim
Dixie Breakdown
Willie and the Hand Jive
Wild Horses
Feel Good Music
Hot Burrito #2
Six Days on the Road