The wide berth of reissues, box sets and compilations across major and independent labels the world over, means some releases can fall through the cracks at times. At The Second Disc, it was always an early mission to make sure the labels handling catalogue soundtrack reissues did not suffer this fate. Intrada, Film Score Monthly, Kritzerland, Varese Sarabande - all are essentials for the catalogue music fan with a taste for soundtracks, and their work is hard to ignore.
La La Land Records, however, may have been one of the brightest spots in the soundtrack world this past year. The Burbank label, in business since 2002, scored an impressive amount of blockbuster film soundtrack releases in the past year. Releases included scores to blockbusters like Caddyshack, Independence Day, The Poseidon Adventure, Home Alone and Batman as well as hit television titles like Days of Our Lives, the remake of Battlestar Galactica, Dead Like Me, Human Target and others. And the new year is shaping up to be another successful one, with two box sets on their way - a first for the label - one devoted to the Medal of Honor game series and the other devoted to The X-Files.
MV Gerhard, the president and co-owner of the label, shows no signs of slowdown. And despite this, he was able to take time out of his very busy schedule to correspond with The Second Disc via e-mail on what it's like being part of a soundtrack reissue label, the high points of his work and what's to come. Our deepest thanks to MV for answering The Second Disc's burning questions, and may all of La La Land's future efforts be met with continued success!
Read on after the jump!
Reissues are hard to explain to people who aren't aware of them, but sometimes it seems like the appeal of soundtracks - old or new - is harder to explain. As a professional, we invite you: why soundtracks?
Simply put - I love them! While my friends were listening to grunge music and West Coast rap in the late 80's and early 90's I turned my attention to the likes of John Williams, Danny Elfman and Danny Goldsmith. There are quite a number of soundtracks, when, upon their initial release, had lots of music left off for some reason or another. Now, many years later, I am honored to have the opportunity to revisit these treasures and share with my fellow soundtrack fans this extra music!
How did La La Land Records get its start? What were some of the challenges creating a label from scratch?
We started up in October 2002 with a reissue of Zulu Dawn and Uncorked. Matt [Verboys, label co-founder] and I went around to friends and family and got them to invest in our fledgling soundtrack company with the promise that they would be paid back in full and then some. Lucky for us (and them) we succeeded!
It took years to build relationships with all the various studios, production companies and composers, but the end result is worth all the time and effort. Plus, it's fun!
Your work from soundtrack to soundtrack obviously varies, but for our readers, what are the general steps in getting a catalogue soundtrack out there to consumers?
There is no simple way I can explain how this comes about because each project is different. Sometimes we request it, sometimes we are asked by the studio...sometimes a composer asks us or sometimes a film maker does. It's never ever the same and that's why we find this profession thrilling.
Which part of the aforementioned process, other than getting the product out there, is your favorite?
Unearthing the music reels and discovering different takes or music that never made the final cut of the film...that's the coolest part of the gig for me.
How "aware" would you say the major labels/studios are in terms of your desire to put out a killer product for soundtrack fans? How much of that awareness came before business started booming?
I'm in no position to answer that question. That's a query better asked of a studio.
You have released some tremendously popular scores over the past few years. Which is the one that you consider the biggest breakthrough for your label?
Certainly Batman (1989) is a feather in our cap. Batman is the score that made me fall in love with film music, so it has a special place in my heart and now my label's own history.
In terms of producers and/or previous catalogue titles (reissues/box sets/etc.), who and what are your biggest influences?
No doubt about it the gang at Intrada, Mr. [Robert] Townson, Nick Redman, Ford A. Thaxton and Lukas Kendall are the masters of their crafts. Without them and their love and passion for this stuff we would not be around.
Since La La Land gained prominence, particularly for releasing a lot of great WB/DC Comics-related scores (Batman '89, Batman: The Animated Series, The Flash), Warner created their own soundtrack-oriented label, Water Tower Records. Want to take any credit for your label helping show the majors just how lucrative soundtracks can be in the right hands?
Nope. They were well aware of it before us and they will be after us.
You've released five Batman titles (The Animated Series, the animated Mask of the Phantasm film from 1992, the live action films from 1966 and 1989 and Batman Returns (1992)). Is is safe to say you're a fan? Any more Bat-action in the works from La La Land?
I'm a huge fan. Hell, I named my daughter IVY QUINN! As for more Bat-related titles coming out, you just have to wait and see.
Batman '89 may be my favorite archival score project of the whole year. Any notable stories behind the making of this set? What made you include both the film mix and original soundtrack LP on both sets? (It was an interesting touch.) Semi-serious aside: was there ever any discussions, serious or otherwise, to include the Prince album? (We're huge Prince fans at The Second Disc, and the rumors that his catalogue may get remastered next year are tantalizing.)
Prince is awesome and I hope his catalog is remastered.  The deal available to us from WEA and WB was for the Elfman score only.
Batman took about 2 years of global searches to come up with the album we have today. And even then, it's not as perfect as we would have wanted it to be. It's amazing how a film from 1989 has elements that are either non existent or have already started to fade into oblivion.
You've done a couple of great scores from the films of Mel Brooks, namely Blazing Saddles and Spaceballs. Any more titles in the comedy vein on the way?
Perhaps. Comedy tends to sell poorly and while we love to release these gems, the profit margin just simply is not there.
This year we can expect one of La La Land's first box sets, a four-disc collection of music from The X-Files. What were the challenges of a bigger set like this one? Will we see more La La Land box sets in the future?
Yes and yes. I think my initial pass at The X-Files was 16 discs! We have since cut it down to four discs, with the possibility of a second volume coming in 2012. In other words - if it sells, Volume 2 is ready to go.
Like many of the head honchos of the indie soundtrack labels, you maintain an active presence online, through film score message boards, Facebook and Twitter. What is the value in maintaining such an active dialogue with your customers and fan base?
We maintain an active dialogue to a certain point. We like to make good use of our online presence to inform our customers of upcoming product, special sales and, if need be, any issues one of our releases may be having. Other than that we have decided to concentrate producing our product and leave the minutia to the fellow fans on the board.
The "guessing game" of which titles are going to be announced. Some love it, some hate it. Where and when did that practice start coming into play with La La Land?
We don't do the guessing game like other labels. We simply make an announcement the week before It comes out. We have only hyped our Black Friday releases because it worked in the past. Otherwise, we are pretty straightforward as to what is coming out.
Many fans are grateful that La La Land and the other labels tend not to bump into each other with releases, enabling them to buy scores while keeping their finances in check. That said, when Warner announced the Tim Burton/Danny Elfman box, some fans were bothered by the price tag, which was higher than any first-run set from a soundtrack label. Do you look at this as just "business as usual" or do you have other thoughts on the matter?
What Warners or any other label want to charge for their product is their business. . . and being that we are ALL in a business fans must realize to make these dreams projects happen it costs money - sometimes LOTS OF IT. I'm quite sure the costs are certainly justifiable.
The limited nature of archival soundtracks is a necessary evil, but every now and then, a big title comes out from a label (Star Trek II and III, Rocky IV, Patton) that's unlimited. Are there any such titles in La La Land's future?
Those titles are not limited probably because there are no Associated Federation of Musician fees involved. Or, if there were any, they were probably paid off long ago by the original label.
As for us doing any unlimited titles like that the answer is no. If something did come along that would warrant an "unlimited" amount then we would certainly reconsider, but considering most "limited" titles do not even sell out their 3000 unit run...well, it gives you food for thought.
This year saw a surprising amount of reissues of out-of-print expanded scores (your expansions of Krull and The Poseidon Adventure coming off the top of my head). Do you foresee more out-of-print, previously expanded scores coming back into print from other labels so new fans can obtain them without paying more on the secondary market?
I know we have a handful coming up. We labels do not own the music, nor do the collectors. The studios do and If they want to generate money for their music departments by reissuing something then more power to them. Bottom line is that it's about the music, not about what some guy can make off an out-of-print CD on eBay.
However, I do strongly believe that a company should not reissue its own product that has sold out. I mean, if you say its sold out, it's sold out and move on to the next thing.
The soundtrack world is surprisingly free from the constraints of downloading; your buyers are into CDs. That said, do you ever see La La Land seeking digital distribution? What do you think is the next big shift for the labels in general in terms of how product is sold?
As has been proven in 2010 even the digital world is dying. Once Pandora's box was open with illegal downloading sites it spelled the end of making money in the music industry.
A few of our titles are on iTunes, but for the most part I want to continue to release music on CD as long as the fans keep buying it. There is something to be said about holding a tangible item in your hand...how it's a real emotional connection to the score and the experience and memories related to the film.
La La Land and the other labels have proven that there is a worthy niche for soundtrack reissues that can be served with the help of cooperative major labels. What advice would you give to those who'd want to start a label like yours, whether for soundtracks or just reissued music in general?
None. There are too many other labels out there to begin with. LOL. I'm sure the old guys like Varese, FSM and Intrada feel that way about a younger label like ours (8 ½ years and counting), but seriously - there is enough of us out there to release your favorite scores. 😉
What can we expect from La La Land in 2011? Rumors have been swirling and we'd love any hints you can offer...
The X-Files is coming and Clue is being released on February 1...but as for others, you just have to wait and see. 😉
The four titles La La Land released for Black Friday (James Horner's Jade, Danny Elfman's Batman Returns, Jerry Goldsmith's Star Trek V: The Final Frontier and John Williams' Home Alone) are arguably the biggest composers of the modern age. And four titles at once! Was it a plan to get so many titles at once, and such big names? Do you think LLL will ever again release as many titles - let along big titles - in one sitting?
We pretty much planned it out this way...although; one Williams title did get swapped for another (now coming in 2011). We plan to do something special again this year for Black Friday and for Comic-Con in July.
It's been mentioned that Batman Returns was the favorite at LLL HQ, as a surprisingly deep and psychological score. Can you expand on that a bit?
I love what Danny did with the Batman theme and how he got into the mindset of Catwoman and the Penguin. Listening to the score is almost like watching a silent film in your head. It's deeply complex and far more brooding than its predecessor.
To reiterate: this is yet another great DC/Batman-oriented title coming from the label. Any more along those lines planned?
You just have to wait and see.
Star Trek V was a pleasant surprise. I imagine this one was modeled a bit on Film Score Monthly's Trek II and III expansions from this year and last year. Lukas Kendall even co-produced the set. What was it like working with him on this project?
It was fantastic. A consummate pro and gentleman...I look forward to working with him in the future.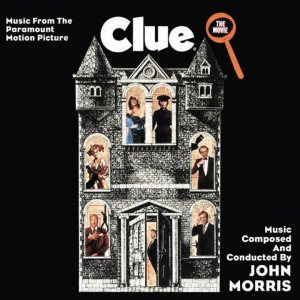 The score to Clue was recently announced as LLL's next release - the latest of many releases on the label from John Morris. How did your relationship with Mr. Morris start? What sets his work apart from other composers?
We are just big fans of Mr. Morris and were always surprised by how neglected his works were on CD. One of the reasons for starting La La Land was to release some of his great scores on CD.
Tell us a bit about getting Clue to CD after some 25 years. What made this score a top priority? Was this an easier one to put together? What sort of bonus material did you find?
Clue was certainly on our top ten list of Paramount titles since we started working with them...and a favorite of our producer's, Dan Goldwasser. He really wanted to see this CD get out there.