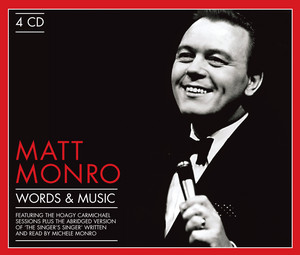 The success story of Matt Monro is one unlike any other. The singer, born Terence Edward Parsons in London in 1930, had recorded for both Decca and Fontana, and sang regularly on the BBC, but the brass ring eluded him. Then, in 1960, EMI producer George Martin was seeking a voice to spoof Frank Sinatra's on a Peter Sellers comedy album cheekily titled Songs for Swinging Sellers. Martin hired Matt Monro, and billed him under the very Sellers-esque pseudonym of "Fred Flange." Well, the "Flange" recording of "You Keep Me Swingin'" was a hit with listeners, who naturally wondered just who this Flange fellow was. Sinatra himself, maybe? Or man-of-a-thousand-voices Sellers pulling one over? Martin revealed the man behind the curtain, and signed Matt Monro to Parlophone. His first release on the label was a recording of George and Ira Gershwin's "Love is Here to Stay," but it didn't register. His next effort, though, was fellow Brit Cyril Ornadel's "Portrait of My Love" (popularized in the United States by the young Steve Lawrence). "Portrait" was his breakthrough, and Monro was off and swinging.
Among his contemporaries, Monro recorded comparatively few American standards. He was most successful when tackling songs of European origin, and gave voice to the landmark James Bond theme song, "From Russia with Love." The song, penned by Lionel Bart of Broadway's Oliver! fame, was heard in the film as source music and then over the end titles, buoyed by John Barry's lush orchestration. Monro became a soundtrack specialist, perhaps best remembered for his stirring rendition of Barry and Don Black's "Born Free," which Andy Williams covered in America. (Monro scored two American Top 40 hits: "My Kind of Girl" in 1961 and "Walk Away" in 1964.) Monro was a particularly fine interpreter of Barry's work, and the two men remained close until the singer's passing in 1985. He and George Martin continued their association, too, and Monro frequently tackled Beatles songs. He was one of the first performers to record Paul McCartney's "Yesterday," and did so with warmth and sophistication. He also recorded then-current American pop songs to generally wonderful results, avoiding kitsch territory. His American counterparts returned the favor, with Sinatra tackling a number of songs first associated with Monro, like Leslie Bricusse's "My Kind of Girl" and the Italian import "Softly As I Leave You." But Monro's only LP dedicated to a classic Tin Pan Alley composer was 1962's Matt Monro Sings Hoagy Carmichael. After a long absence from CD shelves, EMI Gold will next week reissue this classic LP tribute to the "Stardust" writer in an expanded edition as part of a unique package. Hit the jump for details and track listing!
For the Hoagy Carmichael project, Monro was accompanied by the Johnnie Spence Orchestra. He and Spence sensitively tackled some of the songwriter's most famous tunes: "Stardust," of course, but also "Georgia on My Mind," "The Nearness of You" and "I Get Along Without You Very Well." While it was included on a now-unavailable compilation disc, this album had never been reissued as a stand-alone CD until now. Its original 12 tracks have been augmented for this new edition with alternate versions of "The Nearness of You," "Skylark" and "I Get Along Without You Very Well," plus Monro's recording of "Up a Lazy River" and a previously-unheard session outtake of "By the Way."
Matt Monro Sings Hoagy Carmichael will be released in the U.K. on February 7 as part of the four-CD box set Words and Music. Disc One features the complete album, remastered from the original session tapes by Richard Moore, plus the aforementioned bonus tracks. Discs Two through Four comprise the abridged audiobook version of Michele Monro's 2010 biography of her father, The Singer's Singer, read by its author. Monro and Moore have been responsible for EMI's excellent (and long-running) Monro reissue series; while this package may be unorthodox, it's actually quite a bargain. The set is selling for £5.99 at Amazon U.K. which would make it a steal for the Carmichael CD alone. Essentially, the audiobook is a bonus.
Words and Music shouldn't be confused with a public domain release on the REX label of the same title which consists of Monro's pre-Parlophone recordings for Decca. Barring any troubles thanks to the tumultuous events currently occurring at EMI, Michele Monro and Moore plan on continuing the campaign in September with the reissue of the limited edition (now out-of-print) four-CD box set devoted to her father, also entitled The Singer's Singer.
Words and Music, containing the entirety of Matt Monro Sings Hoagy Carmichael, is set for release on Monday, February 7 and is available here from Amazon U.K and here from Amazon U.S. !
Matt Monro, Words and Music (EMI Gold 720922, 2011)
Disc 1
Stardust
Small Fry
How Little We Know
The Nearness of You
Georgia on My Mind
Skylark
One Morning in May
I Get Along Without You Very Well
Memphis in June
I Guess It Was You All the Time
Blue Orchids
Rocking Chair
Up a Lazy River (Duet with Cleo Laine)
The Nearness of You (Version 2)
Skylark (Alternate Take)
I Get Along Without You Very Well (Alternate Take)
By the Way (Outtake)
Discs 2-4
The Singer's Singer (as read by Michele Monro)
Disc 1, Tracks 1-12 from Matt Monro Sings Hoagy Carmichael, Parlophone LP PMC-1185, 1962
Disc 1, Tracks 13-17 previously unreleased