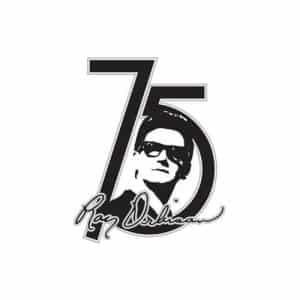 April 23, 2011 would have marked the 75th birthday of Roy Kelton Orbison. The perpetually cool, sunglass-clad, big-voiced singer, a.k.a. Lefty Wilbury and The Big O, may have died in 1988, but he left behind a rich catalogue recorded for on a variety of labels including Sun, RCA and MGM. However, it was at Fred Foster's Monument label, also an early home to Dolly Parton and Ray Stevens, that Orbison introduced most of his signature songs. Many of these were achingly vulnerable and even quasi-operatic: "Crying, "It's Over," "Only the Lonely," "Running Scared." Yet as hauntingly beautiful as these songs were, Orbison could rock with the best of 'em, of course, as evidenced by "Dream Baby" and perhaps his most famous song, "Oh, Pretty Woman." His "Blue Bayou" didn't make a great chart impression in America originally, but made up for it years later in Linda Ronstadt's rendition. Orbison scored his final hit posthumously, when "You Got It," bequeathed by his friends in The Traveling Wilburys, went Top 10. As a songwriter, singer and unlikely style icon, Roy Orbison's influence has been mightily felt over the years.
On April 5, Legacy remembers Orbison with a 2-CD/1-DVD collection compiling all of the singer's A and B sides for Monument with the release of The Monument Singles Collection. Its two CDs begin in 1959 when Orbison had signed with Monument after a short-lived stint on RCA Victor; upon the conclusion of Disc Two, we're post-"Oh, Pretty Woman" with Orbison on the verge of decamping for MGM. All tracks have been remastered and are presented in their original mono mixes. A special bonus is a DVD containing nine songs performed by Orbison for 1965's The Monument Concert. This rare footage features Orbison at his peak, running through some of his biggest hits, such as "Only the Lonely," "Crying," "Running Scared," "It's Over" and "Oh, Pretty Woman." Roy's son, Roy Orbison Jr., provides new liner notes for the collection.
Hit the jump for Legacy's press release, along with the track listing and discographical information for all songs!
"Orbison…transcended all the genres–folk, country, rock and roll or just about anything. His stuff mixed all the styles and some that hadn't even been invented yet…. He sounded like he was singing from an Olympian mountaintop and he meant business." – Bob Dylan, Chronicles Vol. 1
"Roy's ballads were always best when you were alone in the dark. They were scary. His voice was unearthly…. I always wanted to sing like Roy Orbison…" – Bruce Springsteen
"But Roy Orbison! It was only because we were with Roy Orbison that we were there at all. He was definitely top of the bill… What a beacon in the southernmost gloom. The amazing Roy Orbison." – Keith Richards, Life
Legacy Recordings, the catalog division of Sony Music Entertainment, is celebrating the 75th birthday (April 23, 1936) year of Roy Orbison with the long-awaited release of Roy Orbison: The Monument Singles Collection, a 2 CD/1 DVD set including all the A&B sides recorded by Orbison for the groundbreaking Monument label during an electrifying peak from 1959-1966. Restored to pristine mono mixes for the first time since their original 7″ vinyl releases, Roy Orbison: The Monument Singles Collection presents The Big O's core classic catalog the way it's meant to sound.
A small independent record label enjoying modest successes in the late 1950s, Monument Records grew to become a major force in American rock and roll, country, jazz and rhythm & blues, its label identity synonymous with its biggest star, Roy Orbison. Other artists on the Monument label have included Kris Kristofferson, Boots Randolph, Dolly Parton, Ray Stevens, Tony Joe White, Charlie McCoy, Willie Nelson and others.
The Commemorative release includes the first-ever DVD release of Orbison performing nine songs from "The Monument Concert 1965," including the official video for "Oh Pretty Woman," digitally restored for especially for this collection. It also features liner notes by Roy Orbison Jr. featuring new interviews with Fred Foster, Joe Melson, Bob Moore and others.
Best recognized around the world for his otherworldly voice, Roy Orbison was both rock & roll pioneer and prototypical singer-songwriter, beginning with his first high school band (the Wink Westerners/Teen Kings) and shifting into mass consciousness in the 1960s with a string of singles for the Monument label that defined an artist and helped launch a label.
Orbison–along with a short list that included Elvis Presley, Johnny Cash, Jerry Lee Lewis and Carl Perkins–was one of the undisputed originators and architects of rock & roll at Sam Phillips' Sun Records. Orbison cut his first chart hit (it reached #56), "Ooby Dooby," for Sun in 1956, staying with the label for two years before a brief stint at RCA in 1958.
Roy Orbison signed with the newly emerging independent label Monument Records in mid-1959. While his second single for Monument, "Uptown," became his biggest hit as a performer since "Ooby Dooby," it was Orbison's third single for the label, "Only The Lonely (Know How I Feel)," which announced to the world the true artistry of Roy Orbison. The song peaked at #2 on the Billboard Pop Singles chart, crossed over to #14 on the Billboard Black Singles chart, and rocketed up to #1 on the UK charts.
Orbison followed up the breakthrough with a pair of respectfully charting singles — "Blue Angel" (#9 Pop, #23 Black) and "I'm Hurtin'" (#27 Pop) — before knocking it out of the park with "I'm Hurtin'," his first US #1.
After that came an unbroken four-year string of Top 40 hits — "Crying," "Candy Man," "Dream Baby (How Long Must I Dream)," "Working for the Man," "Leah," "In Dreams," "Pretty Paper," "Blue Bayou," "Mean Woman Blues, "It's Over" — during which Roy Orbison became America's top-selling recording artist and one of the world's most celebrated entertainers.
In May 1963, Roy Orbison accepted an invitation to tour England on a bill with the Beatles, a group then-unknown in the United States. The tour sold out in a single afternoon. On the tour's opening night, Roy Orbison was called back for 14 encores before the Beatles could get on-stage.
Roy Orbison was one of the few established hit-makers from the late 1950s and early 1960s to not only hold his ground, but to actually increase his popularity in the wake of the British Invasion. He maintained his popularity through music which displayed an extraordinary variety of content, structure, tempo and rhythm and an authentic emotional connection that transcended mere craft, exemplified in his signature classic, "Oh Pretty Woman," recorded on August 1st, 1964. Written by Orbison with his new writing partner Bill Dees, "Oh Pretty Woman" became Roy's biggest hit and is one of the most immediately recognized and popular rock songs of all time. Released in August 1964 in the US and in September of that year in the U.K., the song hit the #1 slot in virtually every country in the world where people had record players, selling some seven million copies that year.
The Monument Singles Collection is due in stores on April 5.
Roy Orbison, The Monument Singles Collection (Sony/Legacy 88697 84158 2, 2011)
Disc 1: The A-Sides
Uptown
Only the Lonely
Blue Angel
I'm Hurtin'
Running Scared
Lana
Crying
Let the Good Times Roll
Blue Bayou
Dream Baby
The Crowd
Working for the Man
In Dreams
Falling
It's Over
Oh, Pretty Woman
Goodnight
Pretty Paper (Bonus Track)
(Say) You're My Girl (Bonus Track)
Paper Boy (Bonus Track)
Disc 2: The B-Sides
Pretty One
Here Comes That Song Again
Today's Teardrops
I Can't Stop Loving You
Love Hurts
Summer Song
Candy Man
Mean Woman Blues
The Actress
Mama
Leah
Shahdaroba
Distant Drums
Indian Wedding
Yo Te Amo Maria
Only with You
Beautiful Dreamer (Bonus Track)
Sleepy Hollow (Bonus Track)
With the Bug (Bonus Track)
Disc 3: DVD
Only the Lonely
Running Scared
Crying
What'd I Say
Dream Baby
Mean Woman Blues
It's Over
Oh, Pretty Woman
Goodnight
Disc 1, Track 1 & Disc 2, Track 1 from Monument single 412, 1959
Disc 1, Track 2 & Disc 2, Track 2 from Monument single 421, 1960
Disc 1, Track 3 & Disc 2, Track 3 from Monument single 425, 1960
Disc 1, Track 4 & Disc 2, Track 4 from Monument single 433, 1960
Disc 1, Track 5 & Disc 2, Track 5 from Monument single 438, 1961
Disc 1, Track 6 & Disc 2, Track 6 from Monument single 939, 1966
Disc 1, Track 7 & Disc 2, Track 7 from Monument single 447, 1961
Disc 1, Track 8 & Disc 2, Track 13 from Monument single 906, 1965
Disc 1, Track 9 & Disc 2, Track 8 from Monument single 824, 1963
Disc 1, Track 10 & Disc 2, Track 9 from Monument single 456, 1962
Disc 1, Track 11 & Disc 2, Track 10 from Monument single 461, 1962
Disc 1, Track 12 & Disc 2, Track 11 from Monument single 467, 1962
Disc 1, Track 13 & Disc 2, Track 12 from Monument single 806, 1963
Disc 1, Track 14 & Disc 2, Track 13 from Monument single 815, 1963
Disc 1, Track 15 & Disc 2, Track 14 from Monument single 837, 1964
Disc 1, Track 16 & Disc 2, Track 15 from Monument single 851, 1964
Disc 1, Track 17 & Disc 2, Track 16 from Monument single 873, 1965
Disc 1, Track 18 & Disc 2, Track 17 from Monument single 830, 1963
Disc 1, Track 19 & Disc 2, Track 18 from Monument single 891, 1965
Disc 1, Track 20 & Disc 2, Track 19 from Monument single 409, 1959
All tracks on Disc 3 are previously unreleased.