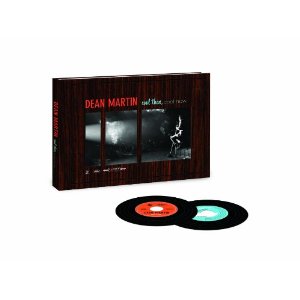 Don't move those Bear Family boxes over quite yet, Dean Martin fans. Between 1997 and 2001, the German label issued four remarkable boxes collecting virtually every note ever recorded by Dean Martin not only for Capitol and Reprise (his two most famous label associations) but for Diamond, Embassy, Apollo, Warner Bros. and MCA. So what could a new box offer to collectors and fans?
On June 7, Hip-o will release a two-CD box set dedicated to the perennially cool singer and swinger in a hardcover photo album format. Cool Then, Cool Now is the latest Martin title to be released under the licensing agreement between Martin's estate and Universal Music Group, parent of the Hip-o label. As original Reprise owner Frank Sinatra believed that artists should own their masters, the estate now controls his pal Martin's Reprise material. (This marks the second major Martin project of 2011; see The Second Disc's review of the first one, The Very Best of the Rat Pack!) While the title of Cool Then, Cool Now is undoubtedly accurate, the box doesn't break much new ground on the musical side. (A true career retrospective box with material from each label and era would be essential for those Martin fans looking for more than single-disc compilations but less than 30 discs from Bear Family! How a three- or four-CD treatment in that vein has eluded Martin this long is a mystery.)
Only 28 songs are spread over the two discs of Cool Then, Cool Now, the majority of which could fit on one CD alone. It's to Hip-o's credit that a handful of sides have been licensed from Capitol, meaning that "Memories Are Made of These," That's Amore" and "Volare" are all present along with Martin's well-known Reprise hits. Of the tracks that originally appeared on Capitol, two are "duets" from Capitol's posthumous Forever Cool, released in 2007. Reappearing here are Kevin Spacey's "Ain't That a Kick in the Head" with the actor in his best Bobby Darin mode, and Robbie Williams' "Please Don't Talk About Me When I'm Gone." Only one true rarity is present, the 1985 MCA single "L.A. Is My Home." As this track has only otherwise seen CD release as part of Bear Family's massive Lay Some Happiness on Me box, it's particularly nice to see it included. None of Martin's other late-career singles, including its B-side "Drinking Champagne," make an appearance. While more lesser-known tracks would have been appreciated by collectors, the line-up, while skimpy, is well-considered and should appeal to casual fans. (In fairness, much of Martin's album LP catalogue is now unavailable, with Collectors' Choice's Reprise reissue series now out-of-print, and its Capitol series disappearing quickly.) Besides the big hits, the box includes Dino's laid-back versions of songs better-associated with other artists: "Mambo Italiano" (Rosemary Clooney), "C'est Si Bon" (Eartha Kitt) and "King of the Road" (Roger Miller) among them.  What else does Cool Then, Cool Now offer?  Hit the jump for an answer, plus the complete track listing with discographical details.
The appeal of Cool Then, Cool Now might well depend on one's fondness for the package itself. The hardcover book promises to contain photos grouped in five chapters: The Entertainer, The Family Man, The Sportsman, The Man-About-Town and The Movie Star. Tributes will be printed from friends and admirers such as Spacey, Williams, Arnold Palmer, Shirley MacLaine and Martin's old partner Jerry Lewis. Martin's daughter Gail Martin Downey also contributes. In a fine touch, the box itself bears both the Reprise and Capitol logos on its cover artwork.
Cool Then, Cool Now retails for $49.98 but can be pre-ordered at a considerably lower price here at Amazon.com. It arrives in stores on June 7.
Dean Martin, Cool Then, Cool Now (Hip-o Records, 2011)
Disc 1
Snap Your Fingers
Little Ole Wine Drinker Me
I'm Sitting on Top of the World
(Open Up the Door) Let the Good Times In
Memories Are Made of These
Ain't That a Kick in the Head (with Kevin Spacey)
Mambo Italiano
Everybody Loves Somebody
You're Nobody Till Somebody Loves You
You'll Always Be the One I Love
Gimme a Little Kiss, Will Ya Huh
Please Don't Talk About Me When I'm Gone (with Robbie Williams)
C'est Si Bon
That's Amore
Disc 2
Who's Got the Action?
King of the Road
Five Card Stud
Born to Lose
L.A. Is My Home
Bumming Around
Do You Believe This Town
Welcome to My World
Sway
Volare
The Glory of Love
Side by Side
Red Sails in the Sunset
Any Man Who Loves His Mother
Disc 1, Track 1 from Houston, Reprise LP 6181, 1965
Disc 1, Track 2 from Reprise single 0608, 1967
Disc 1, Track 3 from Sittin' on Top of the World, Reprise LP 2113, 1972
Disc 1, Track 4 from Happiness is Dean Martin, Reprise LP 6242, 1967
Disc 1, Track 5 from Capitol single 3295, 1955
Disc 1, Tracks 6 & 12 from Forever Cool, Capitol CD 97441, 2007
Disc 1, Track 7 from Let Me Go, Lover, Capitol EP EAP-19123, 1955
Disc 1, Track 8 from Everybody Loves Somebody, Reprise LP 6130, 1964 or Dream with Dean, Reprise LP 6123, 1964
Disc 1, Track 9 from This Time I'm Swingin', Capitol LP 1442, 1960 or The Door is Still Open to My Heart, Reprise LP 6140, 1964
Disc 1, Track 10 from Dean Martin Hits Again, Reprise LP 6146, 1965
Disc 1, Track 11 from Dream with Dean, Reprise LP 6123, 1964
Disc 1, Track 13 from French Style, Reprise LP 6021, 1962
Disc 1, Track 14 from Capitol single 2589, 1953
Disc 2, Track 1 from Reprise single 1438, 1962
Disc 2, Tracks 2, 4, 6 & 8 from Remember Me (I'm the One Who Still Loves You), Reprise LP 6170, 1965
Disc 2, Track 3 from Reprise single 6739, 1968
Disc 2, Track 5 from MCA single 52262, 1985
Disc 2, Track 7 from I Take a Lot of Pride in What I Am, Reprise LP 6338, 1969
Disc 2, Track 9 from Capitol single 2818, 1954
Disc 2, Track 10 from Capitol single 4028, 1958 and This is Dean Martin, Capitol LP 1047, 1958
Disc 3, Tracks 11-13 from Songs from The Silencers, Reprise LP 6211, 1966
Disc 2, Track 14 from Robin and the Seven Hoods: Original Soundtrack, Reprise LP FS-2021, 1964