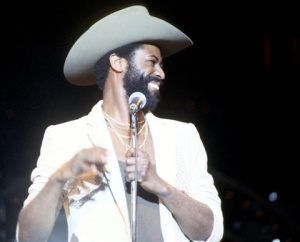 Here's a music DVD treat for you: Shout! Factory is releasing a live show from the vaults of the late, great Teddy Pendergrass.
The former lead singer of Harold Melvin & The Blue Notes was in rare form in this show recorded at London's Hammersmith Odeon in early 1982. The soul serenader had already racked up five consecutive platinum records between 1975 and 1980 - one with Harold Melvin & The Blue Notes and four on his own - and had recently enjoyed his latest Top 5 R&B hit, "You're My Latest, My Greatest Inspiration." Tragically, weeks after the performance closed with a fine version of "Reach Out and Touch (Somebody's Hand)," Pendergrass would be severely injured in a car accident that left him paralyzed from the waist down for the rest of his life.
Though Pendergrass passed away just over a year ago, his music lives on, and Shout! Factory's DVD - featuring a few bonus performances in addition to the nine-song set - is proof of his soulful gift.
There's no pre-order link just yet, but the set list is after the jump. The street date is March 29.
Teddy Pendergrass, Live in '82 (DVD) (Shout! Factory, 2011)
Medley: I Don't Love You Anymore/The More I Get, The More I Want/You Can't Hide from Yourself
Love T.K.O.
Lady
Where Did All the Loving Go
Come Go with Me
Close the Door
Turn Off the Lights
Only You
Reach Out and Touch (Somebody's Hand)
Bonus performances:
I Can't Live Without Your Love
You're My Latest, My Greatest Inspiration
The Whole Town's Laughing at Me