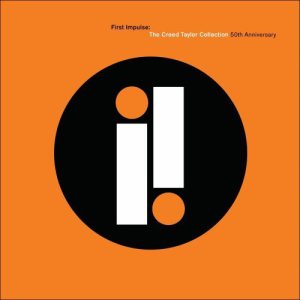 Universal Music Group has an impressive array of jazz titles in their library. Defining labels of the genre like Verve and Mercury are jewels in UMe's crown, while the catalogues of Concord and Fantasy are distributed domestically by Universal as well.
One of the more arguably underrated vintage labels in Universal's family, though, is Impulse! Records. The label, founded by Creed Taylor in 1960 as a label in the ABC-Paramount group, may not be as long-running as the others in Universal's catalogue, but it was incredibly notable in its time, offering a hip, fresh take on jazz in terms of content and packaging. (The orange, black and white logo and label design remains one of the greatest logos in music history.) Early artists on the label included trombonist Kai Winding, Gil Evans, Count Basie and Ray Charles, fresh off his tenure with Atlantic Records. But the most notable would have to be John Coltrane, whose saxophone skills and pioneering work in the hard bop and free jazz styles cemented his legacy far beyond his too-early death in 1967 at the age of 40.
Last year marked the 50th anniversary of Impulse! and this one would have been Coltrane's 85th year. Thus, a celebration is inevitable, and it will kick off this spring with the release of First Impulse! The Creed Taylor Collection. This four-disc collection looks to represent the first half-dozen or so titles for the label as produced by Taylor, before he was hired away by Verve, ironically enough. Those titles would be J.J. Johnson and Kai Winding's The Great Kai & J.J., Ray Charles' Genius + Soul = Jazz (itself reissued last year), Winding's The Incredible Kai Winding Trombones, Gil Evans' Out of the Cool and Coltrane's Africa/Brass.
Though a firm track list is not in place, it appears as though all of those records will be replicated across the discs (marking the domestic CD debut for both albums by Winding). It's also been revealed that rare and unreleased material will be present. Chief among them is an unreleased Coltrane session with trumpeter Cal Massey in the producer's chair, featuring three demos sessions leading up to the Africa/Brass LP.
An Amazon pre-order link exists for this set (which lacks a firm release date, although we've been told the box is due in April); from the looks of that link, we should expect an order page from Hip-o Select before long. As always, keep it here for news on the set as it happens.