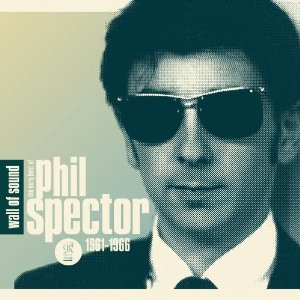 In another time, in another place, I would not be writing this review of Legacy's new Phil Spector compilation with a slight pang of melancholy. And you wouldn't be reading it with the possible tug at the heartsrings you might face now. Phil Spector was one of the most significant pop producers of the 20th century - a creator of pop music as a blissful, romantic, universal commodity - but recent events have ensured that anyone who speaks his name today does so with hesitation, with knowledge of something too awful to comprehend, a bastardization of the all-reaching control he had on the records he produced.
The first time a label lovingly presented Spector's work on CD, with the immortal box set Back to Mono (ABKCO 7118-2, 1991), Spector was a darkly obsessive genius, and only that. We'd all known the stories of his less savory encounters while producing late-period works for Leonard Cohen or The Ramones, but the four-disc set was a revelation, introducing the Wall of Sound - that simple-yet-complex conglomerate of musicians towering and bouncing off the listener from one glorious channel of sound - to a new generation of listeners. Now, some 20 years later, with increasing amounts of teens and young adults too enamored of instant-gratification culture, we have the chance to revisit these perfect pop offerings. The times have changed, and certainly our perception of Spector has changed, too. But do these tunes stack up as sweetly as they once did? We'll discuss more after the jump.
Today sees one of the first great realizations of Legacy Recordings' partnership with EMI Publishing in presenting the Philles Records catalogue on CD, with four compilations - ones devoted to The Crystals, The Ronettes and Darlene Love alongside Wall of Sound, focused on classic Spector productions in general (Phil Spector Records/Legacy 88697 61294-2, 2011) - collecting the best tunes from Spector's reign. (The producer was responsible for great albums, too; Legacy reissued A Christmas Gift for You from Philles Records in 2009, and will reissue the other six of the first seven Philles LPs in June.) Wall of Sound, featuring 19 classic tracks in just under an hour, is a whirlwind trip through one of the most influential times in pop history.
Others have spoken far more eloquently on these tunes - "Da Doo Ron Ron," "Be My Baby," "Then He Kissed Me," "He's a Rebel," "You've Lost That Lovin' Feeling" "River Deep, Mountain High" and countless others. But if you're a listener of pop music in all its forms, from then to now, think about what you hear these days. Don't think about the quality, but the content and the overall theme. Pop music doesn't provide much of that to the listener today. Each of these sides is brimming with its own teen-dream narrative, and builds a world where there are no anxieties over love and romance, just the triumphant expression of a couple in love, thick and thin be damned. It may sound hyperbolic, but these are the kind of songs we yearn for, the kinds that make us feel good to be alive and immersed in music in the first place.
Put another way, Spector helped turned pop music into something permanent. RCA had a big hitmaker on their hands in Elvis Presley, but nobody could have anticipated how time would have honored those records - nor could the same be said of Spector's work, either. But thanks to the producer, pop became something not just "for the kids," as Spector himself once put it, but something with a lasting impact on how a generation listened and felt. Spector also made a monument of the pop process, bringing an emphasis on a great amount of behind-the-scenes people (arranger Jack Nitzsche, songwriters Carole King, Gerry Goffin, Elie Greenwich and Jeff Barry and "Wrecking Crew" musicians Hal Blaine, Tommy Tedesco, Leon Russell and others) that continues to this day (consider wunderkind producer Dr. Luke, whose work with female pop stars like Britney Spears, Katy Perry, Avril Lavigne and Pink is a direct descendant of Spector's modus operandi).
The bottom line is, you and I both know what these songs mean to American music. That's not to be disputed. What you came here to know is how this compilation works as a compilation: is it well-mastered? Does it provide a clear introduction to the man and his music? Would a new fan benefit from this compilation? Yes, yes and yes. These new Spector sets, all produced by Rob Santos and mastered by Vic Anesini, are the perfect place to start your Wall of Sound collection if Back to Mono remains expensive or unavailable in your neck of the woods.
The biggest hits are here, in non-chronological but well-oiled playlist order, and four pages of notes by Jim Bessman are informative, if not particularly revelatory for hardcore fans. (My favorite revelation: that Spector deliberately mislabeled the track time on The Righteous Brothers' "You've Lost That Lovin' Feeling" to get radio stations to play it; its near four-minute length was considered near-endless at the time!) Mastering is crisp and the tracks can be played at a satisfactory volume. (Of course, the tracks, mixed in mono, only have so much sonic fortitude; some might consider the sound a muddle based on the criteria of the Wall of Sound itself, and hardcore fans still yearn for the rare, Spector-shunned stereo mixes of these tunes on CD.) The argument that the set is not fully comprehensive, omitting Spector's great early productions with The Teddy Bears, Ben E. King and Gene Pitney, is only valid thanks to licensing. The focus of this set is the Philles era (although some other notable tracks from other labels - and a small helping of unreleased material - appear on the other compilations in this batch), and it's covered thoroughly on this disc.
While Back to Mono remains the definitive Spector package in terms of content, depth and packaging, those looking for an affordable, handsome and immediate tribute to one of American pop's greatest luminaries - later transgressions be damned - have a disc to champion: Wall of Sound: The Very Best of Phil Spector 1961-1966. They don't make 'em like this anymore.