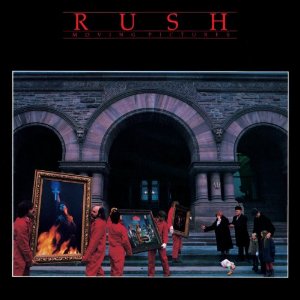 For fans of music in surround, every new release can be a cause for celebration. Surround music hasn't proliferated for years, but a small if steady flow keeps the torch burning over multiple formats. Last year saw the surprise launch of Rhino Handmade's Quadradisc series with classic quadraphonic titles arriving on DVD from Aretha Franklin and Chicago, while Tom Petty and UMe offered Damn the Torpedoes as a 5.1 Blu-Ray. King Crimson continued its 40th Anniversary Series on Inner Knot with a group of lauded DVD-Audio titles, and Acoustic Sounds offered remarkable three-channel mixes of Nat "King" Cole's Capitol catalogue. (Of new music in surround, Trent Reznor is offering his Oscar-winning score to The Social Network in surround.) A few weeks back, The Second Disc reported a tantalizing tidbit about a surround-sound reissue of Rush's 1981 classic Moving Pictures. Details are now in, and the news looks great!
Moving Pictures is generally considered the strongest album by the band. Members Geddy Lee, Alex Lifeson and Neil Peart built on their hard rock-meets-new wave sound pioneered on Permanent Waves, incorporating reggae and even pop influences. The Mercury label will release the 30th anniversary edition of Moving Pictures on April 5 in two formats. A CD+DVD edition will feature the original seven-track album as Disc One. Disc Two will contain the entire album in audiophile-quality surround and stereo mixes plus the music videos for "Tom Sawyer," "Limelight" and the previously-unreleased "Vital Signs." All tracks on the DVD will be presented in both 5.1 and stereo. Both mixes will be in 96 kHz/24 bit resolution for DVD-A users, and Dolby Digital 5.1 and PCM Stereo for those listeners utilizing DVD-V players.
Do you prefer your music in the more recent Blu-Ray format? No worries! Moving Pictures will also be issued as CD+BD. Again, the original album will comprise Disc One on CD, and the Blu-Ray will contain the same tracks as the DVD.  For Blu-Ray, however, the surround mixes are available in DTS-HD Master Audio 5.1 in addition to 96 kHz/24 bit PCM 5.1 and stereo. Engineer Richard Chycki remixed Moving Pictures for surround and wrote on his blog, "It really was an amazing experience to spread the original tracks of such a classic CD into the 3D world of surround. (The car [on the track "Red Barchetta"] speeds off, goes behind and banks a sharp right in rear, [by the way]). The listening experience is drastically enveloping and coupled with songs and performances that epitomize this band, it's definitely a great time to re-discover Rush." Chycki has revealed on his blog that he is also currently remixing the band's 2002 Vapor Trails, presumably as a standard stereo CD, for release sometime in the future.
To top off this truly deluxe package, Moving Pictures will contain new liner notes by music historian David Fricke, updated artwork by original album designer Hugh Syme, and a gallery of previously unreleased photos from the recording sessions. Hit the jump for pre-order information and a full track listing with discographical annotation!
Rush, Moving Pictures: 30th Anniversary Edition CD+DVD or CD+BD (Mercury SRM-1-4013, 1981 - reissued Mercury, 2011)
Disc 1 (CD)
Tom Sawyer
Red Barchetta
YYZ
Limelight
The Camera Eye
Witch Hunt
Vital Signs
Disc 2 (DVD/Blu-Ray - all tracks in 5.1 Surround Sound and Stereo)
Tom Sawyer
Red Barchetta
YYZ
Limelight
The Camera Eye
Witch Hunt
Vital Signs
Tom Sawyer (Music Video)
Limelight (Music Video)
Vital Signs (Music Video) - previously unreleased
All tracks on Disc 2 are previously unreleased in 5.1 Surround Sound.