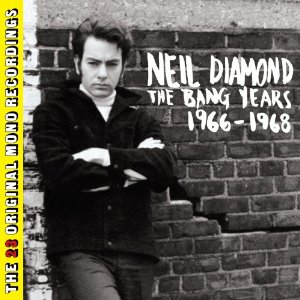 When it comes to Neil Diamond, I'm a believer. There's not a trace of doubt in my mind that Diamond burst onto the scene at the right time - not necessarily the night time, though I, too, thank the lord for it. No, Diamond made a big noise in the corridors of Bang Records in the period between 1966 and 1968, an era when the music business was experiencing change more rapidly than anyone could have predicted. And it was far from predictable that the somber and intense young man pictured on The Feel of Neil Diamond would one day graduate to glitter shirts and stadium anthems, but that's just what happened. In those two years, Diamond found his voice, abandoning his self-described "sophomoric, derivative and mundane rock 'n' roll songs" for deeply personal, sensitive, and yes, dramatic statements wrapped in radio-friendly packages. Today's eagerly-awaited release of The Bang Years: 1966-1968 (Columbia/Legacy 88697 85331-2) is the first comprehensive anthology of the soon-to-be Rock and Roll Hall of Famer's earliest work, and this splendid album has indeed been worth the wait. It collects 23 examples from the brief, fertile period when Neil Diamond became the first Brill Building songwriter to reach the very summit of superstardom.
The songs on The Bang Years are the cornerstone of a recording career that endures to the present day, and all are presented in their original mono mixes, many for the first time on CD. A great number are still familiar today; the four tracks "Solitary Man," "Cherry, Cherry," "Girl, You'll Be a Woman Soon" and "Kentucky Woman" merely comprise the opening salvo. The May 1966 single release of "Solitary Man" was Diamond's breakthrough, even as he was on the cusp of scoring hits ("I'm a Believer" and "A Little Bit Me, A Little Bit You," both for The Monkees) via his original career path, strictly as a songwriter. As his first Bang single, "Solitary Man" defined Diamond's persona via an introspective and personal lyric which anticipated the singer/songwriter movement. The singer of "Solitary Man" is honest and conversational ("Then Sue came along/Loved me strong/Well, that's what I thought...") in admitting his failures, but defiantly assured ("Don't know that I will but until I can find me/A girl that will stay and won't play games behind me/I'll be what I am, a solitary man"). The melody was instantly memorable and the arrangement just a touch dangerous, with the guitar-and-brass combination adding a potent edge. The artist's acoustic guitar enhances "Solitary Man" and most of the songs on The Bang Years; his guitar sound is so recognizable that one can see why producer Rick Rubin encouraged Diamond to pick up the instrument again and reconnect with his roots for 2005's acclaimed, back-to-basics 12 Songs. Bob Dylan had afforded rock lyrical freedom, and Diamond took advantage of that liberty while embracing traditional craft. Surely this melding of styles was encouraged by his producers Jeff Barry and Ellie Greenwich, the "Da Doo Ron Ron" and "Be My Baby" songwriters who had taken him under their wing.
"Cherry, Cherry" followed "Solitary Man", as joyful as its predecessor was dark, and its Top 10 chart placement saw that Diamond was off and running. One of the abundant joys of The Bang Years is rediscovering these rock and roll songs, listening to them in their originally-intended mono. When Diamond sings "Talk about money, girl...I ain't got any!" in the exuberant "Thank the Lord for the Night Time," it's direct and believable. (There's a fun image in the booklet of a check from BMI made payable to Diamond in December 1966.  It's in the amount of 43 cents!) Diamond felt the key was speaking from an "open and honest" place about his "own life and experiences," and his songs bore this out. As Diamond's songs became more personal, they consequently became more universal. His individuality was unique among the Brill Building group of masters, and it would serve him well in the future; hits like "Cracklin' Rosie" and "I Am, I Said" were as idiosyncratic as these formative compositions.
There are some songs better-known by other artists. There's, of course, "I'm a Believer," but also "The Boat That I Row" which was popularized by Lulu, and "Red, Red Wine," belatedly turned into a mega-hit by UB40. Then The Bang Years offers a handful of cover versions. There's an endearing "Monday, Monday" which Diamond begins with his gentle humming, and a straight-ahead version of Paul Simon's "Red Rubber Ball." (Perhaps Simon will thank him for the cover when he inducts Diamond into the Rock and Roll Hall of Fame next week!) Diamond even tackled mentor/producers Greenwich and Barry's "Hanky Panky," attempting to salvage the nonsensical lyric with a stab at humor. Unsurprisingly, this remains the weakest track on the set.
Many listeners will undoubtedly be discovering the lesser-known songs for the first time. "Do It," the original B-side to "Solitary Man," is a slight ballad built around a piano figure. "I'll Come Running" is another earnest slow-burner, but better is "The Long Way Home," with a big, killer chorus. The moody "You'll Forget" ("You'll forget that you love me/And you'll stop thinking of me/You'll forget what you feel right now/But how?") stands out for its organ part. "Love to Love," also recorded by The Monkees, is smashing early Diamond in familiar mode with a "Solitary Man"-style arrangement and an oddly affected vocal. The final track on The Bang Years led Neil Diamond to begin a new chapter in his career. Read about it after the jump!
Neil Diamond departed the Atlantic-distributed Bang label after a confrontation with founder Bert Berns over the direction of his career and specifically, the release of the song "Shilo." Diamond pushed the envelope with this autobiographical song of an imaginary friend, hardly the stuff of Top 40 or rock and roll. Berns released "Shilo" as an album track on 1967's Just for You, denying it a single release much to Diamond's chagrin. Now one of the singer's most requested songs, "Shilo" can rightfully be seen as a mini-movie and clearly his most ambitious track. Its frank lyrics were accompanied by a tense and atmospheric arrangement of piano, guitar and strings plus the singer's emotional lead. (Artie Butler, a music veteran with credits ranging from Barry Manilow's "Copacabana" to the upcoming Broadway musical The People in the Picture, is responsible for many of the arrangements on The Bang Years.)
[youtube=http://www.youtube.com/watch?v=1ool7259xNQ]
The Bang Years handily supplants Classics: The Early Years as the best place to acquire this period of Diamond's career, although that disc remains indispensable for its stereo presentations of some of these songs. It should be noted that The Bang Years utilizes the LP mixes of "I've Got the Feeling (Oh No No)" and "You Got to Me." The former mix is notable for dropping the backing vocals on Bang 536 in favor of emphasized horns at one point, while the latter mix utilizes an alternate vocal take containing different lyrics than the single mix on Bang 540. "Red Red Wine" is also presented in its LP version (without the added backing choir on Bang 556). Bang collectors know that there are multiple variations of many tracks but most notably "Solitary Man" and "Shilo." The "Solitary Man" heard here is the original from Bang 519 and The Feel of Neil Diamond, with no female background singers and a single-tracked vocal. (This was important to the producers; Diamond remarks in the liner notes that Greenwich and Barry and their engineers "never once allowed me to double my voice; they wanted the real Neil.") "Shilo" is also the original mono version from Just for You and Bang 561, with the spoken "Shilo...Shilo..." at the fade. Diamond's longtime associate Bernie Becker remastered The Bang Years in punchy mono. Becker's remastering is louder than previous releases of this material such as the In My Lifetime box set or The Essential Neil Diamond, and the volume and sound may not be to the taste of some audiophiles.
The Bang Years is beautifully packaged in a foldout digipak with 18-page glued-in booklet. There are copious photographs of the artist along with rare memorabilia (ads, record labels and sleeves) and a short foreword by Steve Baltin, but the lengthy and illuminating essay in which Diamond writes truthfully and candidly about this formative era is almost worth the price of admission alone. It's also terrific to see full credits for the talented team of musicians and engineers assembled by Greenwich and Barry; such recognition is all too rare. What's unfortunately absent is any kind of discographical information other than the year of recording; there's no indication of the source of any tracks, and the collection is sequenced in non-chronological, non-album order. That said, every cut from The Feel of Neil Diamond and Just for You is present, plus the standalone single Bang 551, "Kentucky Woman" b/w "The Time is Now." (There's a brief, special surprise before the latter song, which has always been one of Diamond's most rare.) A nice touch is the original yellow Bang label artwork on the CD face.
The only core Bang recordings missing from this impressive set are the songs "Crooked Street" and "Shot Down." "Crooked Street" and "Shot Down" were likely eliminated from The Bang Years because Diamond didn't authorize their original release in 1971, as they were pulled from the Bang vault to compete with his then-current music on the Uni label. It's long been thought that "Crooked Street" was a demo never intended for release, as its sole accompaniment is Diamond's acoustic guitar. In addition, neither of the songs has ever been released in true mono. "Crooked Street" appeared on the Do It LP (itself a post-1968 compilation) in rechanneled stereo, and on Bang single 586 in the very same rechanneled version. "Shot Down" was also presented on Do It in rechanneled stereo. The 61-minute running time of the disc would have allowed for the inclusion of these two tracks, and they are missed simply as a matter of historical record. But it appears that it was an artistic decision to scuttle them. One wonders if a two-CD/two-album Legacy Edition of The Feel of Neil Diamond/Just for You (in the style of the label's recent Elvis Presley sets) was ever contemplated, as two CDs could have contained both mono and stereo mixes of both original albums plus the non-LP single and selected variations.
It's difficult to think of any disc as an "introduction" to Neil Diamond. After all, in a nearly 50-year career, Diamond has written and recorded 37 songs that have hit the Top 40, and sold 128 million records around the world. Some 45 years after The Feel of Neil Diamond first hit stores, his latest album Dreams (on which the older, wiser singer revisits "I'm a Believer") opened in the Billboard Top 10. But if there can be a definitive introduction to Neil Diamond, it's The Bang Years 1966-1968. These 23 examples of raw talent, pop songcraft and rock attitude have stood the test of time. Talk about bang for your buck!