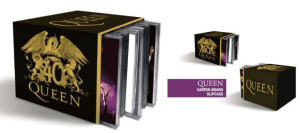 Two quick notes from the official Queen website on the upcoming reissues:
The reissues, already confirmed for release in America (woo hoo!), now have a firm release date! (Double woo hoo!!) The deluxe editions of Queen, Queen II, Sheer Heart Attack, A Night at the Opera and A Day at the Races will come out on Hollywood Records May 17.
For the U.K. (who will be receiving the reissues in a week and a half), all the reissues are going to be available together as a box set. The set will be available (according to the website) on April 4 "expect North America." Now, I imagine that's supposed to read "except North America," but come on! There are probably some fans who would like that box without having to import it.