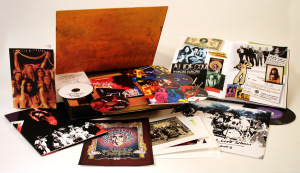 Only a day after being inducted into the Rock and Roll Hall of Fame, Alice Cooper is prepping a massive collectible for fans: a four-CD/one-DVD/double-vinyl box set capturing the band's early shock rock years.
There are only some preliminary details about Old School 1964-1974, but here's what we can tell you. It's going to feature, across its four CDs, demos, live takes, spoken-word material and vintage advertisements; demos from the  School's Out and Muscle of Love sessions are specifically mentioned, along with a live show from the Killer Tour in 1971. A DVD promises three hours of never-before-seen footage, while two vinyl discs provide the aforementioned Killer show of 1971 and a reproduction of Very Record S-001, a 1967 single by The Nazz (not to be confused with Todd Rundgren-fronted Nazz), which would shortly change its name to none other than Alice Cooper.
And like any good mega-box set nowadays, there's plenty of enclosed swag, namely a 64-page hardback book featuring rare photos and liner notes by metal journalist Lonn Friend and a folder featuring reproductions of set lists, ticket stubs, tour programs and more. And, rather ingeniously, the whole thing is packed in a 12" case shaped like a school desk.
The link in the second paragraph will take you to the pre-order page; it'll be out in June. More details, including a full track list, will be posted as soon as they're known.