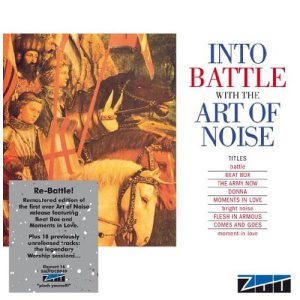 It's with great pleasure to find out that The Art of Noise's debut effort, Into Battle with The Art of Noise (1983), will be reissued as part of ZTT/Salvo's ongoing Element Series in April. And hardcore Art of Noise fans have a lot to be excited about this new release.
The Art of Noise. Those four words signify a bizarre advent in '80s pop music - perhaps the ultimate marriage of music and technology (a staple of almost all popular art released that decade), a template upon which much of modern dance music would base itself. It also gave birth to one of the most consciously weird record labels in all of England: Zang Tuum Tumb, a trendsetter in the field of futuristic dance-pop thanks to acts like Frankie Goes to Hollywood, Propaganda, 808 State and Seal.
The original Art of Noise - producer Gary Langan, programmer J.J. Jeczalik, arranger Anne Dudley, producer Trevor Horn and writer Paul Morley - came together not long after making massive strides with production work on ABC's The Lexicon of Love (with the smash single "The Look of Love") and the newly-reinvigorated prog band Yes, whose Horn-produced "Owner of a Lonely Heart" was a major hit. Working from scraps of material conceived for Yes' 90125 and others, many programmed into the then-new Fairlight CMI sampling synthesizer, the quintet developed a nine-track EP, Into Battle with The Art of Noise, which became a critical hit on both sides of the Atlantic (in the U.S., the emerging breakdance scene embraced the jittery, percussive nature of the music; lead single "Beat Box" topped Billboard's dance charts).
Horn and Morley would ultimately leave the band after their first full-length album, Who's Afraid of The Art of Noise? (1984), but those sessions yielded a major hit single in "Close (To the Edit)," a U.K. Top 10 hit and, to quote ZTT's own release, "a hit record that would take them from behind the locked doors of their studio to the Top of the Pops studio, around the world, and make them a sonic reference point for a generation," all of which is true. But what few know is Who's Afraid began as an entirely different record, a more progressive, experimental effort called Worship. For the Element Edition of Into Battle, the Worship sessions are finally freed from the vaults, adding no less than 18 unreleased tracks to this new reissue. While some of the track titles are familiar (namely "Close (To the Edit)"), these tracks are a landmark for Art of Noise fanatics.
The set will be released in the U.K. on April 4. Pre-order it from Amazon here and check out the track list after the jump.
The Art of Noise, Into Battle with The Art of Noise: Element Edition (ZTT/Salvo SALVOCDD49 , 2011)
Battle
Beat Box
The Army Now
Donna
Moments in Love
Bright Noise
Flesh in Armour
Comes and Goes
Moment in Love
Who's Afraid of The Art of Noise? (Worship Session)
One Finger of Love (Worship Session)
Diversion 1 (Worship Session)
Two Fingers of Love (Worship Session)
The Uncertainty of Syrup (Worship Session)
Damn It All (Worship Session)
Three Fingers of Love (Worship Session)
Sing of Relief (Worship Session)
Hands Off Love (Worship Session)
Diversion 2 (Worship Session)
Goodbye Art of Noise (Worship Session)
Confession (Worship Session)
Close (To the Edit) (Worship Session)
Diversion 3 (Worship Session)
The Moment of Desire (Worship Session)
And What Have You Done with My Body, God? (Worship Session)
The Wounds of Wonder (Worship Session)
A Time for Fear (Who's Afraid) (Worship Session)
Tracks 1-9 released as ZTT 12" EP ZTIS-100 (U.K.)/Island 12" EP 0-96974 (U.S.), 1983
Tracks 10-27 recorded for aborted Worship album in 1984 and previously unreleased