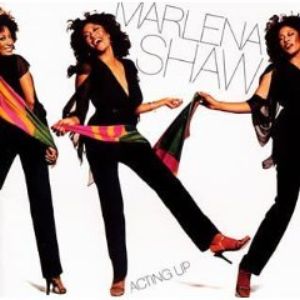 Whether recording jazz, pop or funk, the soulful Marlena Shaw has made her mark. The first female vocalist signed to Blue Note Records, Shaw has had an impressive career with tenures not only at the venerable jazz imprint but also Chess' Cadet subsidiary, Columbia, Verve and Concord. Included in her outstanding discography are searing takes on Goffin and King's "Go Away, Little Girl" (as "Go Away, Little Boy"), Ashford and Simpson's "California Soul" and a discofied "Touch Me in the Morning." Big Break Records continues its exploration of Shaw's Columbia catalogue with the April 25 (U.K.)/May 3 (U.S.) release of Shaw's second album for the label, 1978's Acting Up. This is just one of Big Break's stellar line-up scheduled for April/May.
The follow-up to Sweet Beginnings, Acting Up was once again helmed by producer Bert De Coteaux, while Abe Laboriel (bass) and Quentin Dennard (drums) made significant musical contributions. Shaw contributed a couple of songs herself while other notable tracks came from the pens of Billy Tragesser, Ken Stover and the team of Kathy Wakefield and Ken Hirsch. Like many of Shaw's recordings, Acting Up features her in musical settings ranging from the romantic to the deeply funky. Big Break's new edition features two bonus tracks, the single version of "Places" and the rare original soundtrack version of "Don't Ask to Stay Until Tomorrow," from the film Looking for Mr. Goodbar. Connors, of course, co-wrote the famous theme from Rocky, "Gonna Fly Now," and under her given name of Annette Kleinbard was the voice of Phil Spector's "To Know Him is to Love Him" for The Teddy Bears.  Hit the jump for pre-order link and track listing, with discographical information!
Acting Up also includes a deluxe booklet with liner notes based on a new interview with Marlena Shaw. It arrives in stores April 25 in the U.K. and one week later in the U.S.
Marlena Shaw, Acting Up: Expanded Edition (Columbia JC 35073, 1978 – reissued Big Break Records BBR 0046, 2011)
More
Moonrise
Rhythm of Love
Places
I Wonder
You Bring Out the Best in Me
Dreamin'
I'm Back for More
Mamma Tried
Theme from "Looking for Mr. Goodbar" (Don't Ask to Stay Until Tomorrow)
Places (Single Version) (Columbia 10746, 1978)
Theme from "Looking for Mr. Goodbar" (Don't Ask to Stay Until Tomorrow) (Original Soundtrack Mix) (from Columbia LP JS 5029, 1977)