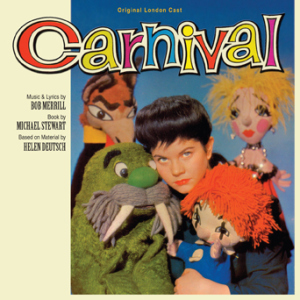 Priscilla: Queen of the Desert. Sister Act. Catch Me If You Can. Today's Broadway is populated by adaptations of familiar movies; in 1961, such screen-to-stage transfers were rare. When they did occur, the authors usually changed the title of the film to signify that their musical version was, indeed, a new work. (Imagine producers today allowing authors to diverge from a famous property's title!) Such creative freedom resulted in some of the most inspired musicals in stage history, and one such musical was that year's Carnival. Based on the 1953 MGM film Lili, Carnival told the story of the orphaned heroine who becomes entangled with the misfits of B.E. Schlegel's "Grand Imperial Cirque de Paris," among them a tortured puppeteer and his creations. Today, Kritzerland has just announced the first-ever CD release of the 1963 Original London Cast Recording of this unique musical.
For its Broadway premiere at the Imperial Theatre (today the home to the movie-turned-musical Billy Elliot), Carnival was directed and choreographed by Gower Champion, fresh from his triumph on Bye Bye Birdie, and featured a book by Birdie's Michael Stewart (who would later collaborate with Champion as author of Hello, Dolly!) based on the 1953 MGM film Lili. Bob Merrill was enlisted to write both music and lyrics, and his work on New Girl in Town and Take Me Along proved that the pop songwriter of "Mambo Italiano" and "How Much is That Doggie in the Window?" had the chops for theatrical writing. Presiding over the entire enterprise was David Merrick, the so-called "Abominable Showman" whose musical credits included Gypsy, Do Re Mi, Irma La Douce and Merrill's Take Me Along. Anna Maria Alberghetti starred as Lili opposite Jerry Orbach's puppeteer Paul, Kaye Ballard's Rosalie and Henry Lascoe's Schlegel.
Carnival was a bona fide hit, and its original cast album on MGM Records opened at No. 1 on the Billboard chart. Merrill must have had great trepidation about writing a new song to compete with "Hi Lili, Hi Lo," the Bronislau Kaper/Helen Deutsch tune from Lili that captivated listeners in renditions by Caron, Dinah Shore, Roger Williams and even The Everly Brothers! But he more than compensated with the waltz "Love Makes the World Go Round," which became a standard itself. (Ironically, Don and Phil Everly's recording of "Hi Lili" from August 1961's Both Sides of an Evening was followed in January 1962 by "Love Makes the World Go Round," from Instant Party!)  Merrill's score was one of great depth and emotion, perfectly matching Stewart's book. After all, Carnival was a sophisticated musical comedy with decidedly dark overtones (which have been emphasized to the detriment in the material in any number of recent productions).
Although Carnival's London production did not repeat its Broadway success, the HMV cast album gave fans another chance to appreciate Merrill's fine score, with James Mitchell (later of All My Children) recreating his key role of Marco the Magnificent. Most excitingly, some bits of the score excluded from the Broadway Cast Recording were included.  Kritzerland's reissue has been sparklingly remastered from the original album masters housed in EMI's U.K. vaults, and it's due for release the first week of May. Pre-orders, however, are likely to ship an average of four weeks early.
Carnival: The Original London Cast Recording is limited to 1,000 copies and is available directly from the label for $19.98 plus shipping.  Hit the jump for the full press release, pre-order link and track listing with discographical annotation!
On April 21, 1961, Broadway audiences and critics fell head-over-heels in love with the new musical Carnival.  Produced by David Merrick and adapted from the MGM film Lili by Michael Stewart (from the screenplay by Helen Deutsch, itself adapted from a Paul Gallico short story entitled The Man Who Hated People), the show was directed and choreographed by Gower Champion and had a tuneful and memorable score by Bob Merrill.  The critics raved – in the Daily News, John Chapman wrote that Carnival was "enchantment from the moment the houselights go down."  And so it was, pure enchantment, despite its darker elements – it ran on Broadway for 719 performances, and had a best-selling original cast recording (which debuted at number one on the Billboard chart) and "Love Makes The World Go Round" became a much-sung song, covered by many of the popular singers of the time.  Carnival was nominated for seven Tony Awards, winning two (one for Alberghetti – in a tie with Diahann Carroll – and one for Will Steven Armstrong's scenic design). The show had a successful national tour, as well.
It was a no-brainer that such a successful show would receive a London production, and so it did in 1963, opening at the Lyric Theater in February, after playing short engagements in Leeds and Glasgow.  Champion's staging was recreated by his long-time associate, Lucia Victor, and the cast included Sally Logan, Michael Maurel, Bob Harris, Shirley Sands, Francis de Wolff, Reg Lever, along with James Mitchell recreating his Broadway role.   Just prior to opening, the original London cast recording was made, in hopes that the show would repeat the success it had on Broadway.  Alas, that was not to be the case – the show ran only thirty-four performances.  Why London didn't embrace the show is anyone's guess.
The London cast album is a delight, and features a few little bits not found on the Broadway cast album.  Merrill's words and music shine, as do the performances – it's just a wonderful score, musically and lyrically, and wonderfully presented.  Bob Merrill began his songwriting career in the pop world, writing such hits as "If I Knew You Were Comin' I'd Have Baked A Cake" (with Al Hoffman and Clem Watts), "Mambo Italiano" (recorded by Rosemary Clooney), and his huge hit novelty song "(How Much Is) That Doggie In The Window."   He also wrote a chart-topper for Jimmie Rodgers, the infectious "Honeycomb."  He made his Broadway debut as composer and lyricist with New Girl in Town, a musical version of Eugene O'Neill's Anna Christie, which starred Gwen Verdon, which was followed by Take Me Along.  He provided lyrics to Jule Styne's music for the smash hit, Funny Girl, which yielded several songs that would go on to become standards.  As composer/lyricist he also wrote Breakfast at Tiffany's, Henry, Sweet Henry, and The Prince of Grand Street.  With Styne, he also provided lyrics to Sugar, Prettybelle, and The Red Shoes.
The London cast recording of Carnival was mastered from the original album master tapes housed at EMI in the U.K.  Interestingly, some of the song titles are slightly different on the London recording and we've opted to use those so that we match the way they were listed on that original LP jacket.
Carnival can be pre-ordered at the link below!
Carnival: Original London Cast Recording (His Master's Voice CSD-1476, 1963 – reissued Kritzerland, 2011)
Direct from Vienna
A Very Nice Man
I've Got to Find a Reason
Sword, Rose and Cape
Mira
Humming
Yes, My Heart
Everybody Likes You
Love Makes the World Go 'Round
Yum Ticky Ticky Tum Tum
The Rich
Beautiful Candy
Her Face
Grand Imperial Cirque de Paris
I Hate Him
It Was Always You
It Was Always You (Reprise)
She's My Love
Finale