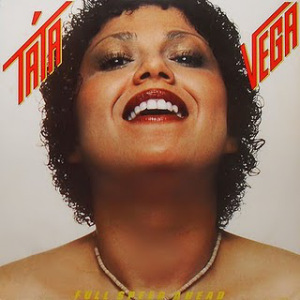 Fans of classic soul and R&B have already had a very good 2011. And there's no sign of letting up!  Cherry Red's Big Break and Soulmusic.com labels have particularly led the charge. After an exciting slate for March, Soulmusic.com Records has announced three releases for April. Tata Vega's first two albums on the Motown label both will receive expanded editions, while famed drummer Harvey Mason's Arista debut also will be reissued.
Vega is perhaps one of the most underrated exponents of the '70s Motown sound. A native New Yorker who first rose to fame with the group Earthquire, she was signed to Berry Gordy's empire for the 1976 LP Full Speed Ahead. The singer was joined by musicians including Jay Graydon and Ray Parker, Jr., and had access to songs by some of Motown's top names: Stevie Wonder ("Never Had a Dream Come True"), Ashford and Simpson ("Keep it Coming," also recorded by Rufus) and the teenaged Teena Marie ("Just as Long as There is You"). Vega herself contributed "Try God." Soulmusic.com's new edition adds three bonus tracks: the never-before-released extended disco mix of the title track, as well as two Earthquire performances.
Totally Tata was Vega's follow-up LP, released one year later. As usual with Motown, much was kept "in the family." Vega took on Stevie Wonder's "Blame It on the Sun," and made one of her most cherished recordings with "Come In Heaven (Earth is Calling)," written by Marvin Gaye's ex-wife Anna Gordy with Elgie Stover, Terrence Harrison and Vega herself. Brenda Russell co-wrote "You'll Never Rock Alone," and Kim Carnes was among the writers of "Love Comes from the Most Unexpected Places." The album's musicians included Andre Lewis of the Motown-signed group Mandre as well as Paulinho da Costa. Totally Tata also features three bonus tracks, the A and B sides of a planned single release of "Come In Heaven" and a duet with Jermaine Jackson on "You'll Never Rock Alone." The A-side of "Come In Heaven" and the Jackson duet have both been previously released on CD, but the B-side "Come In Heaven" makes its debut here.
Harvey Mason remains well-known as a superstar drummer who has supported everybody from Carole King to Beyonce. But his jazz chops were well-honed with such legends as George Shearing, Erroll Garner and Herbie Hancock. So when Mason was signed to Arista in 1976, it couldn't have been a surprise that many jazz greats joined him on Marching in the Street. These included Hancock, Dave Grusin, Ernie Watts, Lee Ritenour and CTI stalwart Hubert Laws. Ritenour, Hancock and Grusin each contributed a track to this funk classic while Mason supplied the remaining four cuts including "Marching in the Street" which hit the U.S. R&B charts.
What's on these three discs? Where can they be ordered? For answers to those burning questions, hit the jump!
Soulmusic.com's David Nathan has penned new liner notes to all three releases and has drawn on new interviews conducted with both Vega and Mason. They're due in U.S. stores on April 19 and one week earlier in the U.K.
Harvey Mason, Marching in the Street (Arista AL-4054, 1976 – reissued Soulmusic.com SMCR 5015, 2011)
Marching in the Street
Modaji
Hop Scotch
Wild Rice
Ballad for Heather
Fare Thee Well
Building Love (Hymn)
Tata Vega, Full Speed Ahead (Tamla T6-347S1, 1976 – reissued Soulmusic.com SMCR 5016, 2011)
Full Speed Ahead
Try Love from the Inside
Never Had a Dream Come True
Just When Things are Getting Good
Been On My Own Too Long (In the Wilderness)
Love is All You Need
Music in My Heart
Keep It Coming
Just as Long as There is You
Try God
Full Speed Ahead (Disco Extended Single Mix) (Previously Unreleased)
Sunshine Man – Earthquire (from Earthquire, Natural Resources NR-106L, 1972)
Soul Eyes – Earthquire (from Earthquire, Natural Resources NR-106L, 1972)
Tata Vega, Totally Tata (Tamla T6-353S1, 1977 – reissued Soulmusic.com SMCR 5017, 2011)
Mr. Troublemaker
Blame It on the Sun
Come In Heaven (Earth is Calling)
Deep Inside
Jesus Takes Me Higher
Love Comes from the Most Unexpected Places
It's Too Late
You'll Never Rock Alone (featuring Friendly Womack)
Ever So Lovingly
Come In Heaven (Earth is Calling) (A-side) (from Pops, We Love You, Motown M7 921R1, 1979)
Come In Heaven (Earth is Calling) (B-side) (Previously Unreleased)
You'll Never Rock Alone (with Jermaine Jackson) (from Pops, We Love You, Motown M7 921R1, 1979)