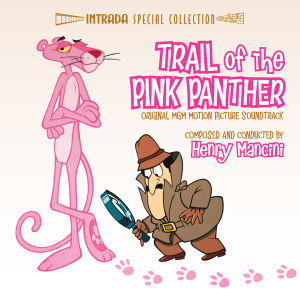 Blake Edwards' Trail of the Pink Panther, from 1982, is best remembered as the final film in the long-running series to feature Peter Sellers. The extraordinarily talented, mercurial actor had died in 1980, but Edwards paid tribute to his colleague by stitching together outtakes and old material to continue the story of the bumbling Inspector Clouseau. (1983's Curse of the Pink Panther was shot concurrently by Edwards, introducing Ted Wass as Clifton Sleigh, an inept New York policeman on the trail of the "missing" Clouseau.) Edwards' most trusted collaborator, composer Henry Mancini, was of course on hand to score both films, as he had for every one of Edwards' prior Pink Panther films. Yet neither score received much chance to live on. Capitol's Manhattan Records label released an album for Trail of the Pink Panther, but it consisted mainly of recycled music befitting the recycled scenes in the motion picture.  The Trail version of the title theme and a cue entitled "The Easy Life in Paris" were the only pieces of new material to appear on the LP that would have been more accurately titled The Best of the Pink Panther! Mancini's Curse didn't even receive an album. Now, on the heels of Quartet's 2010 debut of Curse, Intrada has announced the premiere release of Henry Mancini's complete original score to The Trail of the Pink Panther. And we couldn't be more excited!
The main title, of course, still kicks off the album, and "The Easy Life in Paris" appears in three different versions on this expanded edition. Those are joined by cues with cheeky Mancini titles like "Salute to Balls" and "Swine Rabbit," for a total of 23 tracks. Intrada has made up for the lack of a soundtrack over the past almost-30 years by mastering the album from the original 2″ 24-track scoring session masters direct from the MGM vault. Brand-new stereo mixes have been created for every cue, and three bonus tracks are included. Dan Schweiger contributes new liner notes.
Intrada's Trail of the Pink Panther is available now, and is a limited edition of 1,200 copies. Hit the jump for a pre-order link and complete track listing!
Henry Mancini, Trail of the Pink Panther: Original MGM Motion Picture Soundtrack (Intrada Special Collection Vol. 163, 2011 – original film released 1982)
Main Title
The Easy Life in Paris – Long Version
Salute to Balls
The Bagman
Scotland Yard
In a Mist
The Message
One on One
The Easy Life in Paris No. 1
Bruno's Tune
TV News Theme
Break In
Son of One on One
The Easy Life in Paris No. 2
Bruno's Theme
Swine Rabbit
Family History
German Invasion
The End of Clouseau?
End Credits
Strum Chord (Bonus Track)
Twist (Bonus Track)
Martha: M'Appari Tutt'Amor (Friedrich Von Flotow/Arranged by Henry Mancini) (Bonus Track)