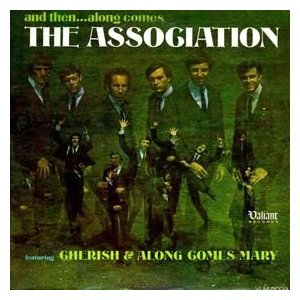 UPDATE 3/24: The track listing on this release has been amended slightly. You can find it after the jump, of course.
What makes the perfect pop song? The ingredients, of course, vary. In a weighty tome that can easily be viewed through a cynical lens today, Herb Hendler (of Capitol Records' publishing arm Beechwood Music) offered How to Write a Contemporary Song to prospective songwriters in 1967. He included a worksheet where one could ask a number of questions of his or her favorite song: Is the title melody strong? Can you easily remember most of the melody of the song? Is the lyric out of the ordinary? Is the song edited as tightly as possible? Does your melody suggest (or have you written) a good background figure for it? Is your lyric conversational, honest and sincere? While the idea of ascribing a "formula" to songwriting is cringe-worthy, many of the greatest pure pop songs do indeed follow Hendler's principles. One such song is The Association's "Cherish," as of the millennium the 22nd most-played song in American radio history according to BMI. (For those curious, the group's "Never My Love" was No. 2, second only to the Righteous Brothers' "You've Lost That Lovin' Feelin'," while "Windy" was a still-impressive No. 61!) Many, including this author, would make a solid argument for Terry Kirkman's beautiful song as one of the most perfect pop offerings of the 1960s. Yet too few know that it originates on an LP that's equally impressive.
And Then…Along Comes The Association remains a benchmark in the sunshine pop genre. Helmed by legendary cult producer Curt Boettcher, the album also boasts Tandyn Almer's psychedelic "Along Comes Mary" and Kirkman's underrated anthem "Enter the Young," which should have followed "Cherish" to No. 1 on the pop chart. And on April 25 in the U.K. and one week later in the U.S., Now Sounds will release a deluxe expanded edition of And Then…Along Comes The Association, following the label's acclaimed reissue of 1968's Birthday. Now Sounds doesn't kid around when it comes to "deluxe." The album will be remastered in its original mono mix directly from the original master tapes, bringing this mix back in print for the first time since 1967. Twelve bonus tracks have been appended to the original twelve-track album, including two outtakes (one never-before-heard!), five unreleased instrumentals, both sides of a rare non-LP 45, and three single versions of album cuts. Whew! Hit the jump for all of the details plus full track listing and discographical information!
The Association – Russ Giguere, Jules Gary Alexander, Ted Bluechel, Terry Kirkman, Jim Yester and Brian Cole – formed in early 1965, and their first A-side that June ("Babe I'm Gonna Leave You," which they learned from a Joan Baez record and was later covered by Led Zeppelin) revealed a folk-rock influence. Soon after, the group moved from the small Jubilee label to another independent label, Valiant, after a successful audition at Doug Weston's famed Troubadour. For their Valiant debut, the group members chose Bob Dylan's "One Too Many Mornings," and within a month they had caught the ear of Curt Boettcher, a staff producer at Our Productions and a one-time folk-rocker in the Goldebriars. Both Boettcher and The Association would move towards a dynamic pop-rock sound when they hit upon Tandyn Almer's "Along Comes Mary." It was Jules Alexander who discovered Almer's song and brought it to the band. With its insistent rock riff, clapping percussion, sophisticated vocal arrangement, cryptic lyric and even a flute solo, "Mary" sounded like very little that had come before. It would even attract the attention and praise of Leonard Bernstein! "Along Comes Mary" would be rewarded with a No. 7 chart placement, and The Association began work on a full-length LP.
With the exception of Brian Cole, all of the group members were represented as songwriters on their debut LP. In addition to Almer, there were a couple other songs penned by outside writers. "Don't Blame It on Me" was written by the Addrisi Brothers, who would deliver "Never My Love" in 1968. "Blistered" came from the pen of Billy Edd Wheeler ("High Flying Bird"). But it was the group's own vocalist/multi-instrumentalist Terry Kirkman who composed the gentle yet soaring "Cherish." While he originally intended the song for The Righteous Brothers, it was soon discovered how well it suited The Association. When it was decided to release "Cherish" rather than "Enter the Young" (also written by Kirkman) as a single, Boettcher took a page from Phil Spector's playbook. "Cherish" ran 3:30, a good thirty seconds past optimum single length. He snipped a few seconds at the end of the track and instructed Valiant to label it as 3:00. The ploy worked, and "Cherish" climbed all the way to No. 1.
On the strength of both the shimmering "Cherish" and the edgier "Along Comes Mary," And Then…Along Comes The Association hit No. 5 on the album chart, the group's peak studio album placement. While ever-popular creative differences led to a parting of the ways with Boettcher (who went on to produce Sagittarius among many other accomplishments), the good times had just begun for The Association. Jerry Yester produced the band's follow-up, November 1966's Renaissance, and although it failed to yield any hits, it paved the way for the Bones Howe-produced Insight Out in 1967 with its massive hits "Windy" and "Never My Love."
Now Sounds' mono expanded edition of And Then…Along Comes The Association will also feature a full-color 16-page booklet drawing on new interviews with original band members as well as previously unseen photographs. A blend of timeless pop, folk-rock, groundbreaking studio technique and truly luscious harmonies, And Then…Along Comes The Association is coming to you on April 25 in the U.K. and on May 3 in the U.S. May this just be the first in a chronological series of reissues for this all-too-overlooked band!
The Association, And Then…Along Comes The Association (Valiant VLM-5002, 1966 – reissued Now Sounds CRNOW25, 2011)
Enter the Young
Your Own Love
Don't Blame It on Me
Blistered
I'll Be Your Man
Along Comes Mary
Cherish
Standing Still
Message of Our Love
Round Again
Remember
Changes
Better Times
I'll Be Your Man (Where Were You) (Alternate Mix)
One Too Many Mornings
Forty Times
Along Comes Mary (Single Version)
Cherish (Single Version)
Enter the Young (Single Version)
Along Comes Mary (Instrumental)
Remember (Instrumental)
Your Own Love (Instrumental)
Better Times (Instrumental)
I'll Be Your Man (Where Were You) (Instrumental)
Tracks 1-12 from Valiant VLM-5002, 1966
Track 13 first released on Just the Right Sound: The Association Anthology, Warner Bros./Rhino R2 78303, 2002)
Tracks 14, 20-24 previously unreleased
Tracks 15-16 from Valiant single V-730, 1965
Track 17 from Valiant single V-741, 1966
Track 18 from Valiant single V-747, 1966
Track 19 likely from Warner Bros. single 7239, 1968